News
UFC coming to Denmark … at some point
---
This article is more than 5 years old.
President Dana White confirms that the MMA organisation is working on a plan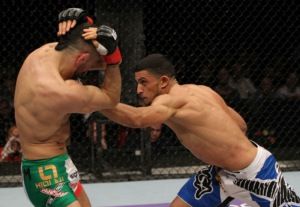 Some ten years ago, most people had probably not heard of the Ultimate Fighting Championship (UFC) – a US mixed martial arts (MMA) organisation based in Las Vegas, Nevada.
But now, the competition is easily among the biggest fighting sport in the world, thanks to a massive surge in popularity that kicked off in around 2009 thanks to the participation of entertaining stars like Irish fighter Conor McGregor.
Soon, fans could see the brutal cage-fighting spectacle up close, according to the UFC president, Dana White.
"We hold tournaments everywhere. There are only 42 events per year and we have already set up the calendar for this year with events in the US and other parts of the world," White told BT tabloid.
READ MORE: Petition calls for FIFA to postpone World Cup for injured Nicklas Bendtner
We'll get there
UFC, now a billion-dollar enterprise, holds most of its events in North America, Brazil and the UK, but Germany and Sweden have both hosted five events each.
White contends it won't be long before the cage comes to Denmark.
"We'll get to Denmark eventually. We get everywhere. We're going to Moscow this year. We will make to Denmark – I just don't know when," White said.
Currently, there are two Danish fighters in the UFC, Damir Hadzovic and Mads Burnell, but no Danes have managed to make their way to become the best fighters as of yet since pioneer Martin Kampmann retired.
MMA is a full-contact combat sport that allows striking and grappling, both standing and on the ground, using techniques from other combat sports and martial arts – such as boxing, wrestling, karate and Brazilian jit-jitsu.