InOut
On Screens: Deadend Roman's contribution … he comes to bury the name of Coppola
---
This article is more than 5 years old.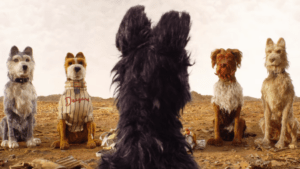 You could write an entire pub quiz about the Coppola family. With unabashed nepotism, obscure cameos, cruel decapitations – of both horses and men – and some of the finest and worst offerings Hollywood has ever produced, Francis's clan has got you beat. The Corleones … they've shit 'em.
King of cameos
The regular reader of this column (a stalker by the name of Steve) will remember we have already dissected the movie career of the matriarch, Eleanor Coppola, who has carved out her very own genre: making movies from the sidelines of infinitely better movies – a career choice that reached its nadir with The Making of Marie Antoinette. Where's that guillotine when you need it?
And now it's time for the son who knew getting into a boat with the offspring of Barry Lyndon saboteur Ryan O'Neal was a bad idea. Standing mostly in the shadow of sister Sophie, but head-and-shoulders above brother Gian-Carlo, is Roman Coppola – a tour-de-force of tasty trivia. Not only was he in both Godfather films, he played different parts, firstly manning up as Tom Hagen's son, and then as the powerfully-packaged Sonny (his girlfriend's vagina surgery is a major subplot of the original book that was wisely cut from the film) in the sequel. And he and Sofia also managed to wangle walk-on roles in The Phantom Menace – starting off an annoying trend that continues to this day.
These days he writes scripts – not least the screenplay for the 2012 Wes Andersen film Moonrise Kingdom – for which he gets paid in dog food, or at least that's one way of describing the speaking-part cameos he's performed in the stop-motion animated films Fantastic Mr Fox and, more recently, Isle of Dogs (82 on Metacritic; released on May 31).
Set in Japan, the film has (like this year's Eurovision winner) been accused of cultural appropriation by critics who think way too deeply about cartoons. Then again, the familiar 'white saviour' cinematic trope is as strong here as it is with Tom Cruise in The Last Samurai, Peter O'Toole in Lawrence of Arabia, and … errr … John Candy in Cool Runnings.
Chemistry issues
Frankly, it's a stronger fortnight for TV than films, although nothing is unmissable – unless you're talking about Amy Schumer's arse in I Feel Pretty (47; May 31). Rewind! That was a deliberately crass comment as we have entered character to critique the butt (sorry) of the film's central premise: namely that this is a soulless, shallow, superficial world in which inner-beauty should know no bounds (unless those bounds are the waist measurements of a pair of skinny jeans). Schumer certainly has her moments, but this is not one of them.
Jurassic World 2: Fallen Kingdom (Not Released Worldwide; June 7) will equally thrive or die based on the performance of its stars – no, not the so-1990s CGI dinosaurs, Chris Pratt and Bryce Dallas Howard, whose onscreen chemistry won over reptile-weary fans in the original, sorry reboot of this franchise.
The sparks in Breathe (51; May 31) – between Andrew Garfield as a polio sufferer who invents a breathing apparatus so he can enjoy his final hours sitting up, and Claire Foy (The Queen) in a Mrs Stephen Hawking kind of role – are sorely lacking.
Alex Strangelove (70; June 8 on Netflix), a teenage 'two men-age à trois', meanwhile, has them in abundance.
Finally a Murdoch series
Returning to the dynasty theme, this coming fortnight's most anticipated small screen debut is Succession (June 4 on HBO Nordic), a series about a media mogul (Brian Cox) passing on the reins of power to his children, which looks set to prove that the talents of its British creator Jesse Armstrong stretch far beyond comedy. An early draft was entitled 'Murdoch'.
Armstrong, who has been honing Succession for almost a decade, is best known for co-creating and writing Peep Show and his work on The Thick of It, although he has already flexed his dramatic muscles with the Black Mirror episode many consider its finest: 'The Entire History of You'.
But Armstrong has a long way to go before he can emulate Ryan Murphy, the creator of Glee and most of the successful anthology shows doing the rounds (American Horror Story, American Crime Story, Feud). Nevertheless, the jury is out on Pose (June 4 on HBO Nordic), a LGBT drama set in the New York fashion scene in the late 1980s, as many are taking issue with its overall look, which more resembles current fashion trends inspired by the decade than the period itself.
Angel amongst the dross
Elsewhere in TV land, popular series Arrested Development (May 29 on Netflix) and The Affair (June 18 on HBO Nordic) return for seasons 5 and 4 respectively; November 13: Attack in Paris (June 1 on Netflix) speaks for itself; Marvel's Cloak and Dagger (June 8 on HBO Nordic) looks like it has been shot in the dark; and Impulse (June 6 on YouTube) closely resembles Jumper – a film whose premise began to tire after 15 minutes, so how will this fare over multiple hours?
If there is one series to look out for it's Strange Angel (US release on June 14), an intriguing dramatisation by Mark Heyman (Black Swan) of the relatively short life of the rocketeer Jack Parsons who became a disciple of the occultist Aleister Crowley on his way to reaching for the stars.
Reaching for the stars, or as Roman Coppola likes to put it: taking Daddy by the hand.