News
Sankt Hans under siege as more municipalities impose fire bans
---
This article is more than 5 years old.
Ballerup, Herlev, Gentofte, Gladsaxe and Lyngby-Taarbæk the latest to lay down the law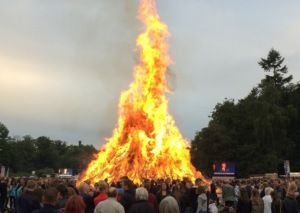 Sankt Hans is usually one of the more memorable summer evenings in Denmark as scores of Danes flock to gather around big fires nationwide to celebrate the longest day of the year.
But this year's edition, coming up this Saturday on June 23, might be a bit of a fizzler thanks to the ongoing drought issues.
Ballerup, Herlev, Gentofte, Gladsaxe and Lyngby-Taarbæk are the latest municipalities to impose fire bans – 68 of Denmark's 98 municipalities will have a ban in effect as of tomorrow. It's also unsure whether municipal-sponsored Sankt Hans fires will go ahead.
READ MORE: Drought could cost Danish agriculture sector billions
Watch for updates
Gentofte Municipality wrote on its website that the emergency authorities are keeping an eye on the situation and will have updates on their website about whether the fires will be lit.
At least 13 municipalities have already warned that they probably won't have Sankt Hans fires this year.
Among them are Albertslund, Brøndby, Hvidovre, Glostrup, Rødovre, Copenhagen, Dragør, Frederiksberg, Aarhus, Odder, Samsø and Skanderborg.