News
New investor in the wings for Kattegat bridge project
---
This article is more than 5 years old.
A combined rail/vehicle bridge from Zealand to Jutland might just be on the cards after all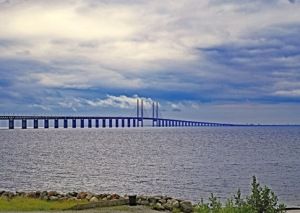 Earlier this year, a new report from the Transport Ministry suggested that a bridge across the Kattegat would only be viable if there was no requirement to add a railway line to the project.
Now the Kattegat Committee, a group of investors and mayors that includes former minister of the environment Jens Kampmann, has announced that a large private investor will come up with an offer for a combined bridge later in the year, reports Politiken.
The investor, who has not been named, except to say that the money is from a pension fund, is considering putting money into the infrastructure if the state is willing to pay for the motorway connection and railway on land, says Kampmann.
Pouring cold water on it
However, transport minister Ole Birk Olesen is lukewarm about the idea. "You also have to calculate in the costs of the land installations that alone run to around 24 billion kroner," said Olesen.
"That's why I'm still waiting for more accurate calculations for a purely road connection; that seems to be the only realistic option for a Kattegat link solely financed by users," the minister emailed to Politiken.
With the high-speed trains of the future, it is estimated that a train journey across a bridge from Copenhagen to Aarhus could be accomplished in as little as 58 minutes. If a link is built only for vehicle traffic, the train trip will take two-and-a-quarter hours.