News
Danish News in Brief: Twenty-four schools to act as test-bed for government's new language tests
---
This article is more than 5 years old.
In other stories, June is hot and so is English-language tuition in higher education – and a Danish design icon has been sold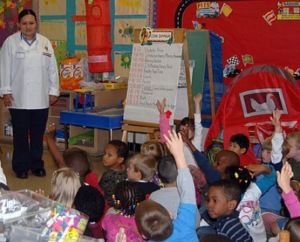 As a result of recent legislation, from school year 2019/2020 it will be obligatory for pupils in schools with more than 30 percent of their intake from ghetto areas to take a language test.
Twenty-four schools out of a possible 44 have decided to act as 'guinea pigs' already and will implement the tests after the summer holidays, reports DR Nyheder.
Pupils who are 5-6 years old and in the so-called 'børnehaveklasse', or 0 class will be tested to assess their Danish skills.
Merete Riisager, the Danish minister of education, is very pleased at the take-up.
"It is definitely much better than I had expected because it is voluntary to take part this year. So to see so many schools getting to grips with the important work of raising language standards for this group of pupils makes me very proud," said Riisager.
No coincidence
The ministry has made no secret of the fact that the tests are aimed especially at children and parents with a Middle Eastern background.
"There are a number of parents who come from the Middle East who have a totally different understanding of pedagogy, childhood and school than their Scandinavian counterparts," added the minister.
The minister sees the tests as a tool to help both children and pupils in the long run.
---
Every fourth higher-educational course in English
More and more higher-educational courses in Denmark are being taught in English, new figures from the ministry of education and research reveal. For example, 9 out of 18 bachelor courses at Copenhagen Business School (CBS) and 35 percent of the 20 courses at Københavns Erhvervsakademi (KEA) are in English, Berlingske reports. In 2018 there were 399 English-language courses offered by Danish educational institutions comprising 28 percent of the total of 1,419 courses. CBS sees the trend as a natural one because students are being educated to take their place in a global world, with job opportunities in international businesses.
'Flaming June' indeed!
June 2018 is on course to be the warmest in 26 years, and with only  three days to go, could reach an average of 16.5 degrees, reports weather forecaster DMI. The month started out warmly on the back of an exceptional May. However, there were some cooler days and a little rain from around 10 June and up to Sankt Hans last Saturday. However, since then the temperature has been on the rise again and DMI expects the summer weather to continue into July. The record for June temperatures is 18.2 degrees, set back in 1889. If the prognosis of 16.5 degrees holds, it will be the 6th warmest June since records began in 1874.
Iconic Danish lamp firm sold
The 144-year-old Danish designer lamp company Louis Poulsen has been sold to the Italian capital fund Investindustriel for an undisclosed figure estimated to be in the region of 1.5 billion kroner. As a result of the sale, the Italian investors will be getting Danish design icons such as PH-lamps, Arne Jacobsen designs such as the cone, snowball and Verner Panton's Panthella. Investindustriel has a broad portfolio that also includes luxury car maker Aston Martin. "We're getting a fantastic new owner that already has several luxury brands in its portfolio with the same characteristics as us. We want to grow and they've done it before for other companies, so it's a good match," Søren Mygind Eskildsen, administrative director of Louis Poulsen told Berlingske Business.
Norway sells out SAS shares
The Norwegian state has announced that it has sold all its 37.8 million shares in SAS to institutional investors for 17.25 Swedish kroner per share. This comprises almost 10 percent of the total amount of SAS shares, reports BT and Norway has earned around 450 million Danish kroner from the sale. "The government has made it clear that in the long run, the state should not own parts of SAS," said Norway's business minister Torbjørn Røe Isaksen. With Norway's major stake removed, the company could become more flexible in terms of decision-making and in that way, more competitive.
Save the last dance for me …
Damhuskroen, the famous dance restaurant on Rødovre's Damhussøen has been put up for sale for 25 million kroner, reports Rødovre Lokal Nyt. The inn is famous for its enkeballer 'singles nights', and is at present owned by businessman Niels Lorentzen and Bakken singer Dot Wessman and her ex-husband Tommy Wessman. It is not know why the trio have decided to sell the inn.
Historic Copenhagen landmark could become luxury flats
Since 1892, Holckenhus in central Copenhagen on Dantes Plads between HC Andersens Boulevard, Vester Voldgade and Sormgade has been a meeting point, workshop and living space for artists. However, an American capital fund has bought the property and is seeking to turn it into luxury flats, reports Berlingske. An application has been submitted to Copenhagen Municipality's technical and environmental committee and the committee is looking favourably on the scheme despite possible opposition.