News
'Extinct' bee reappears on Danish island for first time in 80 years
---
This article is more than 5 years old.
'Guldbuksebien' looks to have made a startling return to the hills of Samsø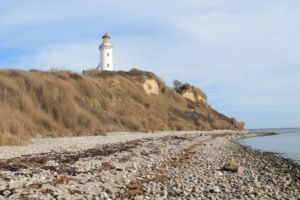 The year 1937 was not without its dramatic moments. The Hindenburg airship exploded, Amelia Earhart vanished over the Pacific and Japan invaded China.
Here in Denmark, it was also the last year that anyone saw the 'Dasypoda suripes' bee, commonly known by the Danes as Guldbuksebien (golden trouser bee).
But lo and behold, researchers from Aarhus University and the University of Copenhagen have found one of the rare bees on the island of Samsø.
"I've looked at beers for a good few years now so I could immediately see that it was strange, because it shouldn't be there. It's extinct in Sweden and Germany, so what's it doing here?" Henning Bang Madsen, one of the researchers who found the bee, told DR Nyheder.
READ MORE: Food running out for bees due to flowers blooming early this year
Live and let bee
The bee, usually found in warmer climates such as in Greece and Turkey, likes Samsø for two reasons. The island has hills with south-facing cliffs that attracts the bees, but it is practically 100 percent depended on one kind of flower: the Knautia integrifolia, which grows well on the high hills of Samsø.
Madsen only found a single male bee, but he is certain there are others buzzing about on the island. He aims to return to find more in a couple of weeks.
It's some welcome news for the bees in Denmark. Yesterday it emerged that they have been running out of food this summer because the flowers they depend on have bloomed earlier than usual and subsequently wilted.