InOut
Concert Preview: Getting Ziggy with it
---
This article is more than 5 years old.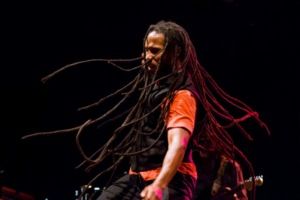 Bob Marley was the king of reggae.
And now one of his princes, Ziggy, is coming to grace the stage at Vega in July.
Even authored a cookbook
Ziggy Marley's music is about hope – a voice for the voiceless and a man of the people. After all, he learned from the best.
He boasts six solo albums along with a grand total of ten group albums, mainly with Ziggy Marley & The Melody Makers, but often teaming up with siblings such as Stephen Marley.
The multi-talented musician has worked as an actor and even released a novel and cookbook, but outside music he is best known for his philanthropy.
In 'Hawaii five-0' he played an undocumented Jamaican immigrant seeking a green card to provide credibility for his information about smuggling, but he is very much the humanitarian off screen.
Recently, he joined the fight against oral cancer, donating possessions to the oral cancer foundation in the States to auction off. Putting his money where his mouth is – for sure.
An Emmy as well
Although 'Hawaii five-0' was his first acting gig on the small screen, he already has the highest prize in television in the States: an Emmy award. In this case it was for best song in the Children's and Animations category for '3rd & Bird'.  From the small screen to the big screen.
The man known for lighting up the green has recently got the green light to produce a Bob Marley film. Let's hope more great music comes of it – just like the newly released Rebellion Rises project.
The ten-song CD features two generations of Marleys on the cover, as Ziggy is with his young son at the beach.
So will you be at hand when Ziggy is bringing the good vibes to Copenhagen?