News
Denmark to deploy ship to assist French carrier group
---
This article is more than 5 years old.
Frigate to be sent to the Mediterranean Sea and Indian Ocean nest year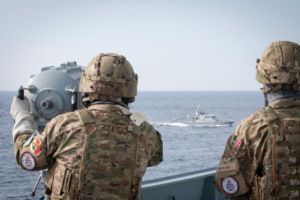 The government has revealed it intends to turn to the navy as part of the Danish-French security co-operation next year.
The Danes have unveiled plans to deploy a frigate to link up with a French carrier group operating in the Mediterranean Sea and the Indian Ocean. The move comes as a result of a French request.
"France is one of Denmark's closest allies and we often stand shoulder to shoulder in international operations," said the foreign minister, Anders Samuelsen.
"So the government has a positive view of the French request for a Danish frigate contribution – one which includes an operative benefit for Danish Defence and underlines the close and trusting security and defence policy co-operation we have with France."
READ MORE: Denmark ramps up capability to hunt for the likes of Red October
Macron meeting
The deployment is expected to last for about three to four months during the spring of 2019, and the primary goal of the frigate is to train with French units and other partners, such as the US and the UK.
The news emerges just days before a scheduled meeting this week in Copenhagen between the PM Lars Løkke Rasmussen and the French president, Emmanuel Macron.
Any prospective deployment will first require the approval of Parliament.