News
Denmark cosies up to France in wake of Macron visit
---
This article is more than 5 years old.
Research, development and even Tour de France in the mixer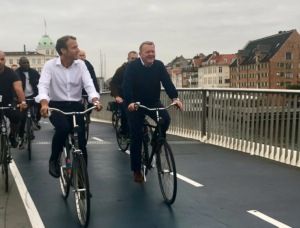 The state visit of French President Emmanuel Macron to Copenhagen, which concluded yesterday, yielded far more than the obligatory dignitary bicycle tour around the waterfront area.
From more co-operation in research and education to development in the Sahel region in Africa, Denmark's French connection certainly didn't weaken following the state visit. Macron went as far to call Denmark a role model for Europe.
As part of the visit, the development minister, Ulla Tørnæs, signed a new declaration of co-operation regarding development – focusing in particular on the Sahel region in Africa.
The partnership includes several new initiatives such as the rights of women and girls, youth, education and efforts aimed at alleviating the long-standing crisis that has gripped the embattled region – among those challenges being migration, terrorism and instability.
READ MORE: Denmark to deploy ship to assist French carrier group
Tour de force
Elsewhere, the education and research minister, Tommy Ahlers, was also at hand to ink a new agreement aimed at promoting groundbreaking research, innovation and education in the two countries.
The new agreement will build on the current co-operation and focus on EU negotiations regarding the planned seven-year European Union scientific research initiative, Horizon Europe, and the Erasmus exchange program.
Read more about that agreement here (in English), as well as the Sahel deal (in Danish).
Macron's visit to Denmark also brought some good news for sports enthusiasts in Denmark, particularly of the cycling variety.
The French president revealed that Denmark would soon host a stage of the prestigious Tour de France race and underlined his statement by handing over a coveted yellow jersey (worn by the leaders of the race) to PM Lars Løkke Rasmussen.
The government has also set aside 17 million kroner as part of the 2019 budget proposal to host the massive event in 2021.