InOut
Van Gogh: An abundance of method – with no signs of madness
---
This article is more than 5 years old.
Arken is playing host to the first exhibition solely devoted to the world-famous Dutch painter on Danish soil since 1963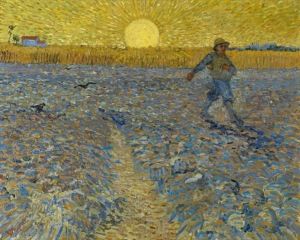 As is the case with Leonardo da Vinci or Andy Warhol, the work of the Dutch painter Vincent van Gogh has become so much a part of popular culture that almost everyone is familiar with his sunflowers, irises and starry nights.
However, when it comes to showcasing this titan of modern art, Arken has taken a different tack. An impressive 28 pictures and 11 drawings – only one of which has been seen in Denmark before – are loosely arranged under three thematic headings: 'Van Gogh's world', 'The inner life of nature' and 'Mankind in nature'. The intention is to explore the depth and spirituality that can be found in the painter's work as well as the more obvious visual aspects of it.
A late bloomer
Although he was fond of drawing as a child, Van Gogh only took up painting seriously relatively late in his tragically short life (he died aged 37). It is a sobering thought that he produced most of his 860 paintings (out of 2,100 works) in the last two years of his life.
Before that, Van Gogh had tried his hand at being an art dealer and a missionary. He also tried to get accepted to train for the priesthood in order to follow in his father's footsteps. Art lovers should count themselves extremely fortunate that he was unsuccessful in these ventures! However, religion and spirituality were never far away in his life and also percolated into his work.
Getting down to earth
Some of the earliest works on display show peasants and labourers of the kind he was close to in his missionary period, painted in a natural and unsentimental way. The dark canvases hark back to Dutch old master paintings with their blacks and earthy colours. There is little hint of the visual fireworks that would come when he moved to France.
One such is a study of a woman's head used in 'The Potato Eaters', the first of the paintings that Van Gogh was satisfied with. There is also an exquisite oil sketch showing two peasant women digging up potatoes. This bears a striking resemblance to 'The Gleaners', a 1857 work by the French artist Millet. Van Gogh has his two figures looking left whilst Millet's three figures are positioned looking downwards and facing the opposite way.
Millet was an early influence, and this can be clearly seen in the last part of the exhibition where Van Gogh's 'The Sower' is displayed. This room also includes a copy that Van Gogh made of Millet's 'The Sower'. The sower motif would have been a familiar one to him from his studies of the Bible; it is also possible that Van Gogh was assuming the mantle for himself and his art – casting seed in order for it to germinate. In a letter from 1889 he said "I plough on my canvasses as they [the peasants] do in their fields."
Nature in all its glory is very much to the fore – especially in the French years. Where they appear, any human figures become smaller and less significant than they are in his early works; it is nature itself that is the dominant theme. Van Gogh's painting of the gardens of the asylum in which he had committed himself to try and recover from a mental breakdown at Saint-Remy from May 1889 is a visual explosion of reds, pinks, blues and yellows. The picture almost shimmers. His doctors encouraged him to paint while he was there because it was thought to have a therapeutic effect.
A myriad of styles
One thing that is particularly noticeable is the sheer range of different techniques on display. Van Gogh was certainly not hidebound when it came to his painting styles.
In 'Landscape with Wheat Sheaves and Rising Moon' from 1889 the brushstrokes are almost an inch long and the whole picture seems to consist of dotted lines of colour. On the other hand, 'Restaurant Interior' from 1887 seems almost pointillist in its execution, using small dots of colour. 'Tree Trunks in the Grass' from April 1890 sees the trunks on the left made up of almost abstract fields of colour.
A couple of the works clearly show the influence Japanese prints had on Van Gogh, such as 'Pine Trees at Sunset' and 'The Ravine', both from 1889. In typically Japanese print style, the latter includes two small female figures crossing a bridge. However, although he might have taken compositional elements from Japanese prints, the brushwork and volume of the paint takes them light-years away from the flatness of the originals.
Smell the paint
This exhibition allows the viewer to get close up and personal with the paintings and really examine the texture of the paint – you can almost smell it – something that is sadly not captured when Van Gogh's works are printed in catalogues.
Of his painting technique, Van Gogh said in a letter sent from Arles to Emile Bernard: "I follow no system of brushwork at all; I just hit the canvas with irregular strokes which I leave as they are …" He makes it all sound so easy, but it is abundantly clear his art involved a great deal of thought, inspiration, experimentation and sheer hard work.
This exhibition is a sheer joy and anyone who is at all interested in Van Gogh should head over to Arken as soon as possible. After all, it may be 50 years before there is another chance to see the works of this troubled genius in Denmark again.