Activities
Late-September Events: The magic of Mozart
---
This article is more than 5 years old.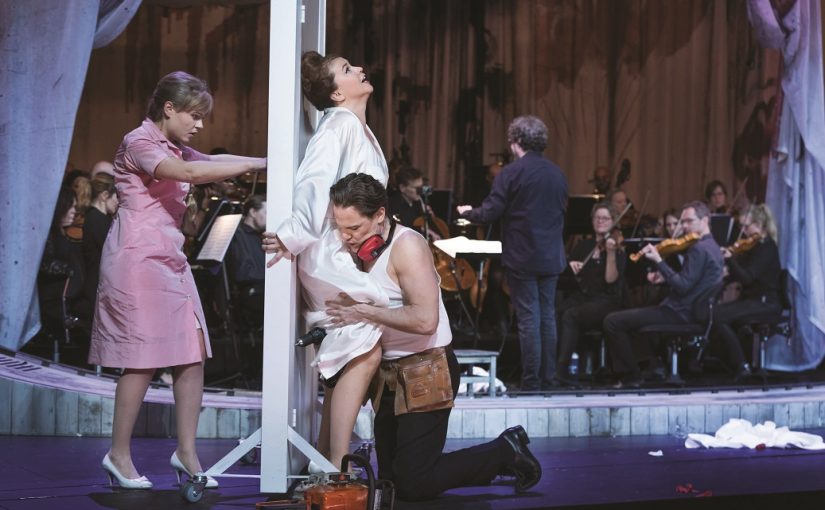 The Marriage of Figaro
Sep 15-Oct 21; Gamle Scene, Kongens Nytorv 9, Cph K; 100-725kr; kglteater.dk
Its tale of servants getting the better of their masters made Salieri cry tears of joy and sorrow in equal measure (or at least in the film). As Mozart explained to his rival: who wants to watch Italian operas about characters who "shit marble".
Il Travatore
Sep 22-Nov 20; Operaen, Ekvipagemestervej 10, Cph K; 150-925kr, kglteater.dk
Initially more popular with the public than the critics, Verdi's thrilling opera delivers revenge, anger and desire with (Blackadder will be pleased) some hot gypsies thrown in. This new staging gives it a contemporary edge.
Peeps
Sep 22-29; CPH Distillery Kløvermarksvej 70D, Cph Valby; 135kr; dansehallerne.dk
Loneliness is a growing epidemic in this increasingly technologically driven world. Venture into the taboo world of the peep show to discover emptiness and desperation.
Ality
Sep 24-30; Kunsthal Charlottenborg, Kongens Nytorv 1, Cph K; 135kr; dansehallerne.dk
Not for the faint-hearted, this three-hour odyssey takes us on a kaleidoscopic journey through countless scenes and images designed to stir and challenge our imagination.
Quality Street
Sep 20-22 & 27-29; Teaterhuset Bastionen, Norra Vallgatan 28, Malmö; playmatetheatremalmo.co
Playmate Theatre Malmö presents storytelling from the likes of Harold Pinter, Roald Dahl, Willy Russell and Christopher Durang. With Vanessa Poole and Rob Gott in the cast, and Jeremy Thomas-Poulsen directing, it's worth the trip!
Carmen
Sep 28-Nov 1; Gamle Scene, Kongens Nytorv 9, Cph K; 100-725kr, kglteater.dk
For those familiar with Georges Bizet's opera, this should be a treat, as dancers under the watchful eye of Spanish choreographer Marcos Marcos give the passion a balletic interpretation.
Buster Film Festival
ongoing, ends Sep 27; various cinemas; cphpix.dk/buster
Enjoy ten days of the best children's films from all over the world. The festival offers kids the chance to come up with ideas for a film, to edit alongside a pro, to draw a flipbook and to learn how to make a podcast. (MZ)
CPH: PIX
Sep 27-Oct 10; various cinemas; cphpix.dk
Enjoy 150 films over two weeks. Since 2009 CPH PIX as been cramming them in, and this year is no different. The festival also offers debates, workshops and events where the audience themselves can participate. (MZ)
Friday Night Skate
Sep 21, 20:00-22:15; starts at Solbjerg Plads, Frederiksberg; free adm; fns-cph.dk
A fun way to experience the city on a summer evening, joining Friday Night Skate through 20km of Copenhagen is a great way to hang out with friends. This is the last of the year.
Golden Days: Historic Beer
Sep 14, hourly 12:00-16:00; Gamle Carlsberg Vej 11, Cph K; 80kr
Gamle Carlsberg is welcoming you to try three very different beers with a knowledgeable beer expert. Learn (in English) about the ingredients and the process of making (probably) the best beer in the world.
Dance workshop for kids
Sep 15, 11:00; Valhalsgade 4, Cph N; free adm, registration required
Kids aged 3-10 and families are invited to come and shake heir booty with Michael from Ghana. Learn all the African dancing moves and get some fun exercise for the whole family. (MZ)
Superhero day
Sep 29, 10:30-14:00; Ørestad Library, Arne Jacobsens Allé 19, Cph S; free adm
Find your inner superhero! Get photographed with your favourite hero, learn how to fight with professional stuntmen, get your face painted and win prizes. (MZ)
Big Quiz Nights
Sep 27, 19:30; Globe, Nørregade 43, Cph K; 30kr, five per team
Oct 1, 19:30; Kennedy's, Gammel Kongevej 23, Cph V; 25kr, four per team
The winners get 1,000 kroner at the Globe, and 800 at Kennedy's. And who knows, the odd rollover has been known to go too.
Day at the Races
Sep 29, 12:00; Klampenborg Galopbane, Klampenborgvej 52; 60kr; galopbane.dk
Enjoy the fun and competitive spirit of Klampenborg Racetrack. Enjoy a flutter or two, listen to music and enjoy some great food and racing at the track. (MA)
Copenhagen Half Marathon
Sep 16, 11:15; 475kr; cphhalf.dk
Some 21,000 runners representing 106 different nationalities, with an average age of 38, are due to take part. Come along and enjoy the spectacle, particularly if you're a woman as more men (60-40) are taking part this year. (MZ)
Oktoberfest
Sep 20-22 & 27-29, Thu-Fri from 17:00, Sat from 14:00; Femøren, Amager Beach Park, Cph S; free adm; oktoberfestdk.dk
Put on your best Tyrolean clothing to drink good old-fashioned beer, fill up on your favourite German sausages and sing until you throat is sore. (MZ)
Sand sculptng at the zoo
ongoing, ends Oct 10; Copenhagen Zoo, Roskildevej 32; 180kr
Organised to draw attention to the endangered species of the world, 625 tonnes of sand have been shaped into animals by 15 international artists and placed around the zoo. Visitors are welcome to make heir own sculptures. (MZ)
AND HITTING A STAGE NEAR YOU IN OCTOBER:
Cabaret
Oct 3-6 & 10-13; Krudttønden, Serridslevvej 2, Cph Ø; 220kr; ctcircle.dk
The CTC presents Cabaret, the 1966 John Kander musical made famous by the 1974 film starring Liza Minneli. Traversing a 1930s Berlin rapidly filling up with Nazis, a young journalist discovers the seedy delights of the Kit Kat Klub.
Oliver!
Oct 12-24; MusikTeatret Albertslund, Bibliotekstorvet 1-3; 195-245kr, billetlugen.dk; in Danish
SceneKunst's English co-founder Russell Collins is again bringing us some Dickensian magic this children's half-term: Lionel Bart's Oliver! This Rearview Theatre show features his students, pros playing the adults and a nine-piece pro band.
The Woman in Black
Oct 24-Nov 24; Krudttønden, Serridslevvej 2, Cph Ø; 175kr; that-theatre.com
Just five years after its last triumph with this Susan Hill chiller, That Theatre are back for their third outing, again with Ian Burns and Benjamin Stender in the main roles, with Barry McKenna at the helm. As That Theatre urges: "Don't come alone!"