News
EU's Copyright Directive: the end of a free internet or justice for artists?
---
This article is more than 5 years old.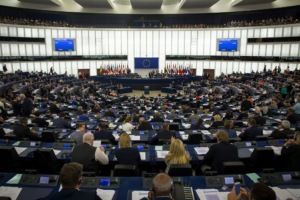 On September 12, the European Parliament voted in favour of a directive designed to ensure artists are remunerated fairly.
However, critics claim this could be the end of a free internet in Europe as the legislation could lead to censorship of speech.
There has been heated debate over the 'Directive on Copyright in the Digital Single Market', otherwise known as the 'EU Copyright Directive'.
The policy specifics
The directive would implement two articles: 11 and 13.
Article 11, which to supporters is known as 'the neighbouring tax' and to those who oppose the bill 'the link tax', will force sites that link to or take information from others to contract a licence from the originator.
Article 13, known as 'the upload filter' to supporters and 'the censorship machine' to opposers, mandates that platforms must monitor the information being uploaded to stop copyright infringement.
The directive is being led my MEP and German European Peoples Party member Axel Voss. His mission is clear: "We want to protect creatives."
Supporting Danish creatives
A number of Danish musicians have supported the bill including Christopher, Medina, Mads Langer, Shaka Loveless and Morten Breum. Paul McCartney was also in favour.
The chief officer of Koda contended this will bring "fair play in the digital world".
The new legislation should help organisations like Koda, which look after the rights and royalties of Danish musicians, while making big tech-companies like Facebook, Twitter and Google responsible for the content uploaded to their websites.
Danish MEP Jens Rohde said "I think it's amazing that artists and journalists will finally have the same protections online as they do in real life."
Who is responsible?
In the past, platforms like YouTube and Facebook have been considered open facilitators between creators and consumers.
However, under this new legislation they will be directly responsible for the content of their sites.
MEP Julia Reda tweeted "If we allow automatic enforcement of #copyright, then say goodbye not just to memes, but also to the public domain. These algorithms are built on the assumption that all culture is privatised and eventually this will be true. Code is law."