Activities
Copen'haven': taking a wander
---
This article is more than 5 years old.
Where the locals find refuge away from the hustle and the bustle of city-life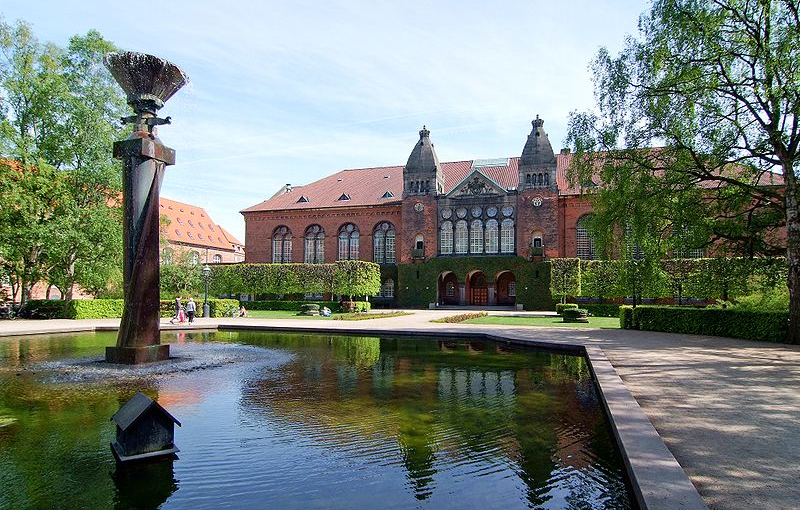 Copenhagen is certainly not short of amazing places to get a coffee or drink, take a break or meet friends – there are hundreds of places to choose from!
But given that most of them have already been described in a tourist guide, they tend to be pretty crowded.
Sometimes all we want to do, locals and tourists alike, is escape the hustle and bustle of the city.
Let's go undercover
With that in mind, we're taking you to 11 special locations in and around Copenhagen, whose original charms have not been affected by the huge crowds – yet.
Included are some places that are practically secrets – even from those who've been living here for years.
Whether it's exploration, recreation or refuge you're after, this list has got you covered – in an undercover kind of way.
Lapping it up by the lakes
Do you like to spot squirrels and listen to woodpeckers in a natural green surrounding? Then take a half-hour bus ride from Nørreport to the nature area of Utterslev Mose!
The park contains three lakes (Vestermosen, Midtmosen and Østmosen) surrounded by a few football fields, playgrounds, lots of shrubbery and many different kinds of trees.
While the park shelters fish, birds, frogs, sheep and hawks, it is mostly dominated by geese. All year long, they can be watched at different stages of their lives depending on the season – from the fluffy, soft ones that grow into awkwardly wed-ding youngsters, to the self-confident adults chilling out all day long.
Only locals walk here, so for those in the know it offers a great opportunity to take a break from the busy streets of Copenhagen once in a while.
GETTING THERE: From Nørreport, take Bus 6A and get off at Emdrup Torv. From the square, walk down Grønnemose Allé for about 10-15 minutes and you'll see the lakes and green areas. OR take Bus A2 and get off at the stop Husumvold Kirke/Åkandevej. You´ll see the lake right away.
Bonding with birds
All year long, the Danish Ontological Society organises nature walks in the Danish forests and you can join them! Depending on the season, an enthusiastic and experienced birdwatcher will show you lots of different kinds of birds, telling you all about them, how and where they live, and much more.
MORE INFO: visit dof.dk and follow the links 'Oplev fuglene' and 'Ture og Aktiviteter'. Contact guides to discuss your preferred time and day of the tour.
Fancy a cuppa?
When icy winds turn your nose red and make your eyes water while biking to and from work, it is time to warm up with a good cup of tea. Open since 1835, the cosy AC Perch's Tea Shop at Kronprinsensgade 5 welcomes everyone – that is if you can find a place! – serving tea of numerous flavours.
Hidden on a side road off busy Købmagergade, this shop serves more than 150 different quality teas from all over the world, cakes and scones, sandwiches, lunch dishes, and a range of sparkling white wines.
Their specialty, however, is – what else could it be – the Five O' Clock Tea.
Family fun at the farm
You love spending time around animals and enjoy the peace that comes with it, but are not allowed to own pets for whatever reason. Don't worry, there is hope for you!
At a place about 15 minutes from Rådhuspladsen, called Børnenes Dyremark, kids and adults volunteer to take care of each other's animals – big and small. This secret place hosts rabbits, alpacas, horses, hens and sheep.
Take your lunch from home and sit on a bench to watch lively antics in the city centre. Though it is not permitted to go into the animal cages, there are lots of petting opportunities. And if you fancy kicking a ball around for a change, there is a lawn (Karensminde) very close by.
GETTING THERE: Take the 'A' or 'E' S-train to Sjælør Station, walk down Sjælør Boulevard and you will find Wagnersvej 19 on your left.
At home with the artists
If you'd like to have an intimate museum experience without having to endure screaming children and constant flashes and noises from mobile phones, the Hirschsprung Collection is a good alternative to bigger museums in Copenhagen. Hidden behind SMK, most people wouldn't suspect there is a museum inside the building due to its quite neutral-looking facade, so if you didn't know what it is, you'd walk right by it.
The museum's huge art collection of Danish artists including works from, for instance, symbolist painters like Vilhelm Hammershøi, LA Ring and Ejnar Nielsen; Golden Age painters CW Eckersberg, JT Lundbye, PS Krøyer and Anna Ancher; and the Funen Painters. All the works were originally donated by art lover and tobacco manufacturer Heinrich Hirschsprung and his wife Pauline.
In addition to the paintings, the place is also furnished with items from the Danish artists' own homes.
The Danish 'Oxford'
At Fiolstræde 1, there is a place, so hid-den, so secret, that you'd have to be a student at the University of Copenhagen to know that it even exists, not to mention, how to get in.
In the library's reading hall (Bogsalen), those seeking a calm place to study are not disturbed by other people looking for books or asking the librarian for help, and children playing. The smell of old books, the high ceiling and classic green lamps take the visitor to back in time to when reading books still was a popular thing to do to pass the time.
If reading has made you hungry, Paludans Book Cafe is waiting for you just across the street. It has second-hand books on offer, but you can also read the ones on the cafe's shelves.
MORE INFO: Bogsalen is open from Monday to Thursday 09:00-19:00 and Fri 09:00-18:00.
Pilgrimage central
Esrum Abbey has a mix of activities to experience. Historically, pilgrims came from Sweden to begin their pilgrimage in the north of Zealand near Helsingør, where the Danish Monastery Route begins in Græsted. The monks from Esrum Abbey organised and sponsored pilgrimages throughout Europe and in the Middle East.
The route goes through 49 medieval monasteries. From Helsingør Harbour, the route passes by St Mariæ Church, Teglstrup Hegn, Gurre Church, St Jacob's Chapel and Gurre Lake, Klosterris Hegn to end at Esrum Abbey. Whilst on the road, it is possible to book hotels along the path, which you can either walk or bike to. The whole pilgrim trail is over 2,300 km long.
Inside Esrum Abbey, you can see how the monks lived and explore an exhibition about the Reformation. Outside, on the other hand, you can admire the landscape around the abbey as well as the beautiful Abbey Garden.
But Esrum is not only a place for adults. Children, too, can visit an exhibition about five kids from the Middle Ages and learn about the clothing they wore, their daily routines and what toys they played with in 1335. There is also a nature playground for kids and those adults still young at heart (both are free).
GETTING THERE: Take Kystbanen (the coastal train) from Copenhagen to Helsingør. Take Bus 390R and get off at Den Gamle Kro (the old tavern) in Esrum By. OR take the S-train to Hillerød. From here take the local train 940R to Gilleleje and get off at Mårum Station. From here take Bus 362 and get off at Den Gamle Kro (the old tavern) in Esrum By.
Cradle of industry
Few visitors to Dyrehaven end up discovering the Millstream (Mølleå in Danish), possibly because it's hidden in the north end of the park.
The Millstream helped drive the Danish industrial age as big companies used its power to produce textiles, metal merchandise, paper and armaments.
Production slowed and started to fizzle out in the 1950s, but many of the buildings from the industrial age still remain.
GETTING THERE: From Klampenborg Station, walk to Eremittagen and then around the golf course until you see the river and the old mill
The lost town
Just ten minutes on foot from the Fisketorvet shopping mall at Dybbølsbro Station, nestled in between Vesterbro and Kalvebod Brygge, lies a hidden Chinese town – the 'Yellow Town' as it is also called.
Built in 1909, the area used to be a DSB centre to repair trains, but now it has been turned into housing.
Don't rush through when you visit. Take your time strolling through the graffiti-decorated tunnels and enjoy the lost town's special atmosphere!
The secret garden
After a long day of shopping on Strøget, you can take a break in the hidden Royal Library Garden right in the middle of Parliament (Christiansborg) and the old Børsen.
Between 1898 and 1906, the Royal Library was established near the harbour, and the garden soon followed in 1920. The garden still contains some relics from the past, such as moorings on the wall it shares with Tøjhusmuseet (Dan-ish War Museum).
Located in the middle of the garden are a water sculpture by Mogens Møller, which belches out a cascade every hour, and a 1918 bronze statue of the world-famous philosopher Søren Kierkegaard.
Enjoy the gardens' constantly-changing vegetation with a hot cup of cocoa, tea or coffee while sitting on one of the many benches under the trees along the main wall. The garden also combines both the backyard of the Danish National Archives and the entrance to the Royal Library.
GETTING THERE: From Copenhagen Central Station, take Bus 2A or 9A to Børsen (Børsgade). Walk down Børsgade until you reach Slotsholmsgade on your right. After a short walk on this street, you will find Rigsdagsgården, also on your right. Walk down this street until you get to Proviantpassagen, again on your right. After a small walk, you will see the main entrance and exit of the garden.
A soldier's life at sea
Flakfortet is an artificial island built between 1910 and 1914 as a Danish defence post and used as such until 1968. Unattended between 1969 and 1975, the fort became subject to looting by fishermen and pirates, who stole everything that had not been bolted down.
The island's fortifications stand 23 metres high and it covers an area 30,000 sqm in size. Its two-floor complex includes an armoury, repair shops and barracks that could hold 550 soldiers. Guests are welcome to live the life of a soldier by staying overnight at the fort. Bathroom facilities, pillows, duvets and linen are included in the price.
Thanks to donations from sailing clubs, foundations, Copenhagen Municipality and private individuals, the fort was saved from financial ruin, 3,600 wildflowers were planted and the piers rebuilt.
The fort offers a wide range of activities, including guided tours, mini-golf, rappelling, lift shaft-climbing, kayak-polo, team building exercises, ghost hunts and scavenger hunts. Bring colleagues, family or friends and go wild. And it even has a restaurant.
GETTING THERE: From 10:00 it is possible to sail to the island from Nyhavn, but tickets have to be ordered prior to the trip. For later or earlier departures, a minimum number of 20 passengers is required to arrange a service.