News
Frederiksberg councillor calls for municipality exodus from Danske Bank
---
This article is more than 5 years old.
Radikale EMP candidate questions why local governance would want to invest in companies that avoid paying taxes, thus depriving them of funds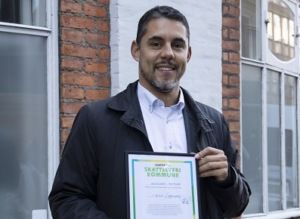 Frederiksberg councillor David Munis Zepernick has called upon all Danish municipalities to cut their ties with Danske Bank due to the unethical nature of their money-laundering.
An increasing number have this year signed the Oxfam/Ibis charter, which condemns tax havens and doing business with companies that carry out aggressive tax planning to avoid paying their fair share.
Enough is enough
Radikale councillor Zepernick, a candidate in next year's European Parliament elections, played a significant role in persuading Frederiksberg Municipality to join the charter – the third to sign in Denmark.
Since then a large number have followed suit, including Copenhagen, Næstved, Gladsaxe, Albertslund, Odsherred and Roskilde.
Send a clear signal
"Can a municipality credibly join the fight against tax havens and still be engaged with Danske Bank?" asked CPH POST.
"To me, the only logical conclusion must be to stop any involvement with Danske Bank. I will propose that Frederiksberg terminates any engagement with Danske Bank and I call for all other municipalities involved with the bank to do the same. This will send a clear ethical signal not only to Danske Bank, but also to the new banks chosen."
Last week, Frank Jensen, the mayor of Copenhagen, said it was likely the Danish capital would cut all its ties with Danske Bank in keeping with its description of itself as a tax haven-free city.
An enemy of the system
Given that they're funded by tax-payers, it makes perfect sense for municipalities, argues Zepernick, to shun companies that avoid paying their fair share of tax.
"Any conduct that undermines the tax base of the Danish welfare state conflicts with the interest of the municipalities," concurred Stine Bang from Oxfam IBIS.
"The idea behind the charter is to make sure that the municipalities do not invest or buy services or products from such companies."