Bars
All my days I will sing in praise of your soothing sun and welcome rum
---
This article is more than 5 years old.
Take a temporary Caribbean refuge from the approaching winter at Dexter's near the Lakes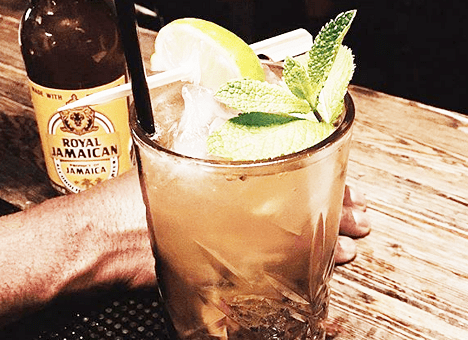 As the days in Copenhagen grow gloomier with the season, it can be hard finding escapes that channel the taste of summer. Dexter's, a bar just across the Lakes from central Copenhagen, offers temporary Caribbean refuge and quality cocktails in an upscale atmosphere.
Opened in 2015, the bar takes its name from its owner, Dexter Ricketts. His charisma, ease under pressure and zeal are reflected in the bar: from the drinks to his friendly, loyal staff.
Dexter's has a swanky interior complete with golden light streaming from low-hanging lamps onto the bar's dark walls and pale wooden booths with plush red pillows. Its unique atmosphere helps to channel the bar's sense of camaraderie.
Come to Caribbean church
Ricketts may have come to Denmark 20 years ago, but it has only been with the opening of his bar that he has truly brought a little bit of his Jamaican home to Copenhagen.
For many, it is an injection of spirit that had sorely been missing in the Danish capital, despite an ever-growing Caribbean and African community with few hangouts to call their own.
As one of his bartenders, Joshua Socrates, who himself has Jamaican roots, told me on the evening we visited: "It is kind of like our church."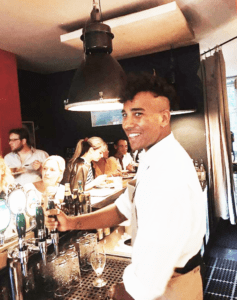 Nevertheless, the beauty of Dexter's is that everybody is invited to the party. "I love people – people make me happy," the owner says, gesturing at his bar and the multi-diverse range of patrons present on this early Thursday evening.
Throughout our visit, people come through the door smiling and ready to converse, contributing to the sense of a tight-knit community in the bar. And this is no fluke, confirms Ricketts. "As one of the rules of the bar states: 'We encourage everybody to put away their phones and interact with the people in the bar.'"
Yo-ho-ho: 120 rums!
Dexter's sense of community is notable, but perhaps the most impressive thing it its selection of 120 different rums. Dexter's imports varieties from all over the Caribbean, as well as beers from Africa and sodas especially from Jamaica.
The rums are displayed behind the bar. Lit from below, they range in colour from clear to the more familiar deep copper tones. Ricketts offers a monthly rum tasting at the bar and his expertise would serve any rum-lover well.
Dexter had us try his personal favourite: the Wray and Nephew White Overproof Rum. It is an impressive 63 percent alcohol (126 proof) and the company that distils it is responsible for 90 percent of all rum sales in Jamaica.
Despite the alcohol potency, it hits the tongue smoothly with complex notes of banana, pineapple and orange balanced with subtle hints of brown sugar and cinnamon spice. It's a truly enjoyable tot.
Cocktails with a sting
Dexter mixes his favourite rum into one of his best-selling drinks: the Old Jamaican. A combination of rum, sparkling wine, mint, lime juice, cane sugar syrup and Angostura bitters, the flavours really accentuate the spirit. Unlike its cousin, the mojito, in which the different flavours often muddle the essence of the rum, the Old Jamaican awakens the liquor, heightening its complex flavour profile. This was my favourite drink of the night.
We also tried 'Ting with a Sting', which features the same Wray and Nephew rum mixed with a popular grapefruit soda from Jamaica. "This drink will cool you down on the hottest day in Jamaica," promises Ricketts. The cocktail was light and refreshing and the rum came through with a bang.
Those looking for a lighter cocktail can ask for the bar's classic welcome cocktail, which they serve at private parties: a delicious mix of guava juice and sparkling wine. It's the perfect starter drink and the tropical flavour of the guava and the sparkling wine go hand-in-hand to introduce the customer to the vibe of the bar.
Mixing all night long
Dexter's has a monthly Sunday dinner with Caribbean food that is a whole community event. The same catering is an option for private parties that Ricketts plans to a T, putting his well-mixed drinks and great bar interior on display for such occasions.
A great place to escape those stormy days in Copenhagen, Dexter's offers amazing cocktails, a real sense of community and a unique drinking experience. It's a bar where different cultures and classic Caribbean ingredients mix to guarantee a great Friday night out.