News
Culture News in Brief: Old porn book sheds light on the 'lengths' they went to
---
This article is more than 5 years old.
In other news, the latest Department Q film is smashing records, while a town in Colorado is smashing up a Danish sculpture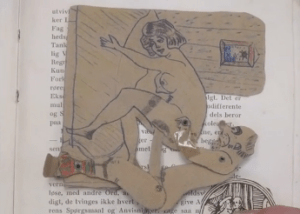 Pornography has come a long way since its legalisation in Denmark in 1969, and a recent discovery in Bornholm has revealed the  'lengths' people would go to back in the old days for a quick thrill on their own.
An innocent-looking school text-book, compiled sometime between 1934 and 1960, was found to contain erotic drawings and illustrations, along with some hardcore photos.
Published in full
The 1934 book 'Skolealderens Sjæleliv' (school age's soul life) also included some humorous verse, including the lines "Men nonnen hun skreg i det hellige kor / for ridderens pik var en tomme for stor" (but the nun screamed out in the holy choir / for the knight's cock was an inch too big).
Historians are said to be thrilled by the discovery, bought for just 50 kroner at a second-hand store on the Danish island.
The book has now been published in full at bornholmskebilleder.brk.dk.
---
Latest Department Q instalment smashes box office record for Danish film
The latest Jussi Adler-Olsen cinematic adaptation has smashed the all-time record for the most money taken by a Danish film at the box office. 'Journal 64' ('The Purity of Vengeance'), the fourth instalment in the Department Q series, has taken 72.5 million kroner so far. It means  the Department Q series accounts for four of the top five. However, the list is not adjusted for inflation, and the top ten consists entirely of films made in the last decade. Two more million kroner will see 'Journal 64' enter the all-time top ten, although it is some way short of being the top Nordic noir film, as the 2009 Swedish film 'Män som hatar kvinnor' ('The Girl with the Dragon Tattoo') took 88.1 million kroner in Denmark.
Sofie Gråbøl to play Danish queen in HBO miniseries about revered feminist
Sofie Gråbøl will play the queen of Denmark in 'Gentleman Jack', a new HBO miniseries about the feminist icon Anne Lister, which will come out next year. The 19th century British landowner and traveller has been cited by many modern feminists as one of their biggest inspirations, and she is probably best known for using a code to record her lesbian romances in her diaries – a cipher not cracked until the 1980s. Denmark was one of the many countries she travelled to, and Gråbøl will play Queen Marie, the consort of Frederik VI, who ruled Denmark from 1808 to 1839. Lister, meanwhile, will be portrayed by Suranne Jones ('Doctor Foster').
Robyn signed up by Roskilde
Robyn, the 39-year-old Swedish pop star, is the latest addition to be confirmed by the 2019 Roskilde Festival. She will play on the Orange Stage in what will be her first appearance in nine years. She also previously performed in 2008. Next year's festival will take place from June 29 to July 6, and Robyn joins a line-up that already includes The Cure, Travis Scott and Scarlet Pleasure.
Dane's wooden sculpture dismantled in Colorado following complaints
Thomas Dambo's five wooden sculptures in the suburbs of Greater Copenhagen, which were reported with great gusto in May 2017, continue to be a big hit with locals and tourists, but a five-metre troll erected in the small town of Breckenridge in Colorado has proved to be less popular. Following complaints by local residents that an estimated 3,000 visitors a day were causing congestion and littering the area, the local municipality tore down 'Isak Heartstone' – a sculpture Dambo constructed out of recycled wood in a collaboration with the Breckenridge Creative Arts – much to the dismay of local businesses. Isak Heartstone is looking for a new home, and it is believed he will remain in Colorado.