InOut
On Screens: Remembering Robin – why nobody gives a Friar Tuck
---
This article is more than 5 years old.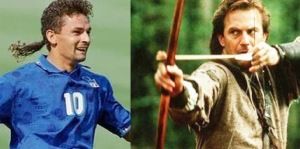 Poor old Robin Hood – nobody's ever got his back. When he turned up in Sherwood Forest, he found a motley crew with low self-esteem. Bland, Much, Little … it didn't bode well. By the time he'd finished, they were the Merry Men riding through the glen. That's impressive given they were living in their own shit and giving all their plunder to the poor because Robin said it would make them look good in posterity. Kamikaze pilots were made weaker promises.
But maybe they've been best off in Robin's shadow given the procession of confused films and TV adaptations that have come out over the last 40 years. The problem most film-makers face is how historically accurate the fictional tale should be, and how much it can be treated as fantasy. The result tends to be more reminiscent of the decade it was made in than the late 12th century, with promo shots of the merry men looking more like pop bands from the era. Quickly they all look dated – a fate that should never befall a costume drama.
Kevin Costner in Robin Hood: Prince of Thieves (1991) is a doppelganger for Italian footballer Roberto Baggio. The two Robins in the British 1980s TV series Robin of Sherwood have haircuts that wouldn't have looked out of place in Spandau Ballet. And the cast of the BBC 2006 series look like they're extras on that awful series set in a Manchester salon.
Historically accurate (Robin Hood, 1991; Robin Hood, 2010) tends to miss the target too, leaving the 1938 Errol Flynn vehicle The Adventures of Robin Hood as probably the only version in which our belief is suitably suspended – not bad for a film with an Aussie in the lead that was shot entirely in California.
No moor? We said no more!
There's no doubt the new version of Robin Hood (33 on Metacritic; released on Nov 29) is going to have a short shelf-life, but its eyes are on the Christmas box office takings, not the BFI films of the century list coming out in time for Xmas 2099. To be fair to director Otto Bathurst, he seems aware of the pitfalls of previous Hoods trying too hard, so he doesn't try at all. Like with the recent Guy Ritchie film King Arthur: Legend of the Sword, the inclusion of anachronistic weaponry, clothing and language tell you that authenticity isn't an issue, even though Danish archer Lars Andersen coached the leads in the lost art of fast-firing for the action scenes.
Taron Egerton (Kingsman) has been miraculously transported from modern day Clacton-on-Sea to play Robin, while Jamie Foxx is straight outta Compton to play his Moorish compadre – a regular in the gang that the writer of the Costner film did not realise was originally created for Robin of Sherwood, forcing him to change the name of Morgan Freeman's character to avoid copyright issues.
The reviews haven't been kind. "This version will make you side with the Sheriff of Nottingham," observed Time Out. "Arriving just in time to win a place among the year's worst films, Robin Hood – bursting with an entitled sense of its own non-existent coolness – falls flat on its fat one," chimed Rolling Stone. You have been warned!
All that glitters is hot Gaga
Robin Hood isn't the only story that keeps on spawning. The original 1937 version of A Star is Born (88; Dec 6) was remade in 1954 with Judy Garland and James Mason, and then in 1976 with Barbra Streisand and Kris Kristofferson, while the Mariah Carey vehicle Glitter (2001) borrowed most of the plot.
Bradley Cooper directs and stars alongside Lady Gaga, who is a hot favourite to win an Oscar for her portrayal of a singer who finds fame and belief under the guidance of a famous, wiser, old enough to be her father household name. She ends up in his arms, but will she ultimately want to keep him at arm's length? The previous versions suggest she will.
Audiences were divided as to whether Robin Hood is unintentionally hilarious, but who will be able to resist a guffaw when they see Mortal Engines (Not Released Worldwide; Dec 6), the futuristic tale of a woman's quest to stop London – yes, the UK's capital, only now it's a giant predator city on wheels – from devouring everything in its path. And it's not even a satire about its football teams paying next to nothing for the best players in the regions and never playing them.
Too often Lars von Trier is best enjoyed with a wry smile, although there's always a danger that deep-vein thrombosis will set in. At 152 minutes long, The House That Jack Built (41; Nov 29) must be the longest serial killer film of all time, and although the graphic content is disturbing at time, the critics' biggest complaint is its dullness. Von Trier has again demonstrated he should leave the English-language scripts to someone else.
Rendered in Norwegian, but worth mentioning here is Reconstructing Utøya (NRW; Nov 29), the third film to come out this year about the 2011 Oslo attacks. In this documentary, four of the survivors direct actors to retrace their steps in a studio, charting the fateful hour in which they evaded being one of the 69 people killed by Anders Breivik. One of the featured survivors is Torje, the younger brother of Viljar Hanssen, the principal character in 22 July, the English-language film directed by Paul Greengrass and currently on Netflix.
Mowgli's motioning to you
Just in case you never go to the cinema in the belief that the likes of Netflix will eventually oblige, it looks like two years is the going rate for Oscar contenders, as two films released in the US in late 2016 are making their Netflix bow next week: La La Land (Dec 1) and Manchester by the Sea (Dec 3), along with 2017 opeful The Disaster Artist (Dec 4).
One film coming directly to the streaming service is Mowgli: Legend of the Jungle (Netflix; Dec 7), a live action version of the Kipling classic filled with motion capture performances under the direction of the master himself, Andy Serkis (Gollum, King Kong), who stars as Baloo the bear. A terrific cast includes Benedict Cumberbatch as Shere Khan the tiger and Cate Blanchett as Kaa the python.
Staying with Netflix, in what is a lean fortnight for new TV series, Pine Gap (Australian – Dec 7) and The Hook up Plan (French – Dec 7) look terrible, Dogs of Berlin (German – Dec 7) and Baby (Italy – Nov 30) average – from the same country My Brilliant Friend (86; HBO Nordic since Nov 17) comes highly recommended) – and 1983 (Polish – Nov 30) promising.
Also recommended is John le Carré espionage thriller The Little Drummer Girl (75 on Metacritic; C More from Dec 13), a three-part miniseries set in the 1970s starring Florence Pugh, Alexander Skarsgård and Michael Shannon – three actors who keep on going from strength to strength.
Over on HBO Nordic, there's not much to get excited about. The BBC miniseries Deaths and Nightingales (Dec 13) so badly wants to be Lady Macbeth (starring the excellent Pugh), but Jamie Dornan looks out of place, while Berlin Station (S3, Dec 3) and T@gged (S3, Dec 7) are back for new seasons.
Maybe it's time Robin Hood never came back. According to legend he fired an arrow from his deathbed with instructions to be buried there. With all the pain that's followed, it makes you wonder if he was buried alive.