Travel
A-Z of Ireland: Celebrating the eccentric world of the Emerald Isle
---
This article is more than 4 years old.
From Joe Dolan to Coleen Nolan, if this lot doesn't get you in the mood for dancing, nothing will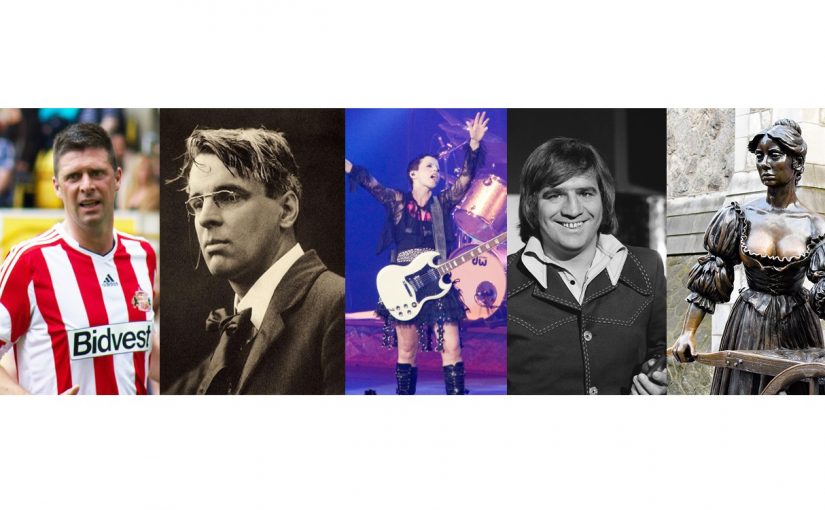 A is for the Angelus, the most familiar sound in Ireland … after a car alarm. Televised twice a day, the Angelus bells are rung to remind the nation of the incarnation. Since 1950, a one-minute recording has been broadcast daily at 12:00 and 18:00 – the latter just before the main evening news. Originally a recording made at Saint Mary's Pro-Cathedral – the seat of the archbishop of Dublin – the religious imagery visuals were removed in 2009, confirmation that Angelus today is a very lengthy dinner bell.
B is for Bloomsday on June 16, an occasion often overshadowed by St Patrick's Day but growing in popularity. Named after Leopold Bloom, the main character in James Joyce's 'Ulysses', participants dress up in Edwardian costumes to retrace Bloom's routes around Dublin, visiting all the landmarks in the book. A pub in Copenhagen of the same name had a similar crowd: expats dressed liked it was still the 1990s who always got lost returning home.
C is for Craic, the Irish word for fun, a relatively new addition to the Irish language (circa 1960s), and its usage is as addictive as its namesake drug. As Damien McNamara from Tallaght in Dublin explains: "It can just about be squeezed into any sentence ranging from greetings, put-downs and compliments to even ordering food."
D is for Dolan, as in "there's no show like a Joe show" Dolan, Ireland's answer to Cliff Richard (without the accusations of impropriety), who had number one hits in the 1960s, 1970s, 1980s and 1990s, but virtually no success (just like Cliff) outside his home country. Joe is the only person to have sold a body part on eBay – a hip bone to raise money for charity.
E is for the Eurovision Song Contest, a competition that Ireland has shamefully taken too seriously over the last 50 years, winning it a record seven times, including three on the trot in the 1990s, which resulted in substantial hosting duty costs threatening to derail Ireland's economic revival. Since then their entries have been deliberately bad.
F is for feck, as in feck off, which is very different from being told to f##k off.
G is for Gaeltacht, the name given to primarily Irish-speaking regions. The term was officially recognised during the 1920s in the early years of the Irish Free State, following the Gaelic Revival, as part of a governmental policy aimed at restoring the Irish language. Saying it correctly is half the battle.
H is for Hibernian, Ireland's name in ancient times, a place so sodden and depressing that even the Romans didn't fancy it. The legend has it that it was infested with snakes – resulting in hundreds of years of serpentine servitude until Paddy the herdsman drove them out and they made him a saint. "The more cynical among us believe that they all drowned 'cause of all the rain," contends Stephen Ball, who has been living over here since 1986 and is the former treasurer of Copenhagen Celtic, a thriving football club founded by Irish expats in the early 1980s.
I is for Irish mile. Today normally used to sugar-coat an imprecise distance of just over one mile or just under two, or if it's just under three miles, then two Irish miles … you get the idea … but historically it's a defined measure of exactly eight Irish furlongs – approximately 2,240 yards, or 2.048km.
J is for Jack Charlton, the first foreign manager of the Republic of Ireland football team, who more than earned his honorary citizenship when he fell asleep during an audience with the Pope in 1990. Granted, reaching the quarter-finals at that year's World Cup might have been taken into account, as well as beating England at Euro 1988 and Italy in 1994. But then Jack fell down and broke his crown, and it's all been downhill since.
K is for kinship, as 70 million people worldwide claim to be descended from the Emerald Isle: incredible when you consider that the population of the Republic of Ireland is only 4.784 million. The Americans are the worst culprits, fuelled no doubt by an obsession with genealogy and having a better community than the Italians. In contrast, only 123 people claim to be English and half of these live on Pitcairn Island and are descended from the same man.
L is for Lisdoonvarna, a small town in County Clare with a population of less than 800 people that has become very famous for its music and festivals. Among them is one of Europe's largest match-making events, which attracts up to 40,000 people over a month-long period.
M is for Molly Malone, the subject of the world's most popular song and also a famous statue that is known locally as The Dish with the Fish and The Dolly with the Trolley. The song tells the tale of a fishmonger who worked and died young on the streets of Dublin.  Legend also has it that there was a historical Molly who lived in the 17th century and was a hawker by day and prostitute by night – which might explain why the statue is also referred to as The Tart with the Cart and The Trollop with the Scallop.
N is for Anne, Denise, Maureen, Linda, Bernie and Colleen – the Nolans. In 1979, a long, long time before girl bands, when it was more about talent than looks, some pretty ordinary looking sisters told the world they were in the mood for dancing. They are huge in Japan (but isn't everybody) where they have sold more records than The Beatles.
O is for O'Donnell as in 'Wee' Daniel O'Donnell, the first artist to have a different album in the British charts every year for 25 consecutive years – bet you didn't know that! [Know that? Nobody in the office had ever heard of him, Paul].
P is for Póg mo thóin – which literally means kiss my ass. A play on these words was used for the seventh and final studio album by The Pogues: 'Pogue Mhone'.
Q is for Quinn, Niall Quinn, possibly Ireland's nicest man. He was a successful football player, scoring 21 times for his country in 92 internationals, but today he is better known for his off-the-pitch generosity. He famously donated the proceeds from his testimonial to charity and once paid the taxi fares of a group of supporters from Bristol to Sunderland after they had been thrown off a plane for singing a song about him. As the Sunderland crowd often reminds him: "Niall Quinn's taxi cabs are the best. So shove it up your arse Easyjet. Fat Fred wouldn't do it for the Mags. Niall Quinn's taxi cabs!"
R is for Roche – as in Stephen, the cyclist who astounded Ireland to win the 1987 Giro D'Italia and Tour de France. Roche owed part of his success to extreme good fortune, and no, it wasn't a four-leafed clover. Greg LeMond, the overwhelming favourite to wear yellow in Paris, was shot whilst out turkey hunting by his uncle – not Roche's uncle, we hasten to add, although brother Lawrence and son Nicolas were also pro cyclists capable of making a quick getaway over wooded terrain.
S is for Bram Stoker, who was born in 1847 in Fairview, a coastal suburb of Dublin.  After studying mathematics at university, he wrote his first book aged 32, named 'Duties of Clerks of Petty Sessions in Ireland', a book so boring it sucked the blood out of anyone who read it. Years later, his widow, who dated Oscar Wilde before marrying Stoker, ended up successfully suing the makers of the first-ever Dracula film, 'Nosferatu', for not seeking her permission.
T is for Taoiseach and Tánaiste, the head of government and the deputy. They sound fancy at state occasions and give foreign visitors an understanding of what it's like to be misunderstood half the time when they try to say them.
U is for Ulster, which along with Munster, Leinster and Connacht, makes up the four provinces that the island of Ireland is divided into. People often get very confused that a country can be inside a province, but Northern Island is part of Ulster, as there are three Ulster counties in Ireland. In all there are six counties in NI and 26 in the republic.
V is for Van the Man, the great Irish singer-songwriter, instrumentalist and record producer George Ivan Morrison, a one-time resident – you couldn't make stuff like this up – of the Copenhagen suburb of Vanløse. He lived there from 1980 until 1983 and even penned a song entitled 'Vanløse Stairway'.
W is for Keith Wood, perhaps Ireland's best ever rugby forward: a hooker of outstanding talent and tenacity, whose bald-headed appearance earned him the nicknames 'The Raging Potato' and 'Uncle Fester' from The Addams Family. He was capped 58 times for Ireland (most of these as captain) and five times for the Lions – playing a huge part in their last successful tour, in South Africa in 1997.
X is for x-rated moments in Irish sport. From Pat Bonner's howlers in the 1990 and 1994 World Cup finals to the injury time concession of a try against eventual champions Australia in the 1991 Rugby World Cup quarter final, Ireland have a habit of snatching defeat from the jaws of victory. Why couldn't they have shown the poise and cheek of Eamonn Coghlan, the Irish 1983 World Champion in the 5,000 metres? As he passed the long-term leader on the final bend with a pack of runners closing down on him, he paused for a couple of seconds to survey the poor guy before speeding off to victory. Now that's poetry in motion.
Y is for Yeats, as in William Butler Yeats – the Nobel Prize winner for literature in 1923, who also served as a senator of the Irish Free State for two terms. Upon his death he had a bizarre request: 'If I die bury me up there [at Roquebrune] and then in a year's time when the newspapers have forgotten me, dig me up and plant me in Sligo." Yeats died in 1939 and he was duly buried in France, but then World War II broke out, and he had to wait a further nine years before his body was ferried over to Ireland.
Z is for Zombie, a 1994 song penned by Irish band The Cranberries about the 1916 Easter Rising and arguably one of the best protest songs ever. A classic, and given how it commemorated events that dragged British troops away from the front line, it was understandably number one in Germany.