News
Business Round-Up: Post-Brexit fish 'n' chips sorted
---
This article is more than 4 years old.
The Faroes will play a major role in keeping Britain supplied with its national dish should it crash out of the EU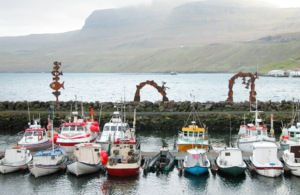 In the increasingly surreal circus that is Brexit, things change almost from day to day and nobody seems to know what is going on.
Are we in, are we out and if so – when?
So it may come as a surprise that the UK has not been completely idle when it comes to planning for a potential post-Brexit trade Armageddon.
A fishy business
At the end of January, the UK trade policy minister, George Hollingbery, signed a trade continuity agreement with the Faroe Islands that will see British businesses and consumers benefiting from continued trade with the Faroe Islands after Brexit – whenever that might be.
Apparently, the UK imports almost 200 million pounds' worth of fish and crustaceans from the Faroes and the agreement will allow imports to continue tariff-free and enable businesses to trade as freely as they do now.
As an EU member, the UK is automatically part of about 40 trade agreements that the EU has with more than 70 countries. If it leaves the EU without a deal, these deals would immediately be lost.
In good company …
The new UK-Faroe Islands agreement replicates the existing trading arrangements as far as possible. It will come into effect as soon as the implementation period ends in January 2021, or in October if the UK leaves the EU without a deal.
This takes the number of so-called continuity deals to ten. The others signed
---
Cup continues to deliver
On July 1, the best creative startups from over 60 countries – including China, Philippines, Thailand, India, Ukraine, Costa Rica, Australia and Nigeria – will compete with each other at the 2019 Creative Business Cup Global Finals in Copenhagen. The annually-held championship is an opportunity for entrepreneurs to connect with investors, venture capitalists, crowdfunding platforms, business pioneers and industry experts from all over the world. The event will be held from July 1-2 at the Bella Center. (Arushi Rajput)
No mountains in DK

One of the most intriguing things in Denmark is that it is very hard for a new employee to identify who their new boss is simply by observing their actions. For example, they might observe a lot of arguments taking place over an extended period of time and ask: "Is there anyone here who is going to take some control?" One expat once asked a Dane why there are no mountains in Denmark. "We don't have any," the Dane replied with a smile and continued: "Because we have a flat structure at work and in nature." (Jinu Jayapalan)
Thriving in the US
A report released by Dansk Industri and the Danish embassy in Washington DC reveals US-based Danish companies are creating investment opportunities across America, as well as 123,000 jobs primarily in the areas of medicine, health, food, energy and the environment. The report has monitored all Danish business activities in the US, and the findings indicate a rather positive future for Denmark in the US — and the world. (Arushi Rajput)
Drought insurance offer
GF Forsikring has launched a drought insurance that can be bought as a supplement to a house or summerhouse insurance policy. The premium is 100 kroner per year but there is also a deductible on the first 20,000 kroner's worth of damage. After that, and assuming various conditions are met, the policy will pay up to 150,000 kroner to repair damage.
Bank implicated again
Danske Bank is embroiled in another money laundering scandal – this time to the tune of 169 million kroner over seven months involving a Danish money exchange company and the global cash handling firm Loomis. In related news, another group of foreign shareholders is suing the bank for losses incurred by the Estonian scandal – for 750 million kroner.
JYSK founder gravely ill
Lars Larsen, the founder of the retail chain JYSK, has been diagnosed with liver cancer and resigned as chair. His son, Jacob Brunsborg, has taken over. In related news, Hans Frede Fleggaard, the grocery shop owner who became a multi-millionaire with 17 stores on the back of Danes flocking to Germany to buy cheap goods, has died at the age of 85.
Sentence increased
The High Court has increased the prison sentence of Lars Møller, the former head of Dynamic Oil Trading, from six months to five years. Under Møller's supervision, the Singapore-based OW Bunker subsidiary lost 645 million kroner through oil speculation and unwise lending. OW Bunker went bankrupt in November 2014 as a result.
Total cuts 200 jobs
French energy giant Total is laying off 200 workers along with some external consultants at its Esbjerg branch, but confirmed no redundancies will be made in Copenhagen, where it employs 360 people.
Management by fear
Around 700 employees at SAS have reportedly signed a letter complaining about the 'management by fear' leadership style of the company. In related news, the airline has confirmed it will introduce the upcoming Airbus A350 on its Copenhagen-Chicago route from 28 January 2020, with a view to using the giant planes on seven more routes.
Arla targeting food waste
Arla is adding the words 'often good after' alongside the expiration date on a wide selection of its milk cartons in order to encourage consumers to apply common sense and assess if the milk is safe before they discard it. In related news, FC Copenhagen and a number of other interest parties are seeking a sustainable alternative to the disposable plastic cups used at Parken.
More data centre upheaval
Thomas Anderson, the mayor of Aabenraa, is disappointed that Apple has decided against building a data centre in the South Jutland town and will now concentrate its efforts on Viborg. In related news, Facebook, which similarly cancelled plans to build a centre in Esbjerg, has confirmed that a British contractor died whilst working at the site of its new centre in Odense on May 20.
Manufacturing growth
There was 0.5 percent growth in the Danish manufacturing sector between March and April, according to Danmarks Statistik. Manufacturing generates around 16 percent of the country's jobs and 18 percent of the total value creation. Dansk Industri chief economist Morten Granzau claims the growth is an indicator of a booming economy.
Best 7-Elevens in world
A 7-Eleven franchisee in Denmark, which is under the management of Reitan Convenience Denmark, has been named the 'World's best convenience concept' by the National Association of Convenience Stores. It is generally regarded as a model for 7-Elevens across the world.