News
International Round-Up: State eyes foreign fighter shortcut
---
This article is more than 4 years old.
Prospective release of IS prisoners from Kurdish-held detainment centres spurs government into action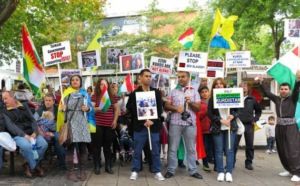 Following Turkey's invasion of northern Syria, a law to strip foreign fighters of their dual citizenship in absentia has been fast-tracked by the Danish government.
Necessary action
The proposed law would strip dual-citizen Islamic State (IS) fighters of their Danish citizenship and thereby prevent any attempt to re-enter Denmark if released from Kurdish detainment camps.
"These are people who have turned their backs on Denmark and used violence to fight democracy and freedom," said PM Mette Frederiksen. "They are a threat to all our safety and are unwanted in Denmark."
Fears have been growing since US President Donald Trump turned his back on the Kurds by pulling US troops out of Syria, asking where they were on D-Day. But for the time being, the IS fighters remain detained.
United EU decisions
Meanwhile, and at Denmark's insistance, the EU has moved to condemn the Turkish assault and announced a restriction on arms sales to Turkey.
The foreign minister, Jeppe Kofod, said that the action was essential to "ensure that we can still maintain the fight against Islamic State".
Aid organisation exodus
In the wake of the havoc, a Danish NGO, Folkekirkens Nødhjælp, has ceased its activities in Syria for security reasons.
In Syria, Folkekirkens Nødhjælp has been involved in, among other projects, reconstructing areas damaged by the war and advising the locals on how to disarm live ammunition, such as mines.
Growing tensions
The government's action reflects the escalating tensions between Kurds and Turks brewing both in the Kurdish-controlled areas in northern Syria and locally within Denmark's borders.
Turkey's assault has strained existing tensions between the two communities in Denmark, including social media discourse, restaurant boycotting, an attack on the Turkish Embassy, and a violent assault on Kurdish demonstrators at the beginning of this year.
---
More border controls
In response to the gang violence and bomb attacks connected to Sweden, Denmark is introducing temporary border controls at the border with its northern neighbour from mid-November. The controls will consist of random checks a few times a week. The measure comes at a time when pressure is building on Denmark to cease its temporary controls on its border with Germany.
Aussies bash Danes
Australian TV channel ABC recently broadcast a TV segment portraying the Danes as pork-infatuated, immigrant-phobic Muslim-bashers. And then, barely as the dust had settled, a YouGov survey for Mandag Morgen revealed that 28 percent of Danes either agree or partially agreed that all Muslims should leave Denmark.
Aid to fight hunger
Denmark has confirmed aid of 192 million kroner to help fight hunger – primarily in Africa through donations to the UN and Red Cross. According to the UN, more than 113 million people in 53 countries suffer from hunger – 10 million more than last year.
'New Danes' more fervent?
According to an Immigration and Integration Ministry report, 48 percent of the descendants of non-western immigrants in Denmark think it should be illegal to criticise religion – a higher rate than the 42 percent of immigrants who have been here at least three years. For ethnic Danes, the rate was 20 percent. The survey revealed that many immigrants identify more with feeling Danish than they did a decade ago, while tolerance about homosexuality has also increased. However, increasing numbers of 'new Danes' believe women should only marry a man who their family accepts. (CW)
A seventh aren't Danes
Every seventh resident in Denmark is either an immigrant or a direct descendant of an immigrant, according to Danmarks Statistik. The group accounting for the highest number is the Turks with almost 64,000, followed by Poland (over 48,000), Syria (over 42,000), Germany, Romania and Iraq (all over 33,000), Lebanon (over 27,000), Pakistan (over 25,000), Bosnia and Herzegovina (over 23,000), Iran and Somalia (both over 21,000) and Afghanistan (over 19,000). There are currently over 5.8 million people living in Denmark – up from over 4.9 million in 1980. (CW)
Polish pipeline approved
Denmark may be procrastinating regarding Russia's Nord Stream 2 gas pipeline, but its energy agency has approved the Baltic Pipe link traversing Danish territory on its way from Norway to Poland. "Baltic Pipe is expected to contribute to a Polish transition from coal to natural gas, and thus reduce greenhouse emissions," explained Energistyrelsen. The pipeline is scheduled to land in Denmark from the North Sea at Hostrup Beach in west Jutland, go across Funen to Faxe in Zealand, before heading to Poland via the Baltic Sea. Work is expected to commence in 2020. (CW)
Victims identified
Supported by Europol's European Cybercrime Centre specialists and intelligence analysts, 30 law enforcement experts recently went through millions of images and video files of young sexual abuse victims – some as young as a few days old – and were able to identify four children living in the EU, whose well-being is now being safeguarded. Specialists from Denmark, 17 other European countries, the US, Canada, Europol and Interpol analysed digital, visual, and audio content to retrieve vital clues. Europol's database yielded 48 million images and video files for the operation. (TM)
Aid to fight hunger
Denmark has confirmed aid of 192 million kroner to help fight hunger – primarily in Africa through donations to the UN and Red Cross. According to the UN, more than 113 million people in 53 countries suffer from hunger – 10 million more than last year.
EU gambling law bid
Søren Gade concedes that persuading the EU to ban gambling and quick loan ads on television might be futile, but at least he and his fellow Danish MEPs will "be able to say we fought for it". Some 10,000 people in Denmark are gambling addicts and 125,000 have a gambling problem.
Fourth individual charged
PET has charged a fourth individual with alleged Turkish espionage on Danish soil. Along with three people charged in March 2018, the individual is accused of collecting information about those associated with the Gülen movement in Denmark.
Terror list bid
A group of US Democrats have petitioned the US Department of Foreign Affairs to include the Nordic Resistance Movement, a Nordic extremist group with a presence in Denmark, on a list of current or potential threats to either the US or its allies.
Key Arctic conference
The foreign minister, Jeppe Kofod, recently visited Iceland to take part in the annual Arctic Circle Conference. The key discussion points were security, sustainable economic development, the climate and living conditions.
Funds to stabilise Syria
Denmark has earmarked 50 million kroner to helping stabilise Syria – primarily in the north and northeast of the country. Some 30 million will be spent on mine clearance and training locals, while 20 million has been set aside for activities such as the restoration of electricity and water supply. (CW)