News
Business Round-Up: Minister to tackle soaring rental prices
---
This article is more than 4 years old.
Finding a cheap rent in Copenhagen significantly harder than five years ago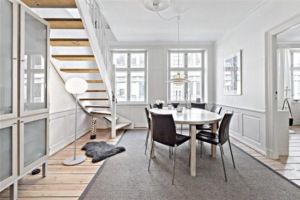 Since 2014, the average monthly rent payable on a two bedroom apartment in Copenhagen has increased from 8,536 to 11,225 kroner. While in 2015 there were 48,000 apartments available to rent for under 5,000 kroner, today there are only 36,300.
For internationals it can be particularly perilous, as expats on average pay 28 percent more than Danes. Many Danes will tell you that's because they're prepared to pay the asking price, and some rental companies deal exclusively with internationals to cash in.
Landlord loophole
The surge in price has been blamed on a paragraph in the housing regulation law, which enables landlords to raise prices if they spend 250,000 kroner on renovations.
But now the housing minister, Kaare Dybvad, has indicated he wants to "find a solution as it is an overly lucrative business for foreign equity funds to buy Danish rental properties, and then dramatically increase the rent".
The name is Blackstone
The company most associated with the practice is US company Blackstone, whose modus operandi is to purchase cheap apartments, invest in renovations, and raise rental prices significantly. It has reportedly invested half a billion kroner so far.
While Blackstone insists it only owns 0.5 percent of Copenhagen's rentals market and that its focus is buying renovated apartments, Bloomberg calculates the law change would decrease its investment returns by 47 percent and see average rent increases halved.
Invesco also investing
Blackstone is not the only one. The US company Invesco bought 191 apartments on Grønttorvet in Valby for 520 million kroner in October and has just announced a deal to acquire another 124 in Islands Brygge for an undisclosed price on behalf of a German pension fund.
And six of the eight biggest Danish pension funds have told Bloomberg that they are expanding their property portfolios, citing negative bond yields that are expected to continue for several more years.
---
Low unemployment
The unemployment rate remained at 3.7 percent in September, which corresponds to 104,300 people out of work, according to Danmarks Statistik. Overall, the figures have barely changed this year. However, there is a gender gap, as the male unemployment rate fell by 400 individuals between August and September, while the female rate remained unchanged.
Export threat to jobs
Danish exports could fall by 2 percent this year, according to Dansk Erhverv, resulting in a loss of 24 billion kroner and 11,000 full-time positions, of which 6,400 will be in the service sector. Some 520,000 jobs depend on exports in Denmark, which totaled in 1.2 trillion in 2019. The hardest hit municipalities will be Tårnby, Gentofte and Gladsaxe.
One of the world's best
The SAS Museum in Oslo, which is located close to the Norwegian capital's main airport, has been included on a top ten list compiled by CNN of single airline-dedicated museums.
On the shortlist
Among the finalists for the 2020 MBA Student of the Year Award is Monika Lemajic, a CBS student. The winner will be announced by the Association of MBAs and Business Graduates Association on February 7.
Another for its collection
Swedish Midstar Hotels, which recently acquired the Marienlyst Strandhotel in Helsingør, has snapped up the 366-room Copenhagen Admiral Hotel on Toldbodgade in a deal valuing the building at 873 million kroner. In related news, the opening of the 605-room Comfort Hotel Copenhagen Airport next August is expected to generate around 100 jobs.
New owner for Spies
Spies has new owners following the completion of a 6 billion kroner takeover. A consortium led by Norwegian billionaire Petter Stordalen (40 percent) along with capital funds Altor and TDR Capital (40 and 20 percent) has taken control. Spies' former owner, Thomas Cook, went bankrupt in October, even though Thomas Cook Northern Europe was a profitable business.
Best shopping centre
Rødovre Centrum has been named Denmark's best shopping centre for the third time at the NCSC Awards, which also judged it runs the best marketing campaigns. NCSC described the centre as a role model for the entire industry.
Asking NASA for tips
Quilts of Denmark has asked NASA if it can share its body-temperature control technology so it can develop a duvet that can cool down when necessary during hot and sticky nights.