Food & Drink
This summer's blockbusters: Copenhageners can't get enough of queuing for their favourite goodies
---
This article is more than 3 years old.
Pastries, burgers, donuts, eclairs and ice cream to die for, if the incessant waiting doesn't polish you off first
They say good things are worth the wait. And we've certainly observed a fair amount of waiting around the city this spring, with people queuing incessantly at their favourite foodie spots.
Just like Paris
Are queues becoming the new norm in Copenhagen? After all, Parisians will always tell you to follow the queue because that's where you'll find the good stuff. And it really appears to be catching on!
You can't solely blame it on the coronavirus and its distancing rule – this is about hype and the fear they will sell out. Get used to it: queuing is part of our daily lives.
As a matter of fact, the queuing theory, also known as the mathematical study of waiting lines, was invented about a hundred years ago by Danish engineer AK Erlang, so no wonder it comes so naturally to the Danes!
Requires creativity
After all, the time we spend waiting is all about perception, and sometimes it requires creativity.
When elevators started operating, people would complain about the long wait, and that's why they introduced mirrors as distractions. And businesses in Copenhagen face a similar challenge.
My Donut Copenhagen, for example, made a bold move to close midway through its first fortnight to strategise on how best to deal with the unexpected queuing.
Noma's Molly Malone
The longest line is currently at Noma, where the genius extends far beyond the food, as even the queuing is an experience. From the who's who of staff members greeting guests to the head chef's wife offering drinks from a wheelbarrow, the 75-minute wait just flew by!
So don't kid yourself, as these lines are going to stick around for a while. You need to build up some patience, bring some distractions and join the waiting game.
These are our top picks for the summer because what they sell is finger-licking, devoured down to the last crumb and, yes, completely queue-worthy!
---
My Donut Copenhagen
Frederikssundsvej 43, Cph NV; open Mon-Sun 15:00-21:00; @mydonutcopenhagen
This new donut joint had been the talk of the town for a month, so we had to pop by and see it with our own eyes. At 14:55 the queue was very long already, going back to the side-street, with people respecting distance and standing on the new stickers they'd placed on the floor. My friends, who live in the neighbourhood, tried to avoid the queue and arrive near closing time with no luck. They always sell out, so we didn't want to risk it. We saw groups taking turns at the queue, while the rest of the gang sat on a concrete bench on the parallel street. A few places in front of us, a man rushed to move his car, which was parked in a no-parking zone, after he saw the police pass by. Of course, first of all he made sure his fellow queuers could save his spot. Part of the fun is observing the passers-by who don't understand what's going on and curiously observe us queue-goers.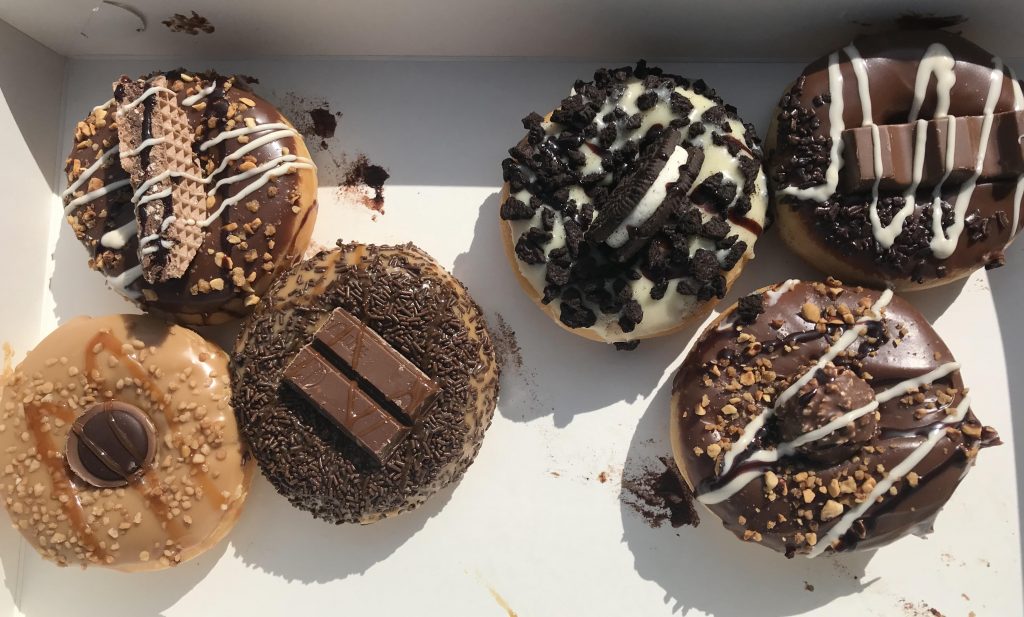 Since the beloved Donut Shop closed in 2018 there haven't been many places specially dedicated to donuts until now. Copenhageners certainly have been looking forward to the opening of My Donut Copenhagen in Nordvest. And we have to say it's a knockout! Once we had our first bite we completely forgot about all the queueing. Their delectable donuts come topped with store-bought candies and chocolates, from crunchy Ferreros to Hakuna, M&Ms, Kinder Bueno, Oreo, toffees … you name it, they've got it. Make sure to get there on time, check their daily menu on Instagram, and queue because the wait is worth it.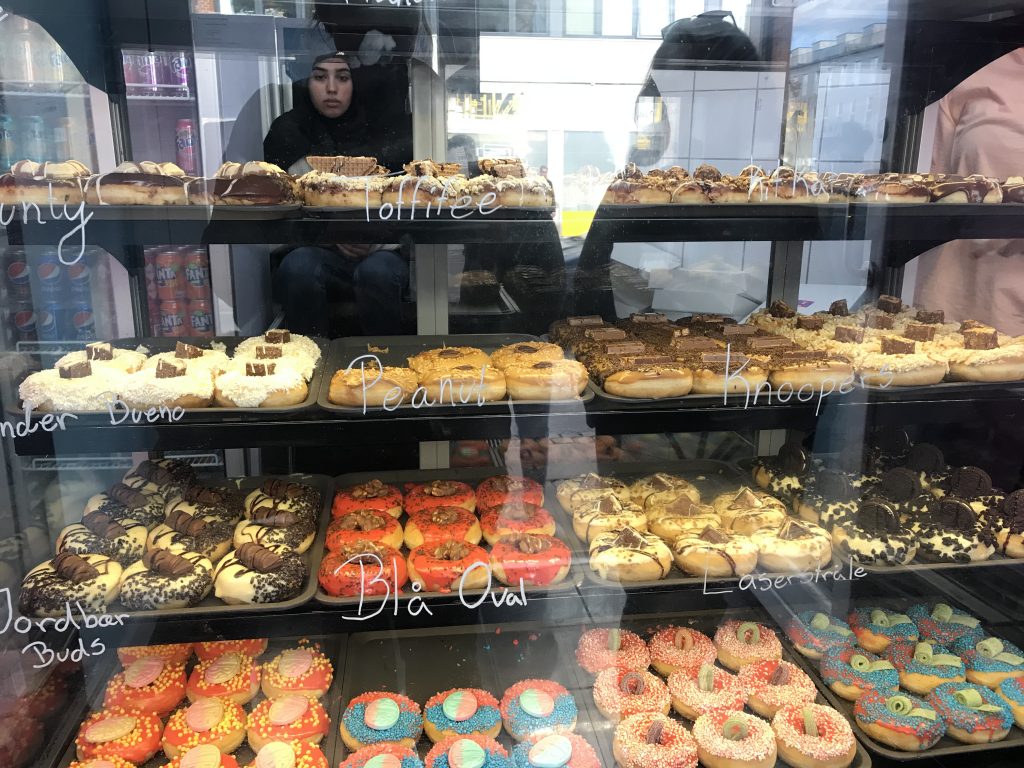 Hart Bageri
Gammel Kongevej 109, Frederiksberg; open Mon-Sun 08:00-17:00; @hartbageri
On the other side of town, there's Hart Bageri, which has been making us queue since British baker extraordinaire Richard Hart opened its doors two years ago after an invite from Noma's head chef René Redzepi. With expertise like that in charge, nobody minds queuing when it comes to the best pastries in town. Forget every pastry you've ever tried, because once you go to Hart your heart belongs to them forever. Let's start with their take on the Danish cinnamon roll. At first sight, you might not think much of it, but you are in for paradise. Topped with lemon glaze this roll melts in your mouth with crunchy bits of cinnamon caramel – our absolute favourite.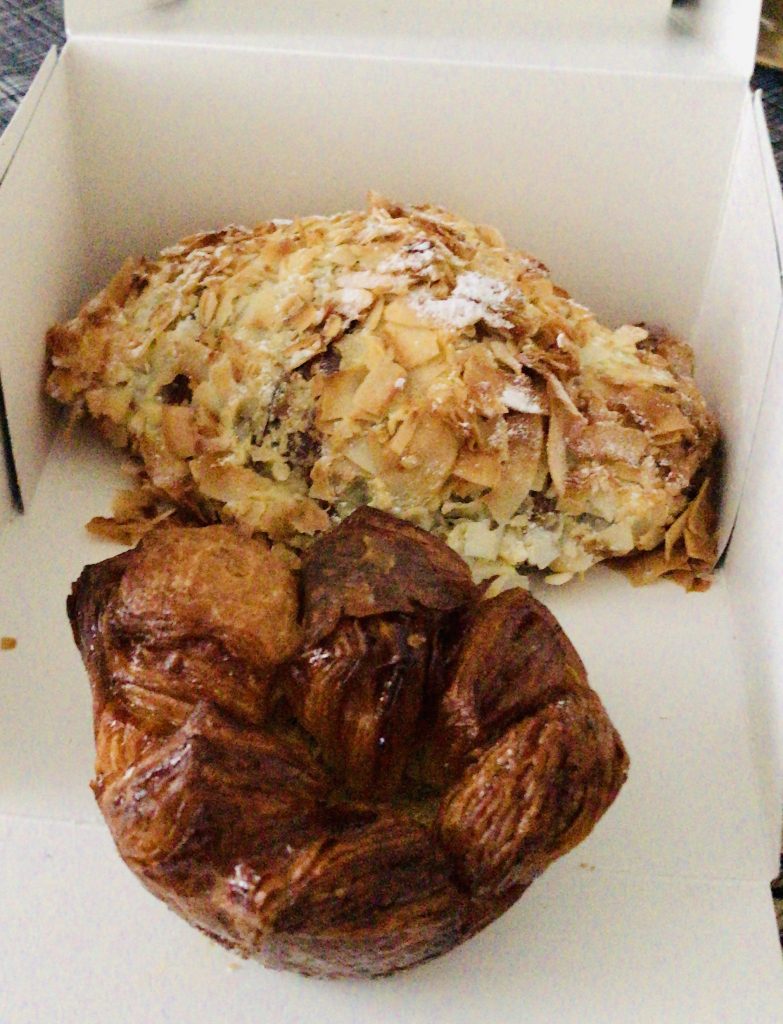 Then there's the cardamom bun made with the same dough as their croissant and dipped in browned Danish butter, and their latest hit: the double-baked dream cake croissant with the coconut caramel filling and toasted flake exterior – it's out of this world, and you certainly don't want to share. Whatever they bring is always a hit. They are constantly reinventing themselves and finding new inspirations. During quarantine they offered pizza kits with a step-by-step guide to cooking them at home; they've teamed up with other restaurants or producers to bring us specialties such as grilled sandwiches with kimchi and unique pølsehorns; and they have donuts on Tuesdays. They are open every day of the week and bake everything fresh from the early morning. Pop by and enjoy a taste of paradise.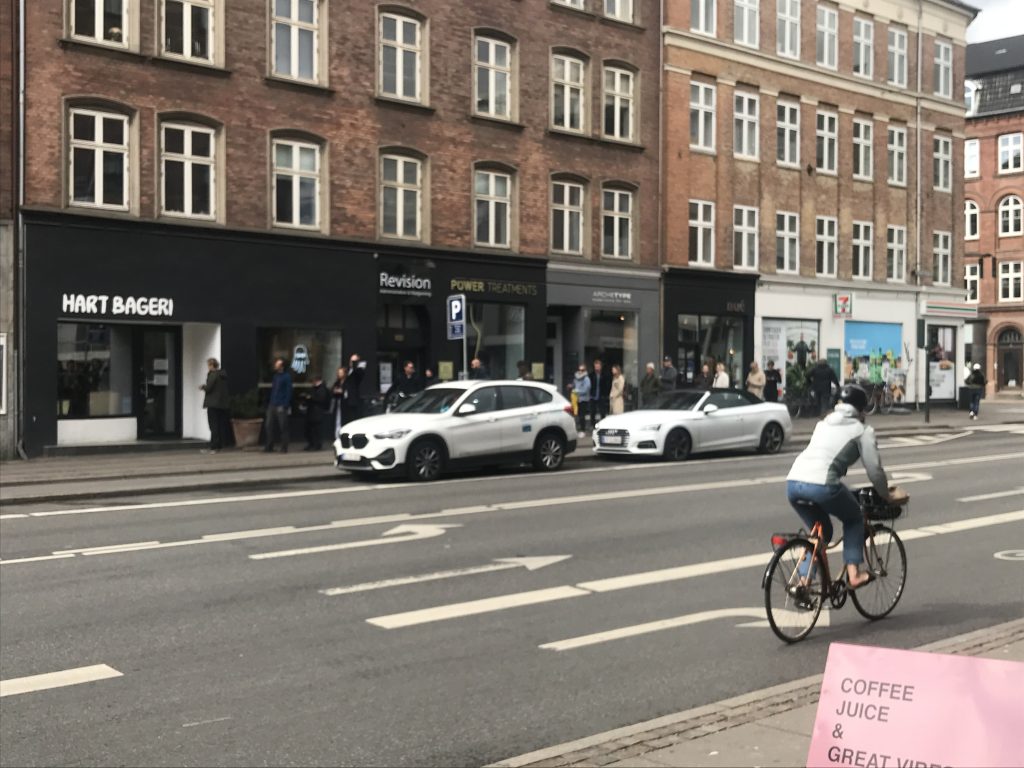 Nicecream
Enghave Plads 10, Elmegade 30, Nordre Frihavnsgade 7 & Falkoner Allé 44; open Mon-Fri 13:00-20:00; for changing times and offers check: @nicecreamcopenhagen
This 100 percent vegan ice cream shop was closed for five weeks from March 18 due to the lockdown, and it's no exaggeration to say they were sorely missed – particularly during the warm spell that dominated in April. Since reopening, they have been packed – you could say that after an inauspicious launch in 2015, when they started out small, they have fully arrived. They now have four stores – in Nørrebro, Vesterbro, Østerbro and Frederiksberg – and all of them are always crowded, in a good way, because they are mega delicious.
Who needs real ice cream? Just kidding, but you don't need to be vegan to try it, although you might get converted. Their flavours are brilliantly creative (as well as the names), from the traditional ones (which you can also buy in Meny supermarkets) to tasty flavours such as Hazy Nuts, the 'Sneaky Beazy' peanut butter offering, the 'Heartbeats' beetroot delight, 'Oh sweet lemon', 'Coconut bounty' and more. They also have vegan chocolate chip cookie ice cream sandwiches, sundaes and occasional vegan cakes, and they recently added toppings like vegan guf and caramel sauce. Take it home in a cup or a cone – what's not to like?
Queen's Delight
Grønnegade 37, Cph K; open Wed-Fri 11:00-18:00, Sat 12-20:00, Sun 12:00-18:00 or until sold out; @queensdelight.dk
This French delicatessen is newly opened, and it is the only shop dedicated to eclairs in Copenhagen. A young Romanian couple from Bucharest with a passion for sweets and especially eclairs decided to quit their jobs in IT and move to the Danish capital to open up their dream shop. Rasia read every book about eclairs, practised her craft and studied with the famous French pastry chef Joakim Prat – to the point we now have an expert in our midst, whose French delicacies we are lucky to enjoy around the block. While Rasia studied, Sebastián built the shop. Slowly they gained a reputation among the locals, who started recommending them, and these days they have a regular clientele who can't get enough of their eclairs.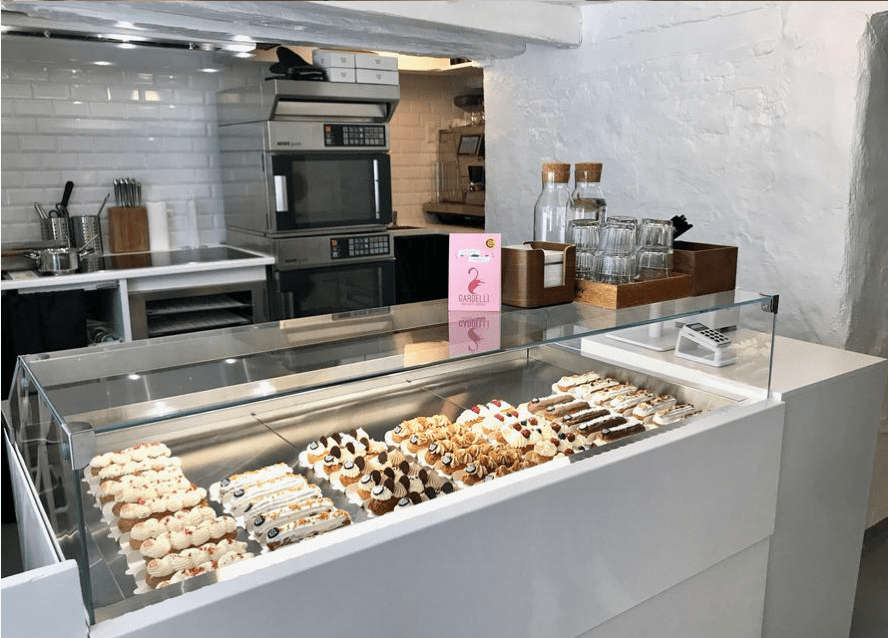 The eclairs are made fresh every day early in the morning – passers-by can testify that they never sell second-day eclairs, which is actually their motto. Opposed to the traditional eclairs that tend to be made with a moister dough, Queen's Delight has its own take on the pastry, which is more crunchy. Add creative flavours such as crunchy hazelnuts, salted caramel and tiramisu, and we're talking about eclair perfection! During the lockdown they were open for takeaway and sold out on most days! So get there early or make your order online – you don't want to miss out.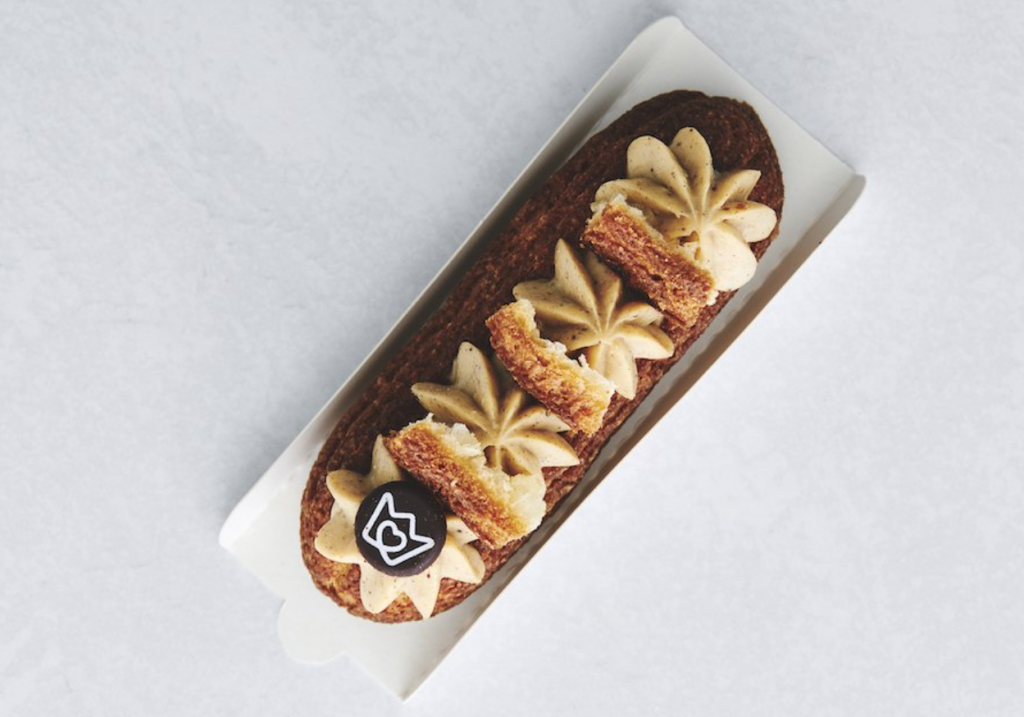 Juno the bakery
Århusgade 48, Cph Ø; open Wed-Sat 07:30-18:00, Sun 08:00-15:00; @juno_the_bakery
Bakeries like Juno make you love living in the city. These guys have been popping loaves of mouth-watering sourdough bread and pastries throughout the quarantine. In the mornings Juno always has a queue of regular Øster-bros and gals, but they've certainly acquired a lot more customers during the lockdown – possibly because most other shops were shut, and undoubtedly because we just can't get enough of their pastries. Queuing for the loaf is one of those heavenly pleasures in life. You get it warm right from the oven and you barely wait 15 minutes. Their croissant is definitely the very best in town: caramelised, crunchy, buttery, gooey inside – everything you want.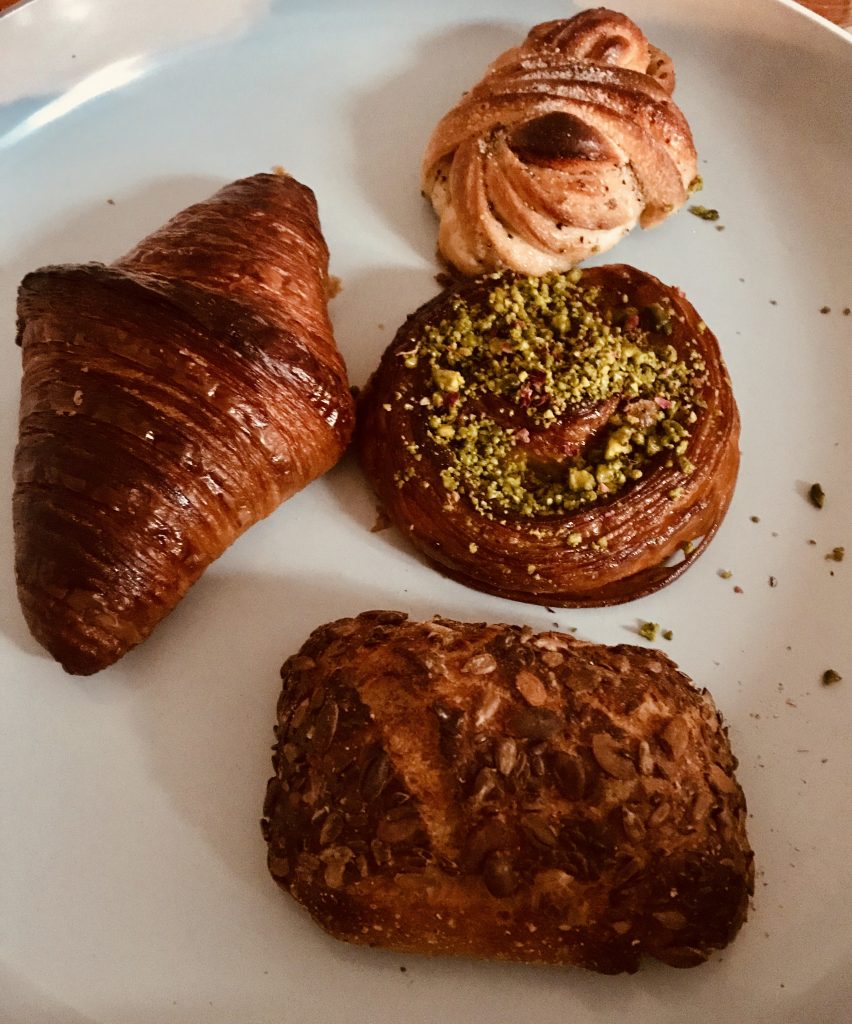 Other mouthwatering choices include the hazelnut cream puff, the popular cardamom bun (completely different to Hart's but more like a Swedish fika), and the pistachio and rose croissant. Juno is always introducing new items and special editions, so make sure you follow them on Instagram to see what's going on. Although queuing is guaranteed in the mornings, they tend to be well stocked and only risk selling out in the afternoon.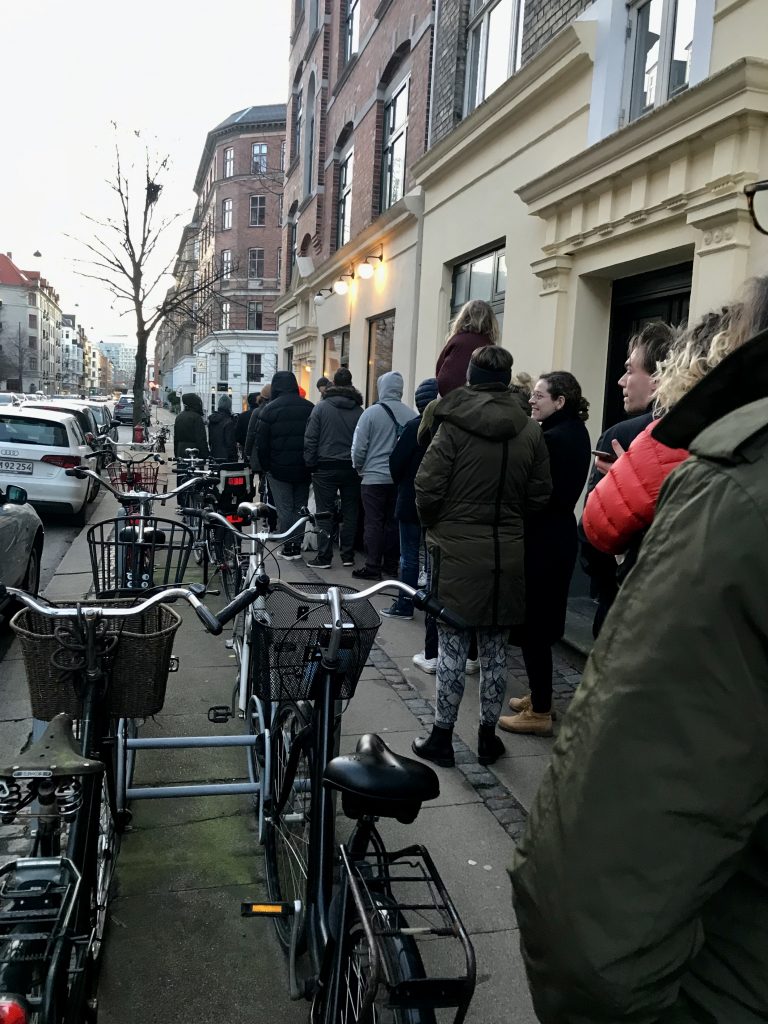 Noma
Refshalevej 96, Cph S; open Thu-Sun 13:00-21:00 or until sold out, only available until late June; @nomacph
Last, but not least, we have Noma's wine bar and takeaway burger joint, which opened last weekend for a limited time and took the queues to a whole new level. Who wouldn't queue for Noma and René Redzepi? It is, for many, a once-in-a-lifetime opportunity to try cuisine of this calibre. We arrived at 12 on Saturday, thinking we might queue for at least two hours. Maybe because it wasn't the nicest of days, or because it was a long weekend and Danes were gone to their summerhouses, the queue was relatively small and we only ended up waiting 15 minutes once it opened. We were ensured a table already when we were in the queue, so that was a relief. We wanted to get there early, as we had heard on previous days that they had sold out three hours before their official 21:00 closing time. You're strongly advised, therefore, to not see this as a dinner plan! So rewind: 15 minutes after they opened the doors we were sitting on our bench facing the lake and BIG's outstanding masterpiece CopenHill. We made it to Noma! It was already a dream come true. And then our order arrived to make it even more memorable. It was, and it must be said in capital letters, THE BEST BURGER we ever had.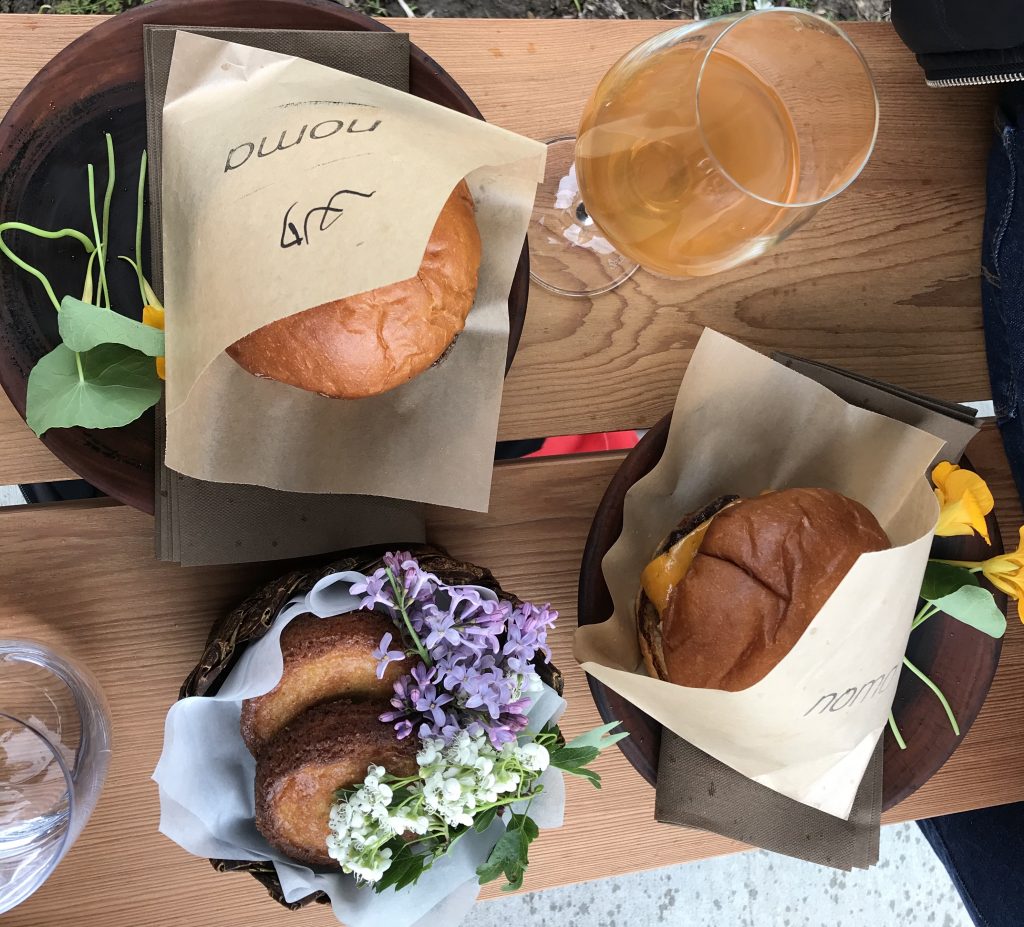 Well-seasoned with pickled mayo, red onions, melted cheese and potato-based buns from Gasoline Grill, all toasty and buttery. Every mouthful was divine. We paired it with a glass of orange wine while we savoured natural surroundings saturated in herbs and growing vegetables. For dessert we had the Basque cookies with raisins and elderflower. They were crunchy on the outside and gooey in the middle – an amazing biscuit with a final mouthful reminiscent of a mince pie. The whole experience from beginning to end was fantastic and totally recommended. Just remember you will be queuing to enter Noma, a hitherto exclusive Willy Wonka-like universe of heavenly cuisine, now just an hour of queuing away.