InOut
On Screens for June: The perils of trying to make a Danish film in English
---
This article is more than 3 years old.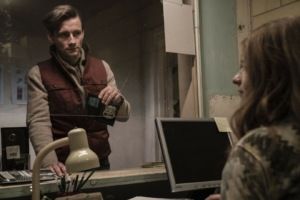 You know a film's bad when you spend half of it trying to write a headline for your forthcoming piece.
But in the case of The Kindness of Strangers (32 on Metacritic; June 4), which I saw at a screening in late June 2018 when it was still untitled, this wasn't for a review. Instead, wrapped up in my own self-importance, I had given myself the mission of saving what was a deeply flawed film and well below the standard of Lone Scherfig's other work.
Because for some reason she has contrived to make an English-language film that is utterly Danish.
Something rotten in Big Apple
In the lobby of Empire Bio afterwards, my journalistic training clicked into overdrive. I reasoned that I was there to give my opinion, and I felt the questionnaire was trying to railroad me into providing irrelevant information, thus watering down the critique that I so badly wanted to give the film. Pointless feedback forms are a very Danish trait I remember discovering as a teacher of English as a foreign language.
Instead I breezed through it quickly and evasively, determined to give them just two pieces of wisdom, which I felt could have saved the film from the mauling it eventually got when it was first aired in early 2019.
First off, one of the very first scenes was an absolute howler and had to be cut. No sensible movie watcher would be able to endure such drivel. The problem, though, was that it was Nicolaj Kopernikus' biggest scene. Cut it and you're pretty much removing the Danish actor from the movie. For a film set during a particularly harsh New York winter, Scherfig cast an awful lot of Danes – Esben Smed, who has since moved on to brighter pastures, was another strange choice.
I started to envisage a very different film to the one being shown. With a mostly quality cast whose collateral has only grown since it was made (Zoe Kazan, Andrea Riseborough), it had the potential if it fully understood what its central message was. Thus began my journey to give the film a name, and after 30 to 40 minutes of dedicated headline writing, it finally came to me: 'Love freezes over'!
To be honest, for 30 minutes waiting for that film to end I was kind of excited: what if I get to name a feature film, however bad it might be! So when the eventual title was confirmed almost six months later, I felt the same kind of pity I feel when I see Danish-written titles, slogans and jargon (Lars von Trier's scripts for example) in English.
Calling it The Kindness of Strangers tells you everything you need to know: the strands of the film might as well be unrelated to one another.
Sophomores deliver in spades
Potentially The Kindness of Strangers had quite a broad market in its sights – if it hadn't been so poorly pinned together. In contrast, two new highly recommended series doing the rounds take a more trusted route by faintly echoing the Oscar-winning Parasite.
Normal People (84; first eight episodes available on dr.dk) is a simple tale about an enduring friends-with-benefits relationship, with sex scenes so good they are doing a roaring trade on Pornhub. Irish writer Sally Rooney has fashioned a story that is relatable to everyone, or at least the 96 percent of us who aren't sociopaths – we identify with both main characters as they weave through their lives, taking the rough with the smooth.
US author Celeste Ng has also enjoyed breakout success with her second novel, Little Fires Everywhere (70; Amazon Prime), which like Normal People focuses on the interaction between two small-town families situated on either side of the proverbial railway tracks. Extraordinary character motivations regularly catch us off-guard to serve up some compelling television.
Both series are a reminder that melodrama needn't be dull, and Proxima (75; June 18 at cinemas) is also rooted in a family dynamic despite its central character's preparations for a lengthy mission in space. For Eva Green it's a chance to flick the finger at all her doubters, and she pretty much nails it.
And we also like the look of new HBO Nordic drama series I may destroy you (June 8) and documentary six-parter I'll be gone in the dark (June 19). Together they sound like taglines for future Batman instalments, but they are far more disturbing than that.
Looks bloody awful
From safe bets to risky wagers fraught with peril.
At 154 minutes long, we're advising a cautionary approach to Spike Lee's latest, Da 5 Bloods (June 13 on Netflix), which could very well be an early contender for this year's Razzies. Buzzing with perhaps too much optimism after BlacKkKlansman ended a very long barren spell, Lee's film looks like a black version of Tropic Thunder, but without the intentional laughs.
Eurovision Song Contest: The Story of the Fire Saga (June 27 on Netflix) sees Will Ferrell lampoon the perennial favourite with the help of a strong cast that includes Rachel McAdams, Demi Lovato and Pierce Brosnan. Eagle-eyed viewers of the 2018 Eurovision finals, now teary-eyed following its cancellation, might have spotted Ferrell backstage at the event. And it now transpires he was interviewing contestants with the intention of destroying them in this film.
Completing the new film releases in June are the silly looking The Last Days of American Crime (June 5 on Netflix), the awful looking Candyman (at cinemas, June 25) – if we never say his name again, will he kindly just disappear – and the borderline litigious-looking The High Note, which applies The Devil wears Prada formula to the music industry in the same way Late Night shamelessly did talkshows.
Also on television, The Order (June 19 on Netflix) is a shameful Harry Potter rip-off for young adults (in other words, 12-year-olds might watch it), Trackers (June 6 on HBO Nordic) takes us deep into the world of South African blood diamonds, but possibly at the expense of plausibility, and Perry Mason (June 22 on HBO Nordic) has been resurrected as a vehicle for Matthew Rhys now The Americans has come to an end.
Completing the television line-ups we have 13 Reasons Why (S4; June 6), Marcella (S3; June 15), Mr Iglesias (S2; June 18) and The Politician (S2; June 20) on Netflix; Doom Patrol (S2; June 26) and The Chi (S3; June 22) on HBO Nordic; and comedy specials for Jo Koy (Netflix on June 13), George Lopez (Netflix on June 30) and Yvonne Orji (HBO Nordic on June 7).
It's a reminder that comedians often depend on the kindness of strangers, but when you're an inanimate on the screen, nobody feels obliged to root for you.