News
Criticism raining down on BLM Denmark spokesperson
---
This article is more than 3 years old.
Critics of Bwalya Sørensen say advocates should focus on fighting racism and discrimination, not dividing black people and white people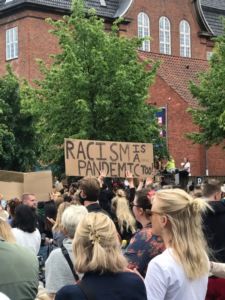 The spokesperson for Black Lives Matter Denmark has had a difficult last few days.
Bwalya Sørensen has been subjected to an avalanche of criticism over her pronouncements and guidelines regarding anti-racism protests, with several politicians saying these sent the wrong message, as they divide black people and white people.
The criticism started in earnest after it emerged there were different guidelines for black people and white people during the demonstration held in Copenhagen on Sunday June 7, when 15,000 people protested the death of George Floyd in Minneapolis in May.
The guidelines had participants of white skin stay in the background so that people of colour could stand in front, according to DR. BLM Denmark, a group that aims to address injustices against people of colour in the country, organised the protest.
'Like funerals and weddings'
Sørensen told DR that she saw no problem with the guidelines as the protest was about combating structural racism.
"When I go to funerals and weddings, family and close friends stay in front," she said. "I asked that they could come in front so that they could stand together. As a black person you have trauma that others do not have."
Julia Fearrington, whose African-American father was born in Philadelphia, told DR that such rhetoric may overshadow important messages of the Black Lives Matter movement.
"This is not a fight between black and white. It is a fight against discrimination and racism," Fearrington said.
'Not White Lives Matter'
Another controversy stemmed from the cancellation of an anti-racism protest in Aalborg that was organised by a group of high school students and a local branch of Amnesty International.
BT reported that Amnesty and BLM Denmark were unable to agree on holding similar anti-racism protests in Aalborg, with the two groups scheduling events on the same day last week. Amnesty later cancelled its demonstration.
"Why should we do it together? They are white. It's Black Lives Matter and not White Lives Matter … It is racist and 'white supremacy,'" BT quoted Sørensen as saying.
Reacting to the report, MP Jan Jørgensen (Venstre) said on Twitter: "Is it possible to find a poorer spokesperson for an otherwise important matter #BlackLivesMatterDK than Bwalya Sørensen?"