News
Local Round-Up: University of Copenhagen cuts emissions
---
This article is more than 3 years old.
The University of Copenhagen saves more money from its green initiatives. Meanwhile, the man described as the flashiest Scandinavian on the planet is opening a hotel in the capital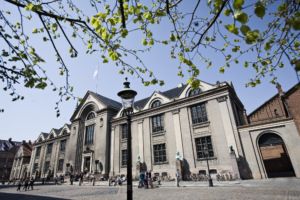 The University of Copenhagen has achieved its goal of reducing carbon emissions from energy consumption and transport by 70 percent.
The school made the announcement on Tuesday, saying it reached the goal thanks to its own energy-efficiency measures and Denmark's transition to a green energy supply.
"It proves that we can make a difference within the extremely important climate and sustainability agenda," said university director Jesper Olesen.
Vegetarian canteens
Denmark's oldest university said that its green initiatives include serving only vegetarian food in one of its cafeterias and introducing days when no meat or fish are served on the entire campus. The school also uses biodegradable packaging.
The university said that its efforts to save the climate amount to a financial gain of 50 to 60 million kroner.
It is setting even more ambitious goals to reduce its climate footprint in activities such as education, research, construction work and the purchase of new equipment.
---
Bigger bathing area at Sdr. Refshale Bassin
Copenhageners keen to enjoy a cool summer dip can head to Sdr. Refshale Basin as its bathing area has just been expanded. The basin now has an additional pool some 50 metres long and 12 metres wide. Copenhagen's Culture and Leisure Committee said that the expansion was done to draw more people to one of the capital's biggest attractions. The city has set aside funds for expanded bathing facilities worth 1.4 million kroner.
40 new charging stations in Nordhavn and Ørestad
Owners and drivers of electric cars can look forward to availing themselves of 40 new charging stations in Nordhavn and Ørestad. From August, residents of the two areas can use the stations in selected parking facilities, installed to meet an increasing need for charging electric cars. By & Havn aims to increase the number of charging stations in car parks from the current 43 to 170 by the end of 2022. The new charging stations intend to offer convenience and test a different payment model. Prices for charging are 2.5 kroner per kWh for regular parking customers and 3.5 kroner for other parking customers.
Pedestrians to keep unidirectional route around lakes
Pedestrians walking around Peblingesøen and Sortedamssøen, two of the famous Copenhagen Lakes, during the summer will have to keep going in one direction as the police maintain restrictions imposed to stop the spread of the coronavirus. Copenhagen Police said that it is not changing the rules set in March to protect the most vulnerable citizens from contracting the virus. Traffic on foot around the lakes is clockwise.
Hotel king Petter Stordalen to open Villa Copenhagen
In the past Norwegian hotelier Petter Stordalen has abseiled down a hotel façade and performed a jet-ski stunt to launch his properties, but now the man once described as the "flashiest Scandinavian on the planet" is going low-key with his latest hotel opening. The flamboyant billionaire will open his new Villa Copenhagen complex on Thursday, describing it to BT as one of the most unique hotels in Europe. But the coronavirus pandemic, which saw his chain Nordic Choice Hotels losing almost 700 million kroner, blocked plans for a spectacular, expensive opening. Still, Stordalen says his hotel keeps the charm of the old Central Post Building where it is built.
50 percent discount in Copenhagen's two museums and art hall
Keen to soak in some culture during the coronavirus-hit summer? Tickets are generally cheaper this year at many attractions, with a 50 percent discount to enter Copenhagen Museum, Nikolaj Kunsthal and Thorvaldsens Museum. The discounts are part of Parliament's summer package aimed at boosting local tourism during the pandemic. Tickets are half the price for adults until August 9. Visitors, though, will have to buy their tickets in advance online or at the door using only contactless payment. Exhibitions on Danish sculptor Bertel Thorvaldsen, Danish painter Paul Fischer and Canadian musician Leonard Cohen await art aficionados.