News
Enough! Copenhagen cracking down on late night outdoor parties
---
This article is more than 3 years old.
Police to begin fining people and confiscating speakers following flurry of complaints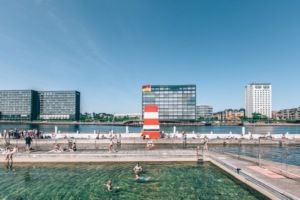 Copenhagen has garnered loads of international attention for its waterfront development in recent years. 
The Danish capital has ample areas to relax in emerging areas like Nordhavn, Sydhavn and Refshaleøen – in 2018, the city was named the best city in the world for swimming.
People in Copenhagen flock to the waterfront areas in droves, particularly in hot weather, to barbeque, have a drink or cool off in the water.
And to party. A lot, apparently. 
READ ALSO: Copenhagen named best city in the world for swimming
Done with dialogue
Late night noise complaints have become such an issue now that the police have decided to start fining culprits and confiscating music players. 
"We've reached a point when we have to admit that our dialogue-based approach hasn't made an impact," Peter Dahl, a spokesperson for Copenhagen Police, told DR Nyheder.
"We still see a lot of particularly young people enter public spaces and play soundboxes and party it up."
The police said that the fines would be in the amount of 1,500 kroner.