InOut
On Screens for October: Turning the corner on scary kids? That's our prerogative, after all!
---
This article is more than 3 years old.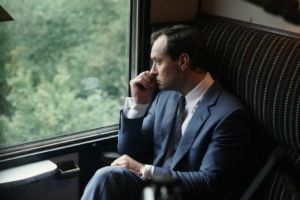 There are three types of child actors.
There are the ones who go on to great things: Saoirse Ronan (Atonement), Natalie Portman (Leon), Jamie Bell (Billy Elliot), River Phoenix (Stand By Me), Tom Holland (The Impossible), Jodie Foster (Taxi Driver) and Elijah Wood (The Ice Storm).
There are those whose careers stall when they hit puberty – think MacCaulay Culkin (Home Alone), Haley Joel Osment (The Sixth Sense), Spencer Treat Clark (Gladiator) and Mark Lester (Oliver!).
And then there are the one-hit wonders: Tatum O'Neal (Paper Moon), Linda Blair (The Exorcist), Douglas Silva (City of God) and the kid in 'The Omen'.
Somebody, many years ago, once told me the 'Omen kid' was a dick at school, so it amused me to see he got a conviction in 2017 for attacking a pair of cyclists who didn't previously know each other … but had probably both shat themselves when they saw Damian's nanny hang herself.
He'd love it here in Denmark.
Jude's invisible kids
Of course, Damian did most of the terrifying in The Omen, but these days we've had enough of scary children. Back to basics, this month's assortment is a wide array of haunted country estates for kids who have their kittens instead – although The Nest (CMore), another foray into TV for Jude Law, has the manor but mostly kids who are unseen, presumably because he sent them off to boarding school so he could shag their nanny.
Azhy Robertson (Marriage Story, The Plot against America) is the new Jacob Tremblay (Room), and as if he didn't have enough ghoulies to deal with, the writer of Come Play (Not Released Worldwide; at cinemas on Oct 29) has made him autistic.
The Haunting of Bly Manor (Netflix; 65 on Metacritic) is atmospheric enough but can't quite match its sister show, The Haunting of Hill House, but as a bonus it has the king of all child actors: Henry Thomas, who played Eliott in ET. The Binding (Netflix) treads similar fare, but poor production values and too much affected whispering let it down. Even the child actors don't look frightened. While The Witches (NRW; Oct 28) looks like an ill-advised remake with Anne Hathaway hamming it up in Angelica Houston's role.
Hathaway's day is done as a leading lady with the likes of Anya Taylor-Joy, who plays a former child chess prodigy in series The Queen's Gambit (Netflix; Oct 23), in her rear window. Flashback scenes for the kids come thick and fast, just as they do in Viggo Mortensen's directorial debut Falling (Nov 5; 59). In an inspired piece of casting, 80-year-old Lance Henriksen (Aliens) plays Viggo's Alzheimer's-suffering papa, but the critics have been unkind thus far.
Sea Biscuit with soul
Children, albeit teenagers, also figure heavily in four of this month's top picks.
In the film The 40-Year-Old Version (Netflix; 76), they act as a catalyst for inspiring the catharsis of Radha Blank (a 44-year-old writer and stand-up, who dug into her own experience of unfulfilling her early promise). The classroom scenes are hilarious.
The authenticity is also strong in Charm City Kings (HBO Nordic; 62), a coming-of-age TV movie about black kids who love doing wheelies in Baltimore.
In Lean on Pete (Netflix; 80), a 15-year-old boy falls in love with the title character – no, not a paedo, a horse – and takes for the road to escape his abusive home. With strong support from Steve Buscemi (look out for his Boardwalk Empire co-star Kelly Macdonald in the film Puzzle on Netflix) and Travis Fimmel from Vikings, it's an extremely touching film.
And in the series The Good Lord Bird (HBO Nordic; 84), the teenage protagonist is freed from slavery by unstable abolitionist John Brown (Ethan Hawke) to fight the good cause … events that many contend were a contributor to the outbreak of the Civil War. Part absurd, part tragic, it's another quality series repainting the Hollywood picture of 19th century America dominated by cowboys and Indians. And it's a great dark comedy.
Elsewhere, the comedians are out in force as Palm Springs (released; 83) sees Adam Samberg and Cristin Milioti in fine form in what is probably the funniest ever Groundhog Day rip-off; Sacha Baron Cohen and Frank Langella are superb on either side of the dock in the Oscar hopeful The Trial of the Chicago 7 (Netflix and at cinemas; 75); Bill Murray brings his magic formula to On the Rocks (released; 73) as the father assisting a daughter who suspects her hubby of having an affair; and comic actor Paul Walter Hauser plays it straight in Richard Jewell (released; 68), Clint Eastwood's take on the man falsely accused of bombing the 1996 Olympics, which last year was compellingly adapted for the Manhunt anthology.
Still up the creek
With films dropping like flies due to corona, there isn't much else coming out at the cinema, particularly not James Bond, who has scarpered, although long-time new 007 favourite James Norton is finally hitting the screens with Mr Jones (Oct 22; 68), the story of the Welsh journalist who met Stalin.
Equally long awaited are all six seasons of Emmy jackpot winner Schitt's Creek (CMore; 64) and Susanne Bier's miniseries The Undoing (Oct 26; HBO Nordic) starring Nicole Kidman and Hugh Grant. Somebody dies, or do they? Something like that. The same is always the case with the classic Rebecca (Netflix; Oct 21), redone again with Kristin Scott Thomas as the creepy housekeeper.
With Halloween coming, there are a host of films, from promising British asylum tale His House (Netflix; Oct 30) to awful looking Adam Sandler mess Hubie Halloween (Netflix; 54), and finally Emily in Paris (Netflix; 63), a travelogue disaster that unfortunately doesn't end with a well deserved slash or two.
That's why you're always safer going with kids, as viewers don't actually want them to die. Unless, of course, it's The Omen.