News
Local Round-Up: Swimming with the fishes in Copenhagen
---
This article is more than 2 years old.
Elsewhere, municipal buildings get greener and stations get brighter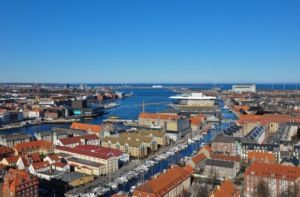 A new partnership between the WWF and By and Havn promises to breathe new life into Copenhagen's port. Working over a number of years, the aim is to improve the marine habitat and increase biodiversity in the area.
The project is based on the UN's World Goal, 'Life in the Sea'. Copenhagen's port is made up of approximately 10 sqkm of water, with 33 different fish species registered there in 2009. They, along with any new neighbours, will be the main bene-fisharies.
"World famous"
For Anne Skovbro, CEO of By and Havn, the project reinforces the good work already achieved in the area.
"The Port of Copenhagen has become world famous because the water is so clean that you can bathe in it, and now we look forward to showing through this partnership that the port is also something special when it comes to life below the surface," she explained.
Skovbro hopes that such developments can inspire port cities around the world to consider the world beneath the waves.
New homes on the way
The first stage of the plan is already in the works, with the releasing of so-called 'biohuts' – described as "hotels and kindergartens for fish" – expected very soon. It is news that will thrill fish and fisherman alike.
For Bo Øksnebjerg, the secretary-general of the WWF World Wide Fund for Nature, these first steps are part of an exciting new partnership.
"Man has been hard on nature for a long time. Now is the time to give back before it's too late. With this collaboration, we want to show that urban development and nature conservation can go hand-in-hand," he noted.
---
City harnesses AI to reduce energy use
A new project will further optimise energy consumption in the capital's municipal buildings by using artificial intelligence to predict how much heating to use. Data on weather and building use will be used across roughly 300 of the municipality's smaller buildings, reducing CO2 as well as electricity bills. With the new Finance Act, the project has been awarded 5 million kroner and is expected to start in early 2021.
Safer art for gloomy stations
The areas around Sjælør Station and Vigerslev Allé Station (both located in Cph SV) are thought of as dark and unsafe, with gloomy viaducts and a sense of unease. All that is set to change, however, with a 1.7 million kroner project launched this year to revamp the stations and surrounding areas. At Sjælør Station, an urban space with new lighting will be developed in the dark passages, and the walls of the bridge will be covered with colourful tiles that illustrate the sunset to the west and sunrise to the east. Meanwhile, under Vigerslev Allé Station, the viaduct is set to be transformed into a tiled, well-lit urban space.
Brit accused of murdering a Danish police officer is officially on the run
The case of a 27-year-old British man accused of the murder of a police officer in a traffic collision on Langebro, already delayed until the spring by the Coronavirus Crisis, has been further delayed as the accused has repeatedly failed to appear in court. He is accused of having been travelling at up to 125 km an hour, and accelerating, when he collided with officer Magnus Buhl Hansen's car. After a number of no-shows at court, Interpol has now stepped in – putting the man's name in police systems abroad.
Baggage bankruptcy hits Copenhagen
A difficult year for the travel industry led to an attempted restructuring of Aviator Airport Services – a Nordic baggage handling company – but failure has led to the bankruptcy of its Danish branch. In June, Aviator fired 280 employees, and now these have been joined by a further 200 with the latest closure. It was one of six baggage handling companies operating in Copenhagen Airport.
Refugee community centre shuts its doors
Since 2010, Trampoline House in Copenhagen has provided refugees and asylum-seekers in Denmark with support: both practical and social. Sadly, however, the centre closed its doors on the last day of 2020, citing the economic impact of the Coronavirus Crisis. The centre was set up by curator Tone Olaf Nielsen and artist Morten Goll with the aim to serve as an antidote to Denmark's stringent immigration laws.