News
Corona Round-Up: Government secures support for mink compensation package
---
This article is more than 2 years old.
Elsewhere, Brazilian and South African variants detected in Kingdom of Denmark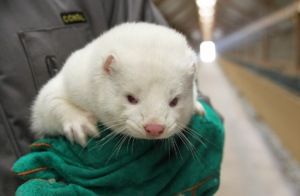 The government has a cross-party majority in place to approve its 18.8 billion kroner compensation deal for the mink farmers.
Its party Socialdemokratiet, left-wing allies Radikale and SF were joined by blue bloc parties Venstre and Liberal Alliance following lengthy negotiations.
Close to 12 billion for breeders
The deal compensates farmers for their culled animals, awards bonuses to those who were quick, and takes into account other future lost earnings (2022-2030) as well as damage sustained by buildings. The fur breeders will share around 10.9-11.9 billion kroner.
Feed producers, auction houses and distributors are also compensated.
Too much, too little, say dissenting parties
Some 60 million kroner has been set aside for the breeders who want to resume their business once the ban runs out at the end of 2021 – both Konservate and Dansk Folkeparti complained the pool should have been larger.
Enhedslisten, meanwhile, said the package was too expensive.
---
Fast tests more effective than previously thought – study
The 15-minute COVID-19 tests are more accurate than previously assumed, according to a new study carried out by Rigshospitalet, the Capital Region's Emergency Preparedness centre and Statens Serum Institut. Previously the SSI study had suggested the tests only detect 56 percent of those infected, but the new study shows it is in fact 70 percent. The 15-minute test is conducted using a cotton swab that has been thrust into the nose instead of the mouth.
Ten-day isolation a likely requirement from February 3
There is broad parliamentary support for a new bill to increase demands for testing and isolation from those arriving in Denmark. With new variants threatening to take off, and the recent debacle in Dubai, most MPs back plans to require ten days of isolation, regardless of the results of their initial test. Further testing can reduce the period to four days. The bill will be tabled on January 28 by the health minister, Magnus Heunicke, and most likely come into force around February 3.
Brazilian variant hits the Faroes
A case of the Brazilian variant of the coronavirus has been detected in the Faroe Islands, reports DR. Perhaps worryingly, the person in question tested negative upon their arrival from Brazil, only to test positive six days later. However, the authorities are confident no other infections have taken place, which is just as well, as there are no restrictions on travelling from the islands to Denmark. The variant, which is said to be highly contagious, was first discovered in Manuas in Brazil in mid-December, and the pandemic is currently raging there.
Four South African variant cases now detected
The South African variant of COVID-19 was found in another three people in Denmark over the weekend. Two had been traveling in east Africa, the other in west Africa. The only other case of Variant B.1.351 so far detected in Denmark originated from Dubai.