News
Wolt's revolt: Couriers upset with new bonus scheme that has forced some to work 36-hour weekends
---
This article is more than 2 years old.
New deal has seen many pay packets shrink by 2,000 kroner a month … but spokesperson is confident most will see the benefits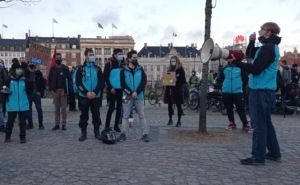 Weekends are the most profitable time to work for Wolt couriers – or at least they were until February 22.
A new payment model introduced by the company on that date radically reduced their weekend bonus, and on Friday February 26 they chose to park their vehicles and protest.
"No more pay cuts," they shouted together at Kongens Nytorv.
The support in the square was palpable with officials from labour union 3F Copenhagen present, along with fellow couriers from companies such as PostNord and JustEat.
What is upsetting them?
Wolt's alternate payment method will according to the couriers' calculations reduce average monthly earnings by 2,000 kroner.
Previously, they would get a bonus of 1,200 kroner if they could reach a goal of 100+ deliveries between Friday and Sunday. The bonus would start at 200 kroner for 20-29 deliveries and increase steadily – and most considered it a crucial incentive.
Now, the couriers get an extra payment of 15 kroner per delivery during the weekend rush-hour (Fri-Sun, 17:00-20:00).
According to one of the protest's organisers, Tomás Caira, the new scheme enables the couriers to earn a bonus of just 180 kroner per day (12 deliveries in three hours).
Tine Duelund Schou, a press spokesperson for Wolt Denmark, insists the new payment method has been introduced to benefit couriers, not to penalise them.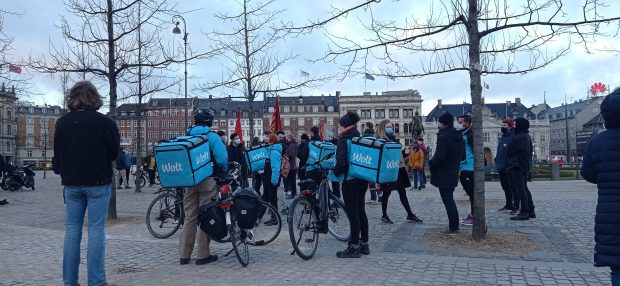 Couriers: Depriving us of the few rights we had
Companies like Wolt consider couriers as independent partners or freelancers – a status that leaves them outside of the social security net. They are not paid when they are sick, have accidents or take holidays, which contradicts the Nordic working model.
However, many people choose to work in this way – not just foreign students but also Danes – because the jobs are easy to get and they like the flexibility of working whenever they want.
"Instead of talking about getting better working conditions, we are fighting to keep the ones we had in place," explained Caira, whose weekends are fully booked right now as he will need to work 12-hour shifts from Friday to Sunday to secure an adequate monthly payment.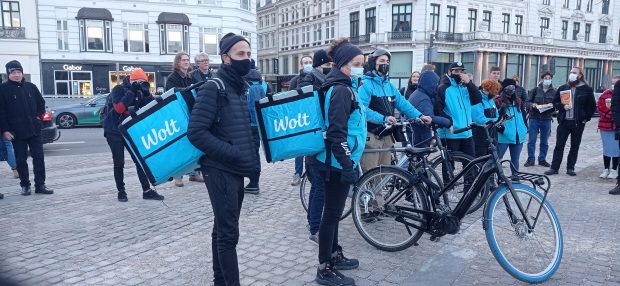 Wolt: They'll come round … to our payment and your homes
Nevertheless, Schou contends that "three out of four deliveries are now better paid" (72 percent to be exact) – a figure based on a thorough analysis of past deliveries carried out all over Denmark.
"It seems we have not got these points across well enough," she conceded.
"We will make sure we continue with clear communication to prevent any other misunderstandings and, as time passes, we hope the couriers too will see the benefit of this new model."
Wolt is willing, she promised, to reconsider and re-evaluate if the new model is not working.