General
CPH:DOX: Corona locked us down, observes new interactive film, but it couldn't make us into islands!
---
This article is more than 2 years old.
Suvi Andrea Helminen's 'Connections: No one is an island' provides an intimate window into people's lives and how they change over time … particularly during a pandemic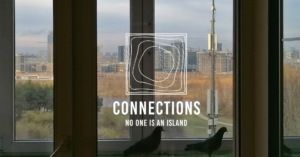 Immerse in a virtual experience in which feelings and stories blend to offer you an interactive documentary film. The result is unique and depends on you. What is going to be your next move?
Finding new ways of storytelling
All industries have evolved due to the digital transformation accelerated by the pandemic, and filmmakers have likewise rapidly adapted and innovated. Last year CPH:DOX set a digital trend worldwide, becoming one of the first international film festivals to go all-digital.
For this year's festival, which began on Wednesday and will continue until May 2 with 177 films on offer, the premise is the same, although filmmakers have had a whole year to prepare new experiences and tell their stories in new ways.
Danish documentary director Suvi Andrea Helminen, whose film Connections – No one is an Island is among the selection, is a pioneer in her homeland in the field of interactive screenings.
Since her first film in the genre, the 2012 offering 48 Hour Games, she has made several more, of which the most acclaimed was 'Flux', a gender dynamic documentary release in 2019.
'Flux' was the centrepiece of an exhibition at Kvindemuseet in Aarhus and was very well received. People would sit in the film installation room for up to an hour. It was due to be shown at CPH:DOX last year, but due to the restrictions it wasn't.
READ MORE: CPH:DOX setting a digital trend for festivals.
New genre: interactive and social
It's fitting perhaps that Helminen has been busy making her new film over the year that has followed.
Classed as an interactive and social film, she is not only the director, but the editor and orchestrator of the whole vision.
"The idea was born in March 2020 when Denmark went into complete lockdown. Reality was so intense and dramatic, and I felt the need to capture it as it unfolded. At the same time I was at home with a child and most people didn't leave their homes, so I had to find a new way of documenting," Helminen told CPH POST.
"Together with two production assistants and producer Ulrik Gutkin, we began to recruit co-creators around the world. We were focused on people's emotional responses to the new circumstances and how they changed over time. Developing the interactive format was an organic process that happened simultaneously as we were recording."
Judging by the press screening earlier this week, 'Connections – no one is an island' is a film and yet it is a sort of game in which the viewer participates in a journey with nine other people around the world. We are not mere spectators, but we are invited to stand for something to express ourselves. It creates a special connection, and suddenly you don't feel alone.
The film includes stories of hundreds of people recorded from March to December 2020. From Denmark to Tajikistan, and from Jerusalem to the South Pacific, the protagonists share their lockdown experiences and the world seems that little bit smaller. The feelings are palpable, the images are different, but the connection is there.
Proof we are all connected
The documentary reflects, like its title, on how human beings, despite all our differences and nationalities, are connected. Most noticeably, during the lockdown we have been connected via our feelings, which we felt at one point or another in different stages, according to when our country was hit by the lockdown.
"During the process I discovered there are many similarities in people's emotional experiences, regardless of nationality: that even though the country borders closed, we are more connected than ever. This discovery inspired and shaped the interactive form," continued Helminen.
While the storytellers shoot the footage, it is the eye of the director you notice throughout thanks to a choice of shots that help to simulate the feelings she wants to evoke.
Finally, it is an evolving experiment. "Your tags are saved in a massive database of feelings and will affect the storylines of future audiences as well. You are basically co-creating every time you play," explained Helminen.
Prepare right before watching
But we won't tell you more, as we want you to jump on the journey and enjoy it for yourself. Your input and their input combined will take you through all the different stages to the end.
The stories are all in English or with English subtitles, and the experience lasts around 30 minutes.
As the creators recommend, get your headphones ready and please only use Google Chrome for the ultimate experience.
The premiere is today at 21:30 and tickets cost 49 kroner, with further screenings on April 26 (17:00), April 27 (10:00), April 29 (20:30) and May 1 (16:30).
A special Q&A follows tonight's premiere.