News
Greenlandic independence on the agenda as US secretary of state visits Denmark for first time
---
This article is more than 2 years old.
Antony Blinken arrived last night and is scheduled to meet the PM, the queen and the foreign minister, as well as his commonwealth counterparts, before embarking for Iceland this evening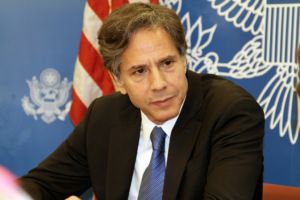 Antony Blinken, the US Secretary of State, landed on Danish soil shortly after 22:00 last night, marking the first time that someone from US President Joe Biden's cabinet has visited the country.
He has spent the night at the Marriott Hotel in Copenhagen and is scheduled to meet PM Mette Frederiksen this morning at 09:00. Arctic co-operation will be high on the agenda.
A busy schedule awaits him afterwards, as a meeting with Queen Margrethe II will swiftly follow at Amalienborg at 11:00.
Meeting of the foreign ministers
But perhaps the big meeting on this occasion will be the one with the foreign minister, Jeppe Kofod, who will be joined by Jenis Av Rana and Pele Broberg, his counterparts from the Faroe Islands and Greenland. 
All three met yesterday at a meeting of the Nordic foreign ministers, so they will presumably be singing from the same hymn sheet in some way.
"When Blinken arrives tomorrow, it will be important that the United States knows the priorities we have in our Arctic co-operation – also ahead of the Arctic Council meeting in Iceland," said Kofod.
Greenland will make its mark
However, Broberg, representing a pro-independence party that just won the Greenlandic general election, might have plenty to say.
"We must kick-start a process of making trade agreements between Greenland and the United States," Broberg told Greenlandic media outlet KNR about the meeting, while the Faroes are similarly optimistic, having just secured an agreement for more US shipping to visit its shores.
"The most important message for me to get across is that Antony Blinken must understand that we are Greenland. We are different from many other countries. We have a demand for independence. We are not Denmark and the Faroe Islands – we are Greenland."
Kofod has already said he respects his views: "I respect that Pele Broberg and other politicians have the views on independence – that's how it is in politics."
Moving on to Iceland
Kofod will then be granted extra time to talk to Blinken. Topics of discussion will include, it is reported, climate, security co-operation and the safeguarding of democratic rights.
Blinken is due to fly to Iceland later on Monday, where he will meet Icelandic President Gudni Johannesson, attend a ministerial meeting of the Arctic Council, and visit Keflavik Air Base, a US military base built outside Reykjavik after World War II.
Kofod will then accompany him to Greenland to meet its new premier, Múte B Egede, and again Broberg.