News
Government could reverse decision to scrap vaccines in light of V-Day being pushed back to September
---
This article is more than 2 years old.
The completion date of the vaccination calendar is extended by another two weeks, but perhaps the discarded jabs can come into play again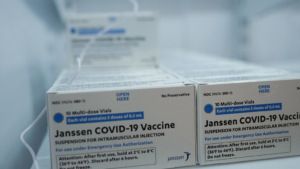 Due to delays affecting the delivery of the Moderna vaccine throughout Europe, the end of the Danish vaccination calendar has been pushed back by another two weeks.
This means that those in the final age bracket (30-34) won't receive their second jab until September 12, as opposed to August 29. 
However, the government has asked the health authorities to reconsider the decision to drop the Johnson & Johnson and AstraZeneca vaccines  – which could speed up the vaccinations.
"In July and August, 1.4 million fewer doses from Moderna will come to Denmark," the health minister, Magnus Heunicke, told DR.
"And even though we are getting 300,000 more from Pfizer, the calculations simply do not work out." 
Focus on Johnson & Johnson
Heunicke emphasises that the situation regarding the scrapped vaccines is different now – particularly in regards to Johnson & Johnson, which is the vaccine the health authorities will especially focus on. 
"At that time [of scrapping Johnson & Johnson], we only had preliminary data. Now we have far more data from other countries that have used it. And at the same time, we have delays in our vaccination calendar," Heunicke told DR.
End date of the vaccine calendar moved back a week
The Statens Serum Institut has around 234,000 vaccines from Johnson & Johnson refrigerated, plus about 528,000 from AstraZeneca waiting to be used.
Viggo Andreasen, an associate professor of mathematical biology and epidemiologist at Roskilde University, estimates that the end date of the vaccine calendar can be moved again if the stocked Johnson & Johnson vaccines become part of the vaccination program. 
"With Johnson & Johnson you would be able to vaccinate a lot in a very short time because you only need one dose," he told DR.
Johnson & Johnson was originally taken out of the vaccination program on May 3 after reports of blood clots among people who got the vaccine. Today, the vaccine can only be taken voluntarily after a consultation with a doctor.