Activities
On Screens for June: Following in the footsteps of Björn Ironside, Big Tone … and The Bible?
---
This article is more than 2 years old.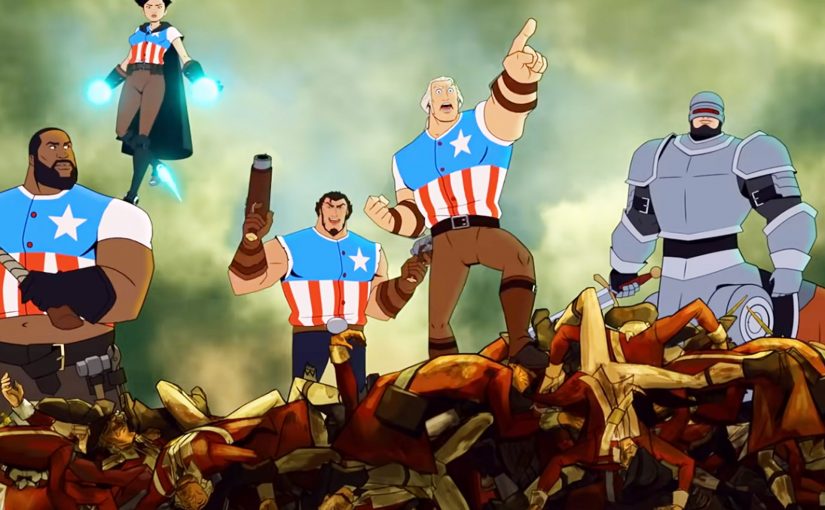 There's something really arrogant about releasing your first season in two halves – like you're presuming it's going to be a hit. Yeah, a bit like the Old and New Testament, but then again, God is omniscient, regardless of what faith we're talking about, so he knew it was 'opiate of the masses' in advance.
Releasing your first season in two halves like 'The Bible' is sending out the message that the first half is 'The Bomb' and that the viewers will be chomping at the bit to see the second.
Secondly, it's like you know the entire series is the best thing since Mr Slice went medieval on King Alfred's rolls, but there's been an issue (corona most likely – which did its best to completely kill Your Honor mid-season) and it would be inhumane to not let the world see this series just in case Armageddon (not released in two halves … we rest our case) takes place.
Thirdly, it's offering comparisons with The Sopranos, arguably the greatest TV series ever made, which humbly waited for its final year to offer a season in two halves – a trick repeated by Vikings a few times … with little effect, it has to be said, other than to damage what was looking like a promising legacy after three seasons.
And finally, it is really annoying. We leave the season mid-arc with nothing properly resolved, and it's a real insult to viewers who tune in every week and give the shows the respect they deserve, instead of binging on them like they're fast food (the only way to watch Lost, for example).
Genera+ional differences?
However, saying all that, we do have to concede that the two 2021 shows following that format, French sleight-of-hand drama caper Lupin (S1B; June 11 on Netflix; 82 on Metacritic) and US teenage angst drama Genera+ion (S1B; June 17 on HBO Nordic; 60), have been bigger bombs than most this year.
Resuming just months after they left off, the former had the courtesy to end on quite a big cliffhanger, while the latter did at least have a half-season arc revolving around a 'how the hell is she pregnant' storyline that had more to do with the complete lack of a bulge than the identity of the father.
Driven by compellingly charismatic central performances from Omar Sy and Justice Smith respectively, it is Genera+ion that ultimately has more promise long-term. True, it hasn't wowed the critics, but perhaps they're uncomfortable with the gender-fluid, often cringeworthy nature of a narrative that leaves no potential hook-up, or orifice, unturned and left upside down. Oh, and Lena Dunham (creator of Girls) directed the first episode, and she's annoyingly … knowing, right.
As something of a first in an industry in which men and women are increasingly collaborating on scripts, it's co-written by Daniel Barnz (director of Cake) and his 18-year-old daughter Zelda (even the Zs in their name are annoying, right), and her input is evident in the authenticity of the dialogue.
Make no mistake, this is a thousand times more realistic than the risible UK show Sex Education – and much funnier too if you can overlook the discomfort it will undoubtedly put you through.
Allergic to animation
Talking of coming out in a rash, for me it's cartoons. In fact, if I want to quickly lose somebody's approval, I come straight out with: "I just can't watch 'em … dunno why." Of course, I always add: "I've watched a fair number of The Simpsons and Family Guy, before my voice tails off with: "At least ten or something".
An exception (and of course there are hundreds: Bambi, Watership Down, the Lord of the Rings jobby from 1978 … a cursed first half as it turns out) was Team America: World Police, a 2004 animation made by the South Park team, which I was assured by friends was hilarious, particularly as it savaged humourless Hollywood lefties like Sean Penn, Tim Robbins and Susan Sarandon.
Well, my first instinct when I noted America: The Motion Picture (June 30) on the Netflix schedule was it might be from the same team, but it isn't. Retelling the story of the United States' independence from Britain in 1776, it reflects an escalation in banter between the two countries in recent years: from John Cleese's famous 'Letter to America' in 2003 to the countless sarcastic thank yous we Brits have to put up with on social media every July 4.
Also on the 'must watch list' this month is The Father (June 10 at cinemas; 88), the film that yielded Anthony Hopkins a deserved second Best Actor Oscar … not necessarily for this, in which we're sure he is brilliant, but for an overall career: from the butler in Remains of the Day to Hannibal Lector, nobody does unrequited love/lunch better.
Bluntly: some can, some can't
Also at cinemas, it's mostly dross or sequels or both: of Fast & Furious 9 (June 24), The Conjuring 3 and A Quiet Place 2 (both July 1), only the latter has good reviews with 71 on Metacritic, but that's because everybody loves Emily Blunt.
Still actress power can't save Those who wish me dead (June 10; 59) with Angelina Jolie, Cruella (already released; 59) with Emma Stone and My Salinger Year (July 1; 50) with Sigourney Weaver, which all look passable at best – so yes, best to pass on them.
Meanwhile, 2019 release Rocks (98), a brutally realistic account of life among young women in Britain, can surely be found online; almost equally as old Hunter Hunter (June 17; 61) is an unsung thriller in which the villain is a wolf; and not much is known about Queenpins (July 1) despite a showy cast that includes Kirsten Bell and Vincent Vaughn.
Over on TV land, returning series include Working Moms (S5; June 15), Feel Good (S2; June 4), Summertime (S2; June 17) and The Gift (S3; June 3) on Netflix; Eagleheart (S2 & 3; June 4 & 11), Betty (S2; June 12), Dave (S2; June 17), The Good Fight (S4; June 25) and Bosch (S7; June 26) on HBO Nordic; The Girlfriend Experience (S3; June 15), A Million Little Things (S3; July 5) and Intelligence (S2; July 9) on CMore; and Home before Dark (S2; June 11) on Apple.
Already released post-apocalypse drama Sweet Tooth (78; Netflix) has good reviews, but the same can't be said of Stephen King miniseries Lisey's Story (47; Apple) despite the presence of Julianne Moore and Clive Owen.
British thriller miniseries The Beast Must Die (June 10; CMore) with Jared Harris looks promising as does aerobics empowerment dramedy Physical with Rose Byrne (June 18; Apple), but if we're going to put all our chips on one TV show, it has to be the lovingly created documentary tribute to Charles M Schulz, Who are you, Charlie Brown? (Apple; June 25) – despite the aforementioned aversion to animation.
In fact, June could very well end with the line "How do you like those Apples".