News
Irish director launches Kickstarter campaign to help him complete his film
---
This article is more than 2 years old.
'Vincent', David Noel Bourke's follow-up to his breakout success 'Bakerman', is 70 percent close to completion. It just needs a dollop of funding to see it over the line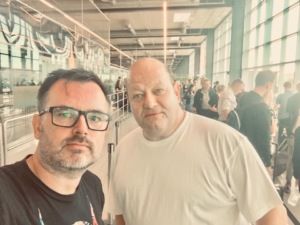 Not many foreign film directors make it in Denmark, but that hasn't been the case with David Noel Bourke. 
READ MORE: Boss in translation: the foreign filmmakers who make movies in Danish
Following the breakout success of his third film 'Bakerman', the Irishman is close to completing his fourth feature, 'Vincent', but is in search of funding to finish it.
"We are 70 percent done!" Bourke told CPH POST. "Our producer has just put out to the public a little Kickstarter to try to get some funds for the last bit."
Not that Bourke is bullying us into donating, mind! "The film is about bullying and acceptance: themes very close to my heart. We hope to make a great film!" he enthused. 
A month to raise 25,000 kroner
The Kickstarter campaign has set itself a target of raising 25,000 kroner by midday on August 14.
Should it not succeed, all backers will get their money back. So far it has raised a little over 3,000 kroner from ten backers.
For 10,000 kroner or more, you'll become an executive producer; for 5,000 kroner or more, an associate producer.
Other perks for substantial backers include a chance to see earlier drafts of the film, along with an invitation to the premiere.
'Bakerman' returns for ice cream and murder
Following his award-winning turn in 'Bakerman', the Danish actor Mikkel Vadsholt is once again taking the lead: the title character in fact.
Vincent is a mysterious stranger in a small rural town who befriends a bullied teenage boy: they sell ice cream together and stuff.
Vincent is then suspected of carrying out a grisly local murder.
Inspired by the likes of Steven Spielberg, John Carpenter and Stephen King, along with the classic series 'The Twilight Zone', Bourke has really delved into his childhood, and this promises to be his most personal film yet.