History
Køkken Confidential: A guide to Danish cuisine
---
This article is more than 2 years old.
Gird you palates – pickled things incoming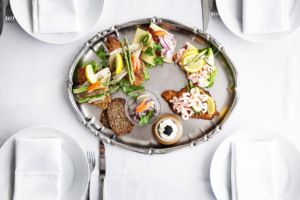 There's a loose understanding of Danish food culture circulating in the general psyche. We know the Danes love pork and we know of Danish pastries (which actually originated in Austria in the 1800s) – though they're now so widespread that to continue calling them 'Danish' seems absurd.
We also know that Danes love fish in tins, dark bread as heavy as a tombstone (rugbrød), cakes with whipped cream and sweet summer berries, pickled vegetables and elderflower cordial.
But the below-the-surface peculiarities of Danish food seem to be insider knowledge – the kind that ambushes you when you've already moved your family to Denmark and you realise you're surrounded by grown men drinking chocolate milk.
Don't get caught out – read on and get to know some of the mainstays and quirks of Danish eating.
First, a history lesson
What we recognise today as det Danske køkken (the Danish kitchen) is rooted in early 1800s peasant cooking.
The 19th century provincial menu was short: rye bread, fish, pork and potatoes. These remained staples even after the Industrial Revolution made fresh meat, vegetables, dairy and new cooking techniques more widely available.
But Danish cuisine has always borrowed from foreign practices: the use of imported tropical spices like cardamom, nutmeg and black pepper can be traced all the way back to the Vikings.
Today, many outwardly odd dishes owe their weirdness to this practice of shoehorning an exotic element into a stubbornly Danish concept ('boller i karry', anyone? Meatballs in a curry-cream sauce).
Other gastronomic idiosyncrasies are less easily explained: the overuse of mayonnaise, piping hot liver-paté 'to go', salted liquorice, and sugared potatoes (brune kartofler) for example.
Humble rød pølse
A major stalwart of the Danish plate is the rød pølse (red sausage). As the central element of the ubiquitous Danish hotdog, the crimson banger is a kind of cultural treasure.
They're dyed with carmine – a Peruvian colourant made from crushed insects. Legend has it that old sausages were originally dyed red as a warning.
Today's røde pølser are boiled and distinctly rubbery. Their salty, artificial flavour is reminiscent of an aeroplane dinner – making them both cartoonishly kitsch and totally unpretentious.
But the cult of the rød pølse is about more than taste. They symbolise the pølsevogn – the barely-roadworthy hotdog carts dotted around Denmark. Manned by coarse-voiced veterans armed with a motherboard of mayo pump-dispensers and encyclopaedic local knowledge, the pølsevogn is the cockney fruit market of Denmark – and the rød pølse is a mascot of the proudly ordinary.
"I'll have the salad"
Speaking of mayonnaise – a word needs to be said about the Danish 'salat'. Don't be fooled by the word's close resemblance to the English 'salad' – a Danish salat has no greenery.
Salat is a topping made from mayo blended with finely chopped ham (skinkesalat), egg (æggesalat), peas and carrots (Italiensk salat) and more. Not so strange you might think, but what about a frugtsalat with mayo, cherries, peaches, raisins and chocolate?
Another mayonnaise-based specialty is Rémoulade. Similar to but yellower than tartar sauce, it's flavoured with curry and chopped pickles. The recipe for Rémoulade is fast and loose – horseradish, paprika, anchovies and more can be included.
Danes fiercely defend Rémoulade as a standalone condiment. However there's no standard 'chips and ketchup' or 'ham and mustard' equivalent couplet for Rémoulade because it's an existential crisis in sauce form.
It's a car crash of sweet, sour, creamy, sharp, chunky, smooth and only occasionally vegetarian. In that sense it goes with everything … and nothing.
The people's spread
Another bread-topper of note is leverpostej – a paté made from coarsely ground pork liver and lard. Now, it would be a stretch to label paté as unusual. Every deli in Europe is slinging it, and most countries have their own native varieties.
What is unusual, however, is the staggering availability of Danish leverpostej. Kiosks, 7-Elevens and all supermarkets stock it – and not just to fill your fridge. Hot leverpostej in to-go containers are everywhere for when you need a steaming, forearm-sized slab of meat-composite right there and then.
It's a facetious observation of course – the wide availability of prepared leverpostej reflects the popularity of smørrebrød (open sandwiches) and the Danish custom of a shared hot lunch with colleagues.
Hot-served leverpostej is an integral part of 'det kolde bord' (the cold table). It's a buffet made up of rye bread and pålæg (toppings) that vary, but include pickled herring, hot leverpostej, eggs and pickled vegetables. The usual order in which to eat is cold fish, cold meats, hot dishes and dessert.
Although det kolde bord is for special occasions, an abridged workday version exists as a shared smørrebrød lunch. It's a ritualistic meal for Danes – a microcosmic embodiment of the socialist philosophy. Communal smørrebrød signifies the simple sense of community at the heart of Danish work and food culture.
New Nordic movement
That's not to imply that every cosmopolitan Dane sits in a circle in the office unboxing a carbon-copied square of rugbrød and skinkesalat for lunch. It's the modern world: nobody blinks at a bowl of pho.
Though these deep traditions exist, modern Danish food culture is not bound by them. As such the dining-out scene in Denmark is one of the most progressive in Europe.
The 'New Nordic' cuisine movement originated in 2004 through a group of Copenhagen chefs whose cooking manifesto sparked a renaissance in Scandinavian food.
The emphasis was on seasonality, purity and simplicity. In the following years, Copenhagen restaurant Noma shot to gastro-stardom, winning the 'World's Best Restaurant' title four times. And since then more sustainable, hyper-local, hyper-high-end Nordic restaurants have cropped up such as Kadeau and Geranium in Copenhagen, and Henne Kirkeby Kro on the west coast.
Today, Danish restaurants are renowned for their sustainable approach and research. Ancient traditions of smoking fish, distilling schnapps with native herbs, and pickling vegetables are being resurrected in Michelin star kitchens. High quality local fare like seabuckthorn, oysters and prawns from Limfjord and the North Sea are highly sought-after internationally.
Simple at heart
Today's Københavner is spoilt for choice. But thanks to the international hype around how organic, natural, progressive, precise and exclusive Danish cuisine is, it's easy to forget that at its root Danish food is simple.
Yes, in Copenhagen you can eat a lentil burger flavoured with umami koji-fungus that's grown on an ancient grain in a temperature-controlled chamber. But you can also stop at the pølsevogn and get a hotdog 'med det hele' (with everything) and partake in the national culture just as much, if not more.
In short, Danish cuisine is about community and making the best of the Nordic climate – and for all those who are moving to Denmark, there's a lesson there that transcends food.