Activities
Copenhagen 2021: Highlights of a strong culture program
---
This article is more than 2 years old.
There are hundreds of events over the next week. From concerts to brand new plays, here is just a small sample!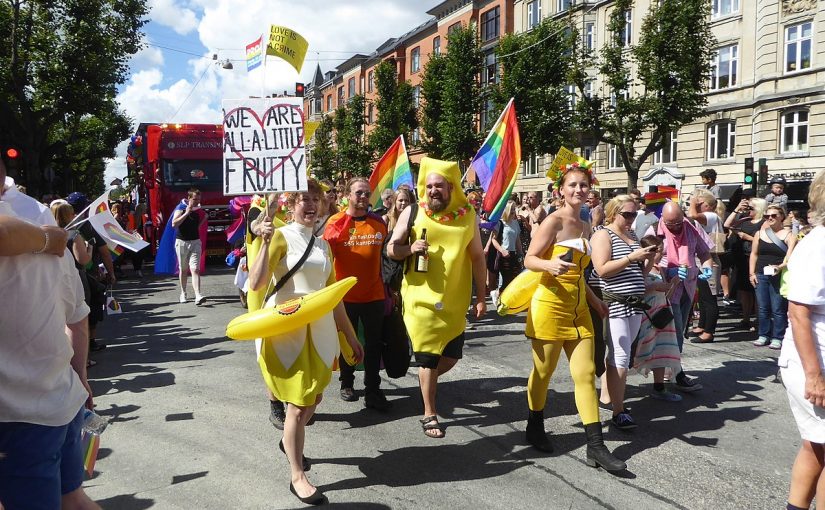 The Original Rainbow Flag
ongoing, ends Aug 21, 09:00-16:00; Copenhagen City Hall, Cph K; free adm
A 30-metre section of the iconic Rainbow-Flag created by artist and LGBTI+ activist Gilbert Baker will be on display from the very first day of Copenhagen 2021. One of the many sections of the originally mile-long flag will be found gracing the City Hall.
Drag Night
Aug 20, 18:00-11:59; Fælledparken, Cph N; free adm
Visitors can await a show embracing the many shades of the drag scene. Those attending will most certainly not miss out on lip-syncing, song, dance, comedy and drama presented on stage in the midst of Fælledparken, involving probably the most prestigious line-up of drag queens and kings.
WorldPride Marches
Aug 21, 15:00-18:00; various starting points all over the city; free adm
Due to the Danish government's corona restrictions, the originally-planned parades in Copenhagen and Malmö have been cancelled. Instead, there will be six smaller marches starting from different venues around Copenhagen. The final destination will be Fælledparken where the different groups are welcomed to gather and enjoy the Copenhagen 2021 Closing Ceremony.
WorldPride Closing Party
Aug 21, 19:00-02:00; Halvandet, Cph K; 250kr, on the door: 300kr
This is one you don't want to miss as some of the biggest LGBTI+ stars in the world come together to bring you an unforgettable night of music. Among those performing are Lady Bunny, Bebulah, Tim Andresen, Annælix, Shaarup, Philipp Drube, Neri J and Frank Heise.
Copenhagen 2021 Closing Ceremony
Aug 21, 14:00-02:00; Fælledparken, Cph Ø; free adm, register for tickets
This is where all the events will be officially handed over: EuroGames to Nijmegen 2022, EuroPride to Belgrade 2022 and WorldPride to Sydney 2023. But first and foremost, it's an occasion to dance your socks off, mostly to stars performing at KB Hallen who will be live-streamed to crowds all over Copenhagen, including Jeuru, Keep Dancing Inc, Sander Sanchez and Todrick Hall.
Drag Bingo
Aug 20, 20:00-23:00; WorldPride Square, Cph K; 25 kroner
Hosted by the prestigious quartet 'Veninderne', this bingo session will most definitely stick in your mind for a lifetime. The four drag-artists have already conquered Danish hearts with their bingo events and appearances on national TV and radio. As if this alone would not make you join, depending on your luck you could win prizes as well.
Ride to Pride bicycle tours
ongoing, ends Aug 22; Malmö City Archives; free adm
The guide invites you on a tour through the city's LGBTI+ history, travelling back 100 years. Along the ride you'll find places telling tales about power, struggle and pride. But don't be stressed about your probably already busy schedule, as the guide can still be found after the events of Copenhagen2021.
LGBTI+ Chill Zone at Bøssehuset
Aug 16-20, 11:00-21:00; Bøssehuset, Christiania; free adm
Bøssehuset has established a cosy, comfy place to sit and enjoy various cultural and communal events. The schedule covers a wide range of possible activities, so if you can see yourself stretching out on a yoga mat, just skip the first part and join later on for a feminist sing-along or a shared meal. Bøssehuset is Copenhagen's queer culture site located in the heart of Christiania.
Canal Tours
ongoing, ends Aug 20; 15:00-20.30; ved Stranden, Kaj Plads 3, Cph K; 120 kroner
It's not quite your usual canal tour through Copenhagen – which, don't get us wrong, is beautiful on its own – but the host Betty Bitschlap is the cherry on top. The tour involves music and sing-alongs, along with a few special Betty additions that are exclusive to those who join.
Wigs and Heels on Wheels
Aug 19-21, 15:00-17:00, Rainbow Square, Cph K; 169 kroner
Starting from the Rainbow Square the tour will cover Copenhagen's most famous sights, including the city's palaces, Nyhavn and the Botanical Gardens. Lasting about an hour, it will be hosted by stand-up comedian and drag queen Annie Recton. It's on you to either end the ride at Reffen to enjoy some food or go back to where the tour started.
Big WorldPride Eurovision Party
Aug 20, 20:00-01:30; Clarion Hotel, Copenhagen Airport, Cph S; 345-475kr
Sing along with the drag queens to some of the biggest Eurovision favourites of all time. And then enjoy live performances from the likes of Emmelie de Forest, Denmark's winner in 2013, and many more former Eurovision stars, including Robin Bengtsson and Dotter. Clarion Hotels will make a donation to charity for every ticket sold. A night of teardrops guaranteed.
Drag Auction
Aug 18, 14:00-16:00; Street Hip, Ravnsborggade, Cph N; free adm
Lola Ramona and Di Di Cancerella will walk you through an auction located in Nørrebro, Copenhagen's most culturally diverse district. The auction is dedicated to the support of local Danish organisations FSTB that help and advise children struggling with their gender-identity, as well as Sabaah seeking to improve conditions for LGBTI+ people from ethnic minorities.
Pride themed football match
Aug 22, 14:30; Malmö IP stadium; 10-50 euros
Malmö is not only the birthplace of Sweden's national hero Zlatan Ibrahimovic, but also the host of the Pride football match where Malmö's FC Rosengard takes on KIF Örebro. The shirts worn by the players will be auctioned in support of the LGBTI+ community after the game is over.
Quiz Night with Veninderne
Aug 17, 19:00-21:00; Sports Village at Islands Brygge Havnepark, Cph S; free adm
Denmark's most celebrated drag quartet, Veninderne, are hosting a Pub Quiz by the waterside.
WorldPride bathing
Aug 16-17, all day; Hylliebadet, Hyllievângsvägen 20, Malmö; 5-10 euros
Let yourself be surprised by fun events dedicated to WorldPride including everyone inside and outside the LGBTI+ community at Malmö's communal swimming hall. Spots can be pre-booked on the website.
Berghain
Aug 16, 23:00; Skuespilhuset, Sankt Annæ Plads 36, Cph K; free adm, reserve tickets via teaterbilletter.dk
Be transported back to the days of the famous Berliner disco on this Alice in Wonderland-like journey! Written by Magnus Iuel Berg with music composed by Simon Muchinsky from When Saints Go Machine While the opening day performance on August 12 is sold out, there are still seats available for the late night show at Skuespilhuset, but be quick!
My Body My Nation
Aug 17, 19:00; Folketeatret, Nørregade 39, Cph K; 195 kroner, teaterbilletter.dk
Mahatma Gandhi once said: "You can chain me, you can torture me, you can even destroy this body, but you will never imprison my mind," and sadly not much has changed since his day, as many of us do not have ownership of our own bodies. This performative act contemplates this problem within social, political and ethical contexts with stunning results!
Cabaret Night
Aug 16-18, 21:00; Folketeatret, Nørregade 39, Cph K; free adm
Slink off to another world for the evening at one of the three Cabaret Nights at Folketeatret, or why not come to all three?! The performers are Schwanzen Sänger Knaben (Aug 16), Ramona Macho (Aug 17) and ButtStuff (Aug 18).
Glory Box
Aug 19, 21:00 & Aug 20, 19:00 & 21:00; Folketeatret, Nørregade 39, Cph K; 210 kroner, teaterbilletter.dk
A drag performance like no other from the magical Moira Finucane via a live stream from Australia. If you thought the 2020 Olympic opening ceremony was the televisual extravaganza of the year, you hadn't reckoned on the glamorous appeal of this performance.
The Shy Manifesto
Aug 18, 17:00; Folketeatret, Nørregade 39, Cph K; 195 kroner, teaterbilletter.dk
Since its debut last November, this has been one of the most sought-after tickets in town. Daniel Neil Ash is a revelation in Michael Ross's 2018 play, bringing a multitude of characters to life through his clever ear for accents. The imagined flash-forward to him cleaning up shit on Bournemouth Beach is theatrical gold.
On the Way to the Sawmill
Aug 16, 19:00; Folketeatret, Nørregade 39, Cph K; 195 kroner, teaterbilletter.dk
Take a trip to the dark side of humanity with the hikikomori, the young men who withdraw from Japanese society to watch life go by from the isolation of their bedrooms. In their loneliness, they contemplate the violence they have escaped, but at what cost?
Fluid Festival
ongoing, ends Aug 21, from 15:30 most days; Gammel Strand, Cph K; free adm
A space to celebrate women and non-binary identities with nine days of performances, debates, speeches, and installations. Focusing on the fluidity of gender expression, sexual orientation, and gender identity, Fluid Festival proudly moves through its colourful program with partying on the sunny side of the canal.
Arcadia – The Meeting Space
ongoing, ends Aug 22; Rådhushaven, City Hall, Cph K; free adm
Centrally located around the corner from WorldPride Square, this green and airy garden invites everybody to relax, to play and to meet new and old friends from around the world. In Arcadia we leave nobody behind.
Huset 2021: Main House
ongoing, ends Aug 21; from 14:00 most days; Huset, Rådhusstræde 13, Cph K; free adm
A homely five-story venue where young LGBTI+ people are the centre of attention. Main House is a space for LGBTI+ youth and their allies to celebrate, explore and develop, acknowledging both the opportunities as well as the challenges.
Huset 2021: Front Yard
ongoing, ends Aug 21; from 14:00 most days; Huset, Rådhusstræde 13, Cph K; free adm
Huset's adjoining green and welcoming outdoor space is a place for recognition and empowerment, and for young voices to be heard – loud and clear.
Sing along to the movies!
Aug 17, 19 & 20; most screenings from 19:15; Biograf Spegeln, Stortorget 29, Malmö; 16-18 euros
We've singled out three classics that you'll want to dress up to enjoy and belt them out in a crowd: Cabaret (Aug 17), Grease (Aug 19), and The Rocky Horror Picture Show (Aug 20). So if you're a sweet transexual from Transylvania, this is the one that you want, as life is a cabaret my friend!
Rainbow Children @ BLOX
ongoing, ends Aug 21; from 09:00 most days; Bryghusgade, Cph K; free adm
A space for breaking the binary in the most playful way for Rainbow Children, their friends and families. Here we are proud to be who we are, and we practice saying it aloud.
Hot Meat
Aug 19 & 20, 13:30-21:30, exact times via hitcph.dk/hot-meat; various locations; free adm, some registration required
On August 19 and 20, the public are invited to see the result of a ten-day artist residency: four brand new LGBTI+ plays. Some 24 international creatives are gathering to create 30-minute performances tailor-made for four locations in Copenhagen: Bøssehuset in Christiania, Ofelia Plads, Indre By Kulturhus and BLOX. Each performance will be performed three times.
Concert: Abyss X
Aug 20, 19:30; 8 euros
Mystical music, almost eerie, the Greek singer is not to be missed.
Concert: Colin Self
Aug 18, 20:30; 8 euros
Known for his vibrations, electric live shows and hyper physical choreography.
Concert: Lotic
Aug 21, 19:30; 8 euros
Björk recently named her "one of the fiercest performer DJs I have ever heard," so ask yourself: are you fierce enough to dance in her presence?
Concert: Princess Nokia
Aug 19, 15:00-00:00; KB Hallen
One of Copenhagen 2021's much-anticipated headliners takes to the stage for the Under the Rainbow Concert, with Marko Vainio, Theo X, Ivy Rosenauer, Ängie and Jean Michel.
Elmgreen & Dragset presents
ongoing, ends Aug 22, 11:00-18:00/21:00 (Thu only); Copenhagen Contemporary, Refshalevej 173A, Cph K; 100 kr
For 'Short Story', Danish-Norwegian artist duo Elmgreen & Dragset have transformed Copenhagen Contemporary's Hall 2 into a tennis court to reflect on competition, individualism, inclusion and exclusion.
Malmö City Walks
Aug 16 & 19, various times; statue of Karl X Gustav, Stortorget, Malmö, free adm, register via marie.westberg@malmo.se
Take a 90-minute city walk to learn more about the LGBTI+ history of Malmö.
All listings are sourced from Copenhagen2021.com.