News
Culture Round-Up: The notion that TV kills is an old chestnut for good reason
---
This article is more than 2 years old.
Netflix DK serial killer series Kastanjemanden may not have the same body count as 'Squid Game', but it is far deadlier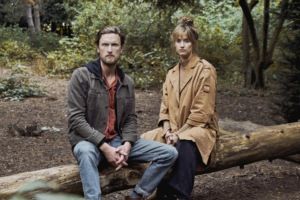 The most popular show on Netflix in Denmark right now pays homage to a children's game of sorts. 
But no, it is not the Korean show 'Squid Game', which conjures up challenges based on playground activities in which the losers are horribly killed.
Knocking 'Squid Game' off its perch this past weekend has been the Danish series 'Kastanjemanden' ('The Chestnut Man'), a six-part serial killer drama based on the debut novel of Søren Sveistrup, the creator of 'Forbrydelsen' ('The Killing'). 
With solid reviews emerging all over the globe, it is still too early for the series to command a Metacritic score, but it is clear that 'Kastanjemanden' is proving popular with both fans and critics – particularly Copenhageners, as most of the series was shot in the capital as they went about their daily business.
Whodunnit then?
Starring Danica Curcic and Mikkel Boe Følsgaard, the first episode raises questions from the very start, including who on earth is the girl in the opening sequence, which forest is the opening credits sequence shot in, which suburb of Greater Copenhagen has this woman been murdered in, and why do Danish kids make creepy looking men out of chestnuts and then sing creepy songs about them?
The biggest mystery, though, concerns the name of the show, as several foreign websites seem to suggest (with hygge in mind no doubt) that viewers should roast a few chestnuts whilst watching it, unaware their mistranslation could be problematic.
The featured nuts are not kastanje but hestekastanie (horse chestnuts), so reviewers are inadvertently advising viewers to poison themselves. 
Whodunnit, you might ask. Well, the true killer is the show itself.
---
Denmark takes silver in world cup for chefs
A team from Denmark has won silver in this year's Bocuse D'Or – the world cup for chefs. Ronni Vexøe Mortensen and assistant Sebastian Holberg were only bettered by France, with Norway third – the same team that beat Denmark to the Bocuse d'Or Europe earlier this year. It is believed that Mortensen and Holberg, who have been working together for three years, practised their menu over 100 times. They were mentored by Geranium chef Rasmus Kofoed, himself a winner in 2011 after two previous visits to the podium. Denmark were defending champions following Kenneth Toft-Hansen's triumph in 2019.
Belarusian author awarded 2021 Sonning Prize
Belarusian author Svetlana Alexievitch has been awarded with the 2021 Sonning Prize, a biennial Danish award that recognises significant contributions to culture. It was first presented in 1950 to Winston Churchill. The panel said they primarily chose Alexievitch out of respect for 'The History of the Red Man', a five-book series published between 1985 and 2013, which is rich in testimonies from citizens of the former Soviet Union. 'The War Does Not Have a Female Face' (1985), 'The Last Witnesses', 1985), 'The Zinc Boys' (1989), 'Prayer for Chernobyl' (1997) and 'Secondhand time' (2013) have been translated into 52 languages, and in 2015 their author received the Nobel Prize for Literature. Alexievitch received 1 million kroner at a ceremony at the University of Copenhagen on Thursday September 23. Since 1950, many famous people have won the award, including Laurence Olivier (1966), Ingmar Bergman (1989), Günter Grass (1996) and Lars von Trier (2018). 
Queen meets queen at Bakken review show
Rather charming video footage (see end of story and below for two different clips) is doing the rounds in Denmark of 80-year-old actor Ulf Pilgaard's final ever performance as Queen Margrethe at Cirkusrevyen in Bakken – a role he has played since 1986. Pilgaard traditionally brings the show to an end with the line "Gud bevare Danmark" (God preserve Denmark) – the same line the monarch uses at the end of her New Year's Eve speech – and it was at this point that Queen Margrethe emerged to surprise everyone to hand the actor a silver ashtray.
Going for a song: Lennon and Ono footage sale exceeds expectations
The original audio cassette recording of a 1970 interview with John Lennon and Yoko Ono in Jutland, where the famous pair had tracked down Ono's former husband and her daughter, was last week sold for 370,000 kroner by Bruun Rasmussen Auctioneers. The lot had been estimated to fetch 200,000 to 300,000 kroner, but there was unprecedented worldwide interest, according to Ralph Lexner from Bruun Rasmussen, and a foreign buyer emerged triumphant. As well as the tape, original photos taken by the interviewers, four local schoolboys, were included, along with a copy of the school magazine the interview was published in. The 33-minute audio featured Lennon singing the songs 'Give Peace a Chance' and the unreleased 'Radio Peace'.
READ MORE: The patter of John and Yoko: Rare recording of couple in Denmark up for sale at auction