News
Danish News Round-Up: Third jab to be offered to over-65s, frontline workers and chronically-ill
---
This article is more than 2 years old.
Winter is coming and we need all the help we can get, claims Statens Serum Institut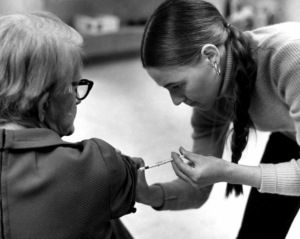 The Sundhedsstyrelsen health authority is drawing up plans to offer all fully vaccinated people in Denmark a third jab, starting with the over-65s, frontline healthcare professionals and the chronically-ill.
Many nursing home residents and workers have already been jabbed for a third time, along with people aged over 85 since October 1.
J&J jabbers also a priority
Furthermore, it is also a priority to offer those vaccinated with the Johnson & Johnson single-jab option a 'second jab' (available since October 1).
However, there are fears this could count against them when they show their proof of vaccination at certain countries' borders.
Only available once six months have passed
However, an additional jab is only permitted once a certain time period has passed since the completion of the vaccination: six months in cases where somebody has received two jabs; 12 weeks in respect to J&J. 
Invites are sent by eBoks, and all appointments must be made via vacciner.dk.
---
Slow progress in September as government falls short of 90 percent goal 
Vaccination rates are normally presented as a percentage of the whole population, so not including children under the age of 12, who are not being offered protection. They currently stand at around 75 percent. However, a fairer indicator of the country's progress is the 86.6 percent of people who have accepted an invitation to receive their first jab. This is the figure that the government wanted to raise to 90 percent by October 1. On September 6, the percentage stood at 86.0 percent, so progress is slow despite initiatives to offer vaccinations at supermarkets, near schools and even at music concerts. While 5 percent of the population thinks the vaccines could make you infertile, it is 19 percent among those who have declined a jab. The clock is ticking as Statens Serum Institut has outlined four scenarios for COVID-19 heading towards the winter, of which the worst case scenario envisages the daily infection rate rising to 4,000.
No more lightning tests from October 9, but option could return at PCR sites
With all of the lightning COVID-19 test centres due to close on October 9, some PCR test centres will soon start offering the quicker option, which yields results in 30-60 minutes compared to 12-24 hours, according to Lisbet Zilmer-Johns, the head of Styrelsen for Forsyningssikkerhed. She told TV2 that five to ten places will start offering the option by the end of the month. The country's PCR centres currently have the capacity to carry out 100,000 tests a day.
Jyske Bank outed by Pandora Papers
Jyske Bank has been implicated by the Pandora Papers, but otherwise there has not been much Danish-related content in the latest leak of sensitive financial information, which mainly relates to corporations and rich individuals. One of Jyske Bank's customers is Genaro Peña, a Paraguayan car dealer accused of committing substantial tax fraud. It is reported he kept several hundred million kroner in accounts with the bank, and that Jyske helped him to put money from several of his companies in accounts in tax havens.
Macabre finding: body part discovered at Greenlandic waste incinerator
Police in Greenland found a body part at a waste incinerator in Illulissat in the west of the country over the weekend. No reports of missing persons have been made that are currently of interest to investigators, who have been joined by colleagues from the capital Nuuk. A request for help has also been submitted to the Danish national police force – particularly for assistance with forensics. 
Likely one-year extension for mink production ban 
The government looks set to extend the temporary ban on mink production by another year, according to the minister of food, agriculture and fisheries. Following the advice of Statens Serum Institut, Rasmus Prehn told TV2 the extension is the right course of action. Following on from its assessment in June that mink production remains risky for public health, SSI has not chosen to revise its opinion.
Third mass screening of Danish groundwater underway
Another mass screening of Danish groundwater is underway, this time with the capability to detect the presence of three more pesticides: metaldehyde (used in snail remedies), imazalil (indoor potato cultivation) and metamitron-desamino (beetroot cultivation). It is the third such screening in the last two to three years. In total, the levels of 149 pesticides will be measured at 250 different places across the country.
Reckless driving car seizure numbers suggest the public isn't learning
Following a change in the law on March 1, the police seized 510 cars between March 31 and September 20 in cases of reckless driving. In total, it has charged 623 individuals in a total of 586 cases. The police are able to seize cars in cases when driving is judged to endanger other people's lives, regardless of ownership. 
Government sets out roadmap to cut climate emissions by 70 percent
The government has presented a 2021-25 roadmap outlining its plans to cut climate emissions by 70 percent by 2030. The roadmap contains 24 political initiatives, and they will all be in place by the end of 2025. As things stand, the government will cut emissions by 50 percent, so just another 20 percentage points are needed. Clearly, some of the initiatives cannot be fulfilled tomorrow, such as plans to build a plant that can capture CO2. In comparison, the EU reduction target is 55 percent by 2030. 
Broad agreement reached concerning agriculture and forestry emission cuts
Ahead of Parliament's reopening this morning, the political parties reached a broad agreement last night concerning agriculture and forestry emission cuts. The deal means the agriculture and forestry sectors are obliged to cut 1990 levels by 55-65 percent by 2030: the equivalent of 1.9 million tonnes per year. It is a long way short of the 7.1 million tonnes a year targeted by the government in its proposal in April. Furthermore, the government has earmarked 3.8 billion kroner for the green transition.