News
Culture Round-Up: Coming at you like a kamikaze
---
This article is more than 2 years old.
Meanwhile, another flying incident has provoked the anger of the family of a British Royal Air Force pilot, who they claim is falsely portrayed as a murderer in a new Danish film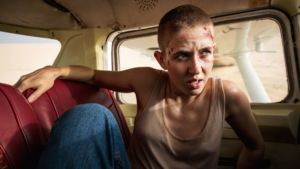 Indiewire is full of praise for the performance of Marie Reuther in the new HBO Max series 'Kamikaze', which is just one of three Danish-language series released by streaming services this autumn solidifying the country's reputation as a producer of quality TV.
'Kastanjemanden' ('The Chestnut Man') was a popular Netflix release in September, and the same service will be releasing 'Nisser' ('Elves') on November 28.
Pays to produce Danish content
"It is a significant upgrade of investment in Danish content. The next thing that will happen is that Disney will come along," expert Keld Reinicke enthused to TV2.
"The market is so attractive that it pays to produce Danish fiction, and they believe so much that Danish content can be seen in the rest of the world."
Danish by nature, global appeal
HBO Max's commissioning editor Christian Wikander credits the likes of  'Borgen', 'Forbrydelsen' and 'Broen' with setting such a high bar.
"They have been good at finding something that may be very 'Danish', but which also appeals to an international audience – simply because the stories are universal and the quality is high across the board," he told TV2.
---
Girls' choir abuse might be Denmark's biggest MeToo scandal yet
It's one of Denmark's traditions that many end up watching DR Pigekoret (internationally known as Danish National Girls' Choir) in the early hours of the evening of December 31, as they sing the sozzled nation into the new year. But now the choir, which since its foundation in 1938 has established itself as one of the world's most respected, is engulfed in a sex abuse scandal. Sexual harassment, bullying and boozing were apparently rife for four decades within the establishment – from 1970 to 2010, according to an investigation carried out by a law firm, which questioned 129 former members and produced a 34-page report. The head of Kvinfo, Henriette Laursen, has described the findings as "the biggest MeToo case in this country". DR has apologised for "the completely unacceptable culture" the investigation has exposed. "A number of former members of the Girls' Choir have been subjected to abusive behaviour in the form of sexual harassment," the broadcaster said. "DR sharply distances itself from this. There has also been a reprehensible handling of complaints on DR's part in the past." The choir's members tend to be aged 15-22. No cases have been exposed relating to the last 11 years. 
Did Nordisk Film unmask Spider-Man cast too early?
A synopsis released by Nordisk Film Biografer may have jumped the gun, as some of its content has turned out to be a world exclusive. It hints that both Tobey Maguire and Andrew Garfield will once again play Spider-Man in 'Spider-Man: No Way Home', a film that will try to make sense of the various versions, featuring three different actors in the title role, since 2002. "The film will seriously introduce the so-called multiverse in Marvel's film series, and previous editions of Spider-Man as well as various villains from 'Spider-Man' (2002) and 'The Amazing Spider-Man' will appear," reveals the Danish-language synopsis. "For the first time, Spider-Man can no longer hide behind the mask, and he can no longer separate his life as a superhero from his normal life. When he asks Doctor Strange for help, even more comes into play, forcing him to figure out what it really means to be Spider-Man." 
It's outrageous, surviving family say about depiction of RAF pilot
The producers of the film 'Skyggen i mit øje' (''The Shadow in My Eye') have made some post-release changes following complaints by the family of the British Royal Air Force pilot who accidentally bombed the French School in Frederiksberg – a raid that cost the lives of 250 people, including 86 children. The family of Peter Kleboe object to a fictitious inclusion that shows his plane machine-gunning three Danish wedding guests, reports Berlingske. "Our uncle, Peter Kleboe, is portrayed as a murderer, and he was not," Kleboe's niece Jane Angell wrote in a letter to Miso Film.  "This process of blackening a man who was a highly decorated person – it's outrageous!" Screenwriter and director Ole Bornedal was also criticised for including fiction in his series '1864'. Furthermore, the family can't understand why their uncle's real name was used given that the attack on the car was fictitious.
Value of early 20th century female artists soaring
The value of works by female artists has been shooting up, the auctioneer Bruun Rasmussen tells DR. It is particularly artists from around 100 years ago – like Gerda Wegener, the wife of Lili Elbe, the central character in 'The Danish Girl'. Prices are doubling, if not tripling. Previously, Bruun Rasmussen would decline the chance to sell artworks by female artists from the period. "There is no doubt that we are experiencing both a massive focus and a greater interest in female artists from the period around the year 1900. This has meant a marked increase in demand and thus rising sales prices," Bruun Rasmussen expert Julie Arendse Voss told DR. "It is a change that has been a long time coming."
Radio Loud now completely under the control of Berlingske Media
Berlingske Media's purchase of further shares in Kulturradio Danmark, the owner of the Radio Loud station, has been approved. Last year, the media giant picked up 40 percent and it has now raised the stake to 91 percent. It is changing the name of Radio Loud, which won the Culture Ministry's tender for a new digital radio channel in late 2019, to 24syv. Previously, Radio Loud had applied for a dispensation from broadcasting the news every hour, but the Berlingske Media board has ruled this will be withdrawn. Furthermore, it maintains the target listener of the speech and culture radio station must be 15 to 32-year-olds.
Pirouettes in front of the pandas at capital's swankiest new ice rink
One of the most sought-after ice rinks this winter and Christmas will be at Copenhagen Zoo, which will enable visitors to pirouette whilst peering at the panda and penguins or do the splits Bambi-style whilst staring at the sea lions. A Christmas market, music, snacks, 500,000 lights, reindeer petting and daily appearances by Santa himself will ensure children and adults are well catered to. The ice rink will remain in place until the end of the winter school holiday in week 7. 
Tonight's Crazy Christmas Cabaret premiere cancelled due to illness
The premiere of the Crazy Christmas Cabaret has been cancelled tonight due to illness among the cast. All tickets to 'Tell Me About It' will be refunded, producer London Toast has confirmed. 
Tess picks up MTV award for best Nordic act
Danish rapper Tessa recently won 'Best Nordic Act' at the MTV European Music Awards in Budapest. She saw off the likes of Drew Sycamore, Zara Larsson, Swedish House Mafia and Sigrid.
Believe it! Justin Bieber is coming to Smukfest
Justin Bieber will be playing Smukfest next year, it has been confirmed. The 27-year-old Canadian singer will appear on stage on August 3. The star is performing as part of Justin Bieber: The Justice World Tour. Smukfest was cancelled in both 2020 and 2021, so it will be its first edition for three years.
Ticket sales confirm 'No Time to Die' as Denmark's favourite Bond film
Every sixth person in Denmark has gone to see the new James Bond film 'No Time to Die'. As of last weekend, ticket sales exceeded 1 million, making it the most popular ever Bond film in Denmark. It is the first film to break the million mark since 'Avatar' in 2009 and only the 13th since 1976. The other 11 are 'The Lord of the Rings' trilogy, three Olsen Gang films, 'Titanic', 'The Lion King', 'Grease', 'One flew over the Cuckoo's Nest' and 'ET'.