General
Xmas in Denmark: Behind the festive traditions
---
This article is more than 2 years old.
Decoding a Christmas that established its roots long before the arrival of Christianity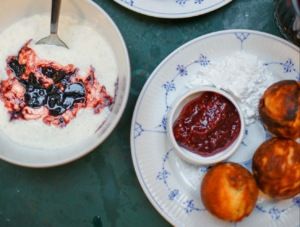 The Vikings first encountered Christianity in the 8th and 9th centuries with the arrival of foreign monks and the increase in foreign trade. The first Danish king to convert to Christianity, Harold Blåtand (Harald Bluetooth), was baptised in around 965.
Despite pressure from the church to call Christmas ´Kristmesse´, the Danes kept the term 'Jul' – a variation on the name of the historical festival Yule.
It means wheel, and it's no exaggeration to say that a wheely good time is had by all in Denmark at Christmas time.
Candles and chocolate
Despite the fondness for cinnamon and cloves, Christmas is all about the sweetness! Bakeries and shops will stock special sweets and cakes in the weeks leading up to Christmas and often create elaborate window displays to showcase their skills. 
Treats enjoyed throughout Denmark include the deep-fried lemony klejner, nutty gingerbread brunkager and tiny spiced biscuits called pebernødder. 
And let's not forget the æbleskiver (mini doughnut-shaped pancakes) and gløgg (mulled wine flavoured with dried fruits, nuts and Xmas spices), which is served at every festive market, along with roasted almonds. 
Kids, meanwhile, are placated until the arrival of Julemanden (Father Christmas) with chocolate in their Advent calendars, although the julekalenderen tradition (see factbox) goes way beyond this, with some calendars bestowing gifts on every Sunday of Advent, and others every single day! 
During Advent, Denmark's love of candles takes on an even bigger dimension, as each house has a special candle with the days until Christmas marked on it. The candle is duly lit each day to burn it down to the next day's date.
Alternatively, advent wreaths composed of evergreen twigs and ribbons hold four candles – and one is lit on each of the four Sundays preceding Christmas.
Keep the nisser nice!
Now your candles are lit, you can decorate. Like in most Christian countries, the tree ends up being the main focus, although it won't be completed until Christmas Eve. This leaves the door open for the festive period's designated interlopers: the 'nisser'. 
You might assume these bearded elves, dressed in grey trousers and red hats, are Julemanden's little helpers, but the tradition goes back much, much further. 
Children often leave out bowls of risengrød for them, the sweet rice pudding eaten throughout Jul, and this stems from a tradition established shortly after the arrival of Christianity when it was believed 'gårdboer' lived in the  lofts of houses or barns  to protect the 'gård' (farm).
These 'gårdboer' demanded offerings in order to ensure a good crop. Failure to do so could result in pranks or worse. In fact, nisser were often blamed for the death of livestock and spoiling of food stores.
One of the etymological origins of the word 'nisser' may be from the old Norse word for 'infection'. More likely, though, it is a nickname derived from Niels!
To whet your children's appetite this year, why not visit Nisseland, which was established near Kalundborg in the most western part of Zealand in 2002. The 1,500 sqm venue includes the world's largest mechanical nisser display. 
Stems from human sacrifice
Also derived from paganism are the traditions of the Julebuk and Yule Boar Loaf. Originally they were sacrifices made to assure a good harvest (so important that humans were often slain), but they switched from animals to inanimate objects following the arrival of Christianity: most typically a straw doll.
This corn dolly/corn mother would sit on tables throughout Yuletide before being burned on Christmas Eve, thereby purifying the house.
In modern times, the descendant of the corn dolly in Denmark is the 'Julebuk' (barley goat). Today it survives the furnace and returns to the box of Christmas decorations. Some are purchased as a tourist curio and then no doubt mistaken for Spanish donkeys.
Another corn-related tradition that evolved from the sacrifice was the baking of a boar-shaped loaf using the last sheaf of grain harvested in the year: the Yule Boar Loaf. 
Often it was kept until sowing time in the spring, when part of it was mixed with the seed grain and part given to the ploughman and the plough horses or plough oxen in expectation of a good harvest.
The long lunch
A good spread is always expected at the Julefrokost.
Often arranged within friend groups and sporting circles, the most popular kind is the office Julefrokost, where the feasting often starts just after lunch and continues all day.
Typical starters include pickled herrings, gravadlax and breaded fish fillets served with mayonnaise, prawns and eggs – all served on rye bread.
For the main, flæskesteg (roast pork and crackling) with red cabbage is the most common option, and for dessert the aforementioned risengrød, which can be jazzed up into a ris a l'amande.
All of this is washed down by julebryg, the Christmas beer traditionally launched on J Dag on the first Friday of November that is much stronger than your average beer, and the constant downing of schnapps – it's rude to turn down a toast, after all! 
Aalborg Akvavit's limited Jule edition bottles are individually numbered and changed in design every year. Collectors around the world try and secure one of each design – although the contents are just as appealing as the bottle itself.
And don't forget Pakkeleg, the dice game that never gets old. Everyone reveals a wrapped present, and then participants take turns in rolling a dice. A six wins you a present, but once all of them are claimed, the rules permit another five minutes during which you are allowed to pick any you should desire. It's basically an excuse to be horrid for a while!
The TV marathon
Kids, meanwhile, are kept entertained by the Julekalender TV show. The first, 'Historier fra Hele Verden' (stories from around the world), was broadcast by DR in 1962. Sweden had launched a similar show in 1960.
Audiences started to catch on in 1967 with 'Kender du Decembervej?' and its hugely popular central character, a happy mouse called Magnus Tagmus, who returned in a sequel the following year. By 1971, the program was in colour and pencilled into the nation's must-watch schedule. The first complementary advent calendar came out in 1977.
Since 1990, DR and TV2 have been taking it in turns to produce a new one – the same year the latter released the first one aimed at adults. Every year, up to ten repeats are shown. 
The most popular character is probably Pyrus, who first made an appearance in 1994 and has even had his own feature film. But his popularity has never taken off beyond Scandinavia. In contrast, the 2003 edition 'Jesus & Josefine' ended up being shown in 20 different countries.
The big day itself
After such a huge build-up, you'd imagine Danes would want a quiet Christmas, but no. Christmas itself is a multi-day affair.  
And then Christmas Eve starts with a trip to church, often followed by a fulsome walk to work up an appetite for the feasting ahead. 
Upon their return, the family finishes decorating the tree and settles down to watch the Christmas Disney show and various TV julekalenders, while the designated chefs do their magic. 
Traditionally on Christmas Eve, roast duck, pork or goose takes centre stage and is served with caramelised potatoes, braised red cabbage and a variety of pickled side dishes.
This is followed by ris a l'amande – a mix of sweet rice pudding, whipped cream and crushed almonds. It's often served with a sauce made from winter berries, sometimes collected by children whilst out walking. A whole almond is hidden in the pudding, and the person who finds it wins the mandelgave – a gift purchased for the occasion.
Following the Christmas dinner, everyone holds hands and dances around the tree singing traditional songs.
The 25th and 26th are quiet days spent at home with more food, friends and family, recovering from the excesses of the previous days and looking forward to the party starting again at New Year.