Activities
On Screens in April: Cracking the Coda of the Oscars: Paper only appears to beat Rock
---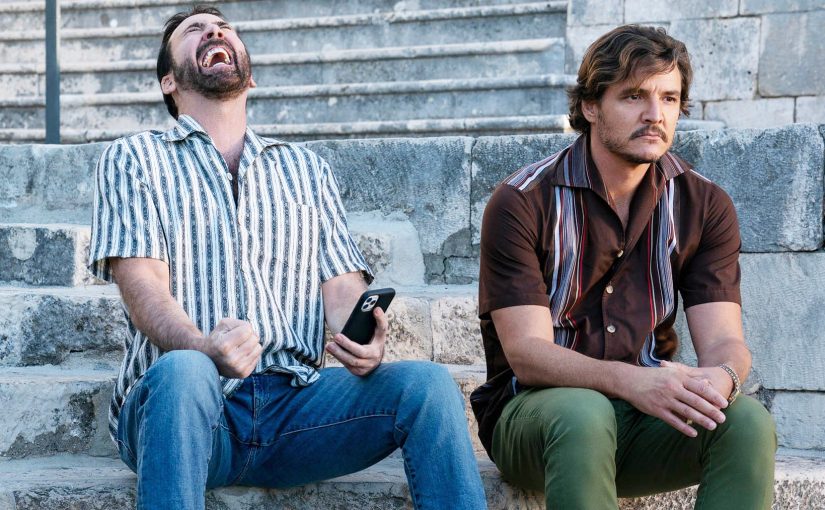 A youngster with a heart of gold, unrequited talent and responsibilities: she always puts others first. Hardly Oscar-winning material. At the very least, you'd imagine the central performance has to be stunning. After all, Miss Daisy needed a black chauffeur, and Rose a very big ship. But those closest to her are deaf: to her talent and literally. There's the clincher.
Channeling Tupac
They've been listening to too much heavy metal in Metal Lords (April 8 on Netflix). Oh, you thought I was talking about Coda, whose Best Film win was overshadowed by a game of Rock Paper Scissors that ended with Willard Carroll Smith II shouting what he imagined a black man from his wife's home town Baltimore would say – like her childhood friend Tupac Shakur in fact.
Forgive the cheap Coda joke – with a budget of 10 million US dollars, it is the second least expensive film to win the biggest prize, after Moonlight, which only cost 1.5. Regular readers will know this column is obsessed with the Oscars. The truth is that the winter editions are so much easier to write because that's when all the contenders are released. Come March/April and the latch is 'sprung' on all the duds looking for easier pickings at the box office.
Caged in by your talent
This month is an exception though, as it's mostly A grade offerings alongside promising action films. Bridging the two is The Unbearable Weight of Massive Talent (April 21; 77 on Metacritic) with Nicolas Cage as … Nicolas Cage, placed in a situation in which a super-fan turns out to be a Mexican badass (the always reliable Pedro Pascal) wanted by the CIA. So this is Curb Your Enthusiasm, but applied to a thriller not a comedy. But given we're supposed to assume the likes of Superman or James Bond could conceivably die … it's hard to imagine this could generate the necessary jeopardy. Hilarity, yes.
Many of you might be unaware of the true story underpinning Nitram (April 7; 83), but it gripped Australia once it had sobered up. Caleb Landry Jones and a resurrected Anthony LaPaglia, who's always better in Oz than the US, excel in the tale of a young mass-murderer who killed 35 on a lazy Sunday afternoon in touristy Tasmania in 1996. The country was so drunk there were only five sober journos left to do the evening news, and four of them were sports commentators. One of them ended up doing a Top 10 Worst Australian Massacres Ever segment.
More sedate in comparison, but no less appreciated are Bergman's Island (April 7; 81) starring Tim Roth and Vicky Krieps (Phantom Thread), the thoughtful tale of two writers on an inspiring Swedish island whose work starts to blur fiction; and C'mon C'mon (April 21; 82), the fourth film of Mike Mills (Thumbsucker, Beginners), a sweet guardianship tale starring Joaquim Phoenix as the put-upon uncle.
Incest in The Crown
Fans of the Harry Potter universe will welcome Fantastic Beasts 3: The Secrets of Dumbledore (April 7; Not Released Worldwide), in which Mads Mikkelsen has replaced Johnny Depp as dark wizard Grindelwald.
A Dane is also onboard to play the baddy in The Northman (April 13; NRW), which Viking enthusiasts have already praised for its period look. Alexander Skarsgård has Claes Bang in his sights in this revenge story, but check out the all-star cast! Nicole Kidman, Ethan Hawke, Willem Dafoe, Anya Taylor-Joy and Björk are only half the story.
Danish-American actor Viggo Morgensen, alongside Colin Farrell, is suiting up to play one of the rescuers in Ron Howard's Thirteen Lives (April 28; NRW), the tale of the famous rescue of a Thai football team in 2018, but the contribution of Danish divers Claus Rasmussen and Ivan Karadzic has been ignored.
Elsewhere, 65 (April 28; NRW) is a hushed-up Sony dinosaur thriller starring Adam Driver (the smart money is on this being postponed until next year). The Lost City (April 28; 60) is a Romancing the Stone copy with a toyboy spin, starring Channing Tatum and Sandra Bullock. The In Between (April 8 on Netflix), a lightweight rom starring Joey King, will probably be streamed 100 million times and hailed a success.
Finally, Mothering Sunday (April 28; 64) is a between-the-wars, upstairs-downstairs relationship yarn starring Josh O'Connor and Olivia Colman – not as the lovers … that would be perverse after playing Charles and Queen Elizabeth in The Crown! Again she plays his mother.
Wired about this one
Over in TV-land, we're looking forward to We Own This City (April 26 on HBO Max), which takes the writers of The Wire back to Baltimore, their favourite stomping ground, to take a look at corruption within the police force. British dysfunctional spy series Slow Horses (released on Apple; 78), with Gary Oldman and Kristin Scott Thomas, and Tokyo Vice (April 8 on HBO Max; 75), of which the first episode is directed by Michael Mann, also look highly promising.
David E Kelley anthology series Anatomy of a Scandal (April 15 on Netflix; 48) starring Sienna Miller, Michelle Dockery and Rupert Friend is described as "a series that is planned to depict various scandals within the elite class of the UK" – so exactly like A Very British Scandal then, although the tale if fictional. The critics aren't impressed.
Staying in Britain, the critics haven't had a chance to judge comedy series Hard Cell (April 12 on Netflix), which will either be a baptism-of-fire or sink-like-a-stone moment for the career of creator and multiple role star Catherine Tate, The Baby (April 25 on HBO Max) or Joe vs Carole (April 14 on CMore), the first fictional account of the Tiger King story. More are likely to follow.
Returning series include Better Call Saul (S6; April 19), Russian Doll (S2; April 20) and Ozark (S4B; April 29) on Netflix; and Wellington Paranormal (S4; April 1), The Flight Attendant (S2; April 22), Three Busy Debras (S2; April 25), Tin Star (S3; April 12), Home Economics (S2; April 29), Barry (S3; April 25) and Mayans MC (S4; April 25) on HBO Max.
There's a long list of documentaries with no explanation necessary: Ghislaine, Prince Andrew and the Paedophile (April 7 on CMore), Jimmy Saville: A British Horror Story (April 6 on Netflix), The Mystery of Marilyn Monroe: The Unheard Tapes (April 27 on Netflix) and Fantastic Beasts: A Natural History (April 2 on HBO Max).
The latter is narrated by Stephen Fry, whose ubiquitousness is beginning to grate. Let's hope we're not saying the same about Chris Rock in 12 months' time.