Activities
On Screens in May • Shutdown: Where the wars failed, corona succeeded
---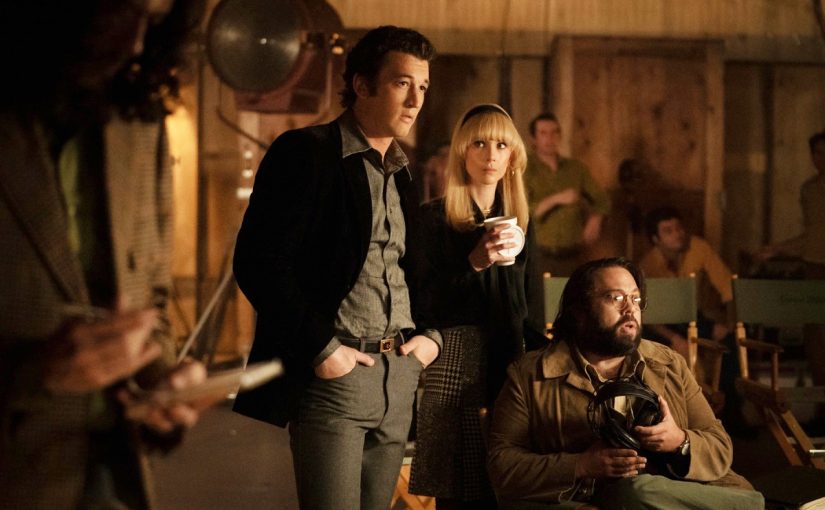 World War I couldn't kill the movie industry. A glance at the career of Charlie Chaplin reveals that he made over 100 films! Five of them were bookmarked by the Battle of the Somme – one of them was called The Count!
By World War II, light relief for the troops was replaced by propaganda, although there was room for some satire – Chaplin again with The Great Dictator. But, yes, it was mostly propaganda. Even 19th century sleuth Sherlock Holmes was fighting the Nazis!
But corona! The global pandemic succeeded where the wars failed. It grounded film and TV production for months, explaining why there has been such a dearth of new or returning shows of late. Until now.
An offer you can refuse?
Perhaps the irony of The Offer (CMore; 57 on Metacritic) is that much of this origins series about the making of The Godfather concerns the efforts to recruit Marlon Brando for the title character, but the series itself has struggled to cast any notable names in the heavyweight mafia roles. It's enjoyable if you have read the likes of Easy Riders, Raging Bulls, but otherwise the numerous subplots distract from the main story – which is kind of autobiopic, as this is produced by Paramount, the makers of the original film.
Nevertheless, it mostly succeeds in taking you back to early 1970s Hollywood – the escapism so many of us seek from our everyday lives. Going the extra hog in this respect are two time travel miniseries, Shining Girls (Apple; 67) and The Time Traveler's Wife (HBO Max from May 16), both sporting trailers with a Cloud Atlas vibe as main characters are presented in multiple haircuts to underline the fact that they 'get about'. As the titles suggest, one of them kills girls (it's the Jamie Bell we glimpsed in Nymphomaniac with Elizabeth Moss hot on his trail) and the other travels a lot (more than in the film of the same name, which fans of the novel said wasn't long enough, so here's hoping).
In Stonehouse and The Thief, his Wife, and the Canoe (both BritBox via CMore), escapism is the name of the game. The British series respectively tell the stories of a disgraced British politician (Mathew Macfadyen) who faked his own death in Miami in 1974 only to turn up in Australia a month later, and an absolute banana (Eddie Marsan) who did the same in northeast England to claim on his life insurance and went into hiding … next door!
British fare we mostly had
The two series are available thanks to the emergence of a new streaming service called BritBox, which was launched in the Nordics on April 28 and is apparently available to CMore subscribers. This ultimately might be bad news for those of us who regularly plunder DR's mini-archive of Blighty titles.
Leading the way is Irvine Welsh adaptation Crime, with Dougray Scott in the lead role – a character first introduced in Filth. In fact, it might surprise those who have read the 2008 novel that a second season has been commissioned.
Among the other UK shows now available are acclaimed Hillsborough drama Anne starring Maxine Peake, The Cleaner with Greg Davies as a crime scene human debris collector, documentary pairing Idris Elba's Fight School and Hollywood Bulldogs: The Rise and Falls of the Great British Stuntman, and Georgian rags-to-riches saga The Confessions of Frannie Langton.
Ammonite the return?
The British period dramas continue with The Essex Serpent (Apple; May 13) starring Claire Danes and Tom Hiddleston. Set in the late Victorian age it concerns an amateur palaeontologist (oh god, not another Ammonite?) escaping an abusive husband who finds solace in investigating the existence of a mythological sea creature (and another woman's arms, most likely).
An abusive husband, or even wife, is central to the plot of The Staircase (HBO Max; 85) starring Colin Firth and Toni Collette. Based on a French original, it promises to be the drama The Undoing could have been had it only had an intelligent creator.
Other spawnings include The Lincoln Lawyer (Netflix; May 13), 11 years after the original film, but with none of the original cast (not even in cameos!) and Star Wars spin-off Obi-Wan Kenobi (Disney+; May 27) in which Ewan McGregor is joined by his old Jedi sparring partner Hayden Christensen – who must be grateful for the work.
Conversation with Friends (HBO Max; May 15) is another Sally Rooney adaptation, so yes, it includes lots of sex; Now & Then (Apple; May 20) is one of those '20 years later, somebody knows what happened' yarns (and looks ropey), although similarly themed documentary When we were Bullies (HBO Max) looks anything but; and Harry Wild (CMore; May 8) invites former Bond girl Jane Seymour into the land of the living. This time the medicine woman is a meddlesome mother of a useless cop. Equally awful-looking is The Window (CMore; May 11), the story of an English Premier League player who struggles to distance himself from his tough upbringing. But who knows?
Returning series include Stranger Things (S4; May 27), The Circle (S4; May 4) and Who Killed Sara? (S3; May 18) on Netflix; Noughts + Crosses (S2; May 6), Hacks (S2; May 13) and Breeders (S3; May 12) on HBO Max; Devils (S2; May 18) on CMore; and The Wilds (S2; May 6) on Amazon Prime.
Another Bond girl's back!
The continuation … continues in movie-land with Top Gun 2: Maverick (May 26; Not Released Worldwide), Downton Abbey: A New Era (May 19; NRW), Doctor Strange in the Multiverse of Madness (May 5; NRW) and Memory (May 12; NRW), yet another Liam Neeson badass film, while Firestarter (May 12; NRW) is an unnecessary remake of the 1984 Stephen King adaptation.
This leaves Operation Mincemeat (May 12; 59), completing a busy month for Colin Firth, which looks like another of those dreary British wartime 'comedies'. They normally star Gemma Arterton as a 'good old thing', but this time her role has gone to Kelly Macdonald. And Everything Everywhere All at Once (May 12; 82), which this month really is your best popcorn muncher. It's like The Matrix, but with an Awkwafina vibe, although she's not in it. Instead, another Bond girl is back in the living: Michelle Yeoh.
You didn't see that coming in your cards, did you Solitaire!