News
Culture Round-Up: Stacks up pretty well!
---
This article is more than 1 year old.
The same is true of this year's festival program, where contrary to fears the unruliness has been minimal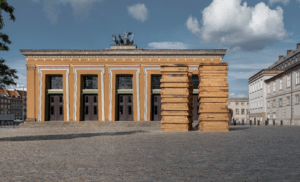 If you've passed by Bertel Thorvaldsens Plads outside Parliament recently, you might have noticed what looks like three stacks of wooden crates.
Well, they are in fact three wooden sculptures, collectively known as 'Oak Stacks', fashioned from centuries-old timber by Irish-American artist Sean Scully to promote his forthcoming exhibition at nearby Thorvaldsens Museum.
Ancient maritime timber
Sourced from archaeological excavations on Papirøen in 2019, the "various coloured oaks make an oblique reference to the great naval history of Denmark", explains the artist.
The exhibition 'Sean Scully: Material World' opens on September 2 and continues until March 5.
---
Safe passage in the company of the local fishermen
Just 7 km south of Helsingør, you'll find Espergærde Havn, the scene for a series of performances later this week (July 28-30) that celebrate the lives of local fishermen. Take an evening walk and listen to their stories, and then enjoy a fish supper. Arranged by theatre director Caroline McSweeney and choreographer Taneli Törmä, 'Dance of the Fisherman' has been made specially for the Passage Festival, the street theatre festival spanning the Danish and Swedish towns of Helsingør and Helsingborg, which starts today and concludes on Saturday.
World class Canadian comedian on his way over
Canadian stand-up comedian Russell Peters is performing at KB Hallen on October 14. Recently shortlisted on the '50 Best Comics of All Time' list by Rolling Stone magazine, Peters is bringing his Act Your Age World Tour. Tickets cost 400 kroner and are available at billetlugen.dk. Also coming to Copenhagen this year is US rapper Pusha T. Tickets to his show at Store Vega on December 6 cost 400 kroner and are available from ticketmaster.dk.
Contrary to fears, festival guests have been exemplary
Despite fears there would be unruliness at this year's music festivals, the crowds have been well behaved, concert organiser interest organisation Dansk Live tells DR. The anti-social antics at several Tivoli concerts in the spring, as well as the Jelling Festival, suggested there could be trouble ahead, but the Roskilde Festival reported that its crowd was "exceptionally peaceful" – sentiments echoed by TinderBox. "Overall, the festival season has been very calm," concluded Dansk Live head Esben Marcher. "We have experienced happy guests and an enormously good atmosphere, and there have been far fewer serious episodes – such as fights – than there usually are."
How clean is your campsite?
TV2 has published a story today that is somewhat condemnatory of the clean-up efforts of the Roskilde Festival. Alerted to the state of the grounds by two passers-by, the broadcaster's investigation reveals that a great amount of rubbish can be found. However, according to Roskilde Municipality, the festival, which outsources most of the clean-up, has until September to complete the work. One of the strollers told TV2: "When they are at a festival, they live like pigs and leave their things in nature, but when it is Monday after the festival, they are environmental activists."
Grøn Koncert leaves them waiting
Admission problems at the opening day of the nationwide eight-venue concert tour Grøn Koncert in Amager last Thursday caused a situation in which thousands missed the opening act. Despite opening its doors at Tiøren park at 13:00, 30 minutes ahead of the first act performing, festival organisers were not able to admit everyone for another 90 minutes. Since then, Grøn Koncert reports the situation has improved, although food and drink sales remain slow. It is due to return to the capital region on July 31 for its closing edition in Valby. Aimed at families, Grøn Koncert always features exclusively Danish music acts.