The British like watching things from hills.
There's the example of the 1775 skirmish in the American War of Independence, the Battle of Bunker Hill, when British troops decided that the best way to defend Boston was to take command of two nearby hills. They won the battle, but lost the war.
And then there's Henman's Hill, renamed Murray's Mount and more recently Raducanu Rise, where thousands of Wimbledon fans take the 'cheap seats' to watch the showcourt games once the action's stopped on the peripheral courts.
So it was no surprise when British singer-songwriter Ed Sheeran, playing the first of four sold out concerts at Øresundparken on the capital island of Amager last night, kept on asking the crowd on the hill whether they were enjoying his performance.
None of them had paid anything for the privilege of enjoying his singing, big screen coverage and pyrotechnics – and they were well catered to, as well, with plenty of outlets selling beer, hotdogs and ice creams.
Record for a single performer
An audience of 40,000, mainly seated on five gigantic stands facing the stage in Øresundsparken – it sounds like it's a proper park, but really it's just nondescript industrial grassland awaiting a housing development, a few hundred metres from the border between the municipalities of Tårnby and Copenhagen  – watched last night, along with an estimated 5,000 from the nearby furrows and hills.
The hills, which in a sense protect that part of Amager from the encroaching sea – the curious building Kastrup Søbad, which mainly caters to nudist bathers, is nearby – doesn't have a name, but last night it was provided with plenty of voice, as many gathered with picnics and disposable barbecues for a glorious sunset followed by Sheeran on tap.
In total, closer to 200,000 could end up watching the Brit over the four nights he is here – as opposed to the 160,000 who have bought tickets, which is a Danish record for a performer – although Wednesday was clearly the best evening to go, as rain is forecast this evening, and temperatures are expected to fall considerably (it's 31 degrees today!) on Friday and Saturday.
Whether the writer of this article was among the cheap-skates present, we couldn't possibly comment, but 'we heard' the performance was five star quality – one in which the singer gushed about how much he loved Copenhagen and how he and his wife have agreed that it would be a good place to bring up their babies.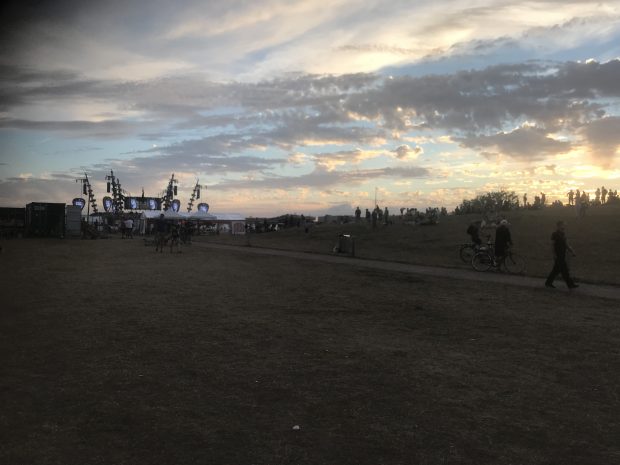 A decade on, he's still top drawer
Ed also recalled his first visit to Copenhagen in March 2012, when he played Store Vega, and how his manager at the time wasn't truly convinced the Danes really liked him … but as our feature from back then would appear to suggest (see below), he was already well on his way to stardom. 
Funnily enough, his brother Jethro told DR this week that Ed recently found out he is 10 percent Danish (Jethro too then!), although the singer himself told fans in 2019 that he is 6 percent Norwegian, 50 percent Gaelic (the ginger hair is a giveaway) and 44 percent northwestern European, English and Welsh.
Denmark and Norway were the same nationality until 1814, so maybe both of them are right.