News
Danish News Round-Up: Blue Bloc parties urge PM to call election
---
Radikale's deadline now just three weeks and a day away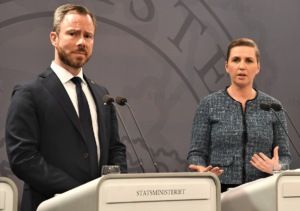 The leaders of the six Blue Bloc parties have signed a letter urging PM Mette Frederiksen to call a general election.
According to the letter penned by Venstre leader Jakob Ellemann-Jensen, the government is currently "paralysed and feverish at a time when Danes need the opposite in light of the energy crisis and increasing prices of pretty much everything".
The other signatories are Søren Pape Poulsen (Konservative), Inger Støjberg (Danmarksdemokraterne), Alex Vanopglagh (Liberal Alliance), Pernille Vermund (Nye Borgerlige) and Morten Messerschmidt (Dansk Folkeparti).
Radikale deadline approaching
In related news, Radikale has warned it will withdraw its support for the government should it go ahead with plans to set up a reception centre in Rwanda. 
In the early summer, Radikale gave Frederiksen until October 4 to call an election or else it will withdraw its support.
The bookies still rate Frederiksen as the favourite to remain PM at 5/6. In a tight race, Poulsen is second favourite at 9/4 and Ellemann-Jensen 11/4.
---
No seats for Rasmus Paludan in Sweden, but right-wingers improve dramatically
Initial projections from Sweden, where a general election was held yesterday, suggest that Rasmus Paludan's anti-immigrant party Stram Kurs will not win any seats in the country's parliament. However, it has been a good election for another far right party, Sverigedemokraterna, and the result of the election is very much going down to the final mandate, with a result expected on Wednesday. In total, 349 seats were up for grabs in the Riksdag, but unlike in Denmark, where 2 percent of the vote will win you representation, 4 percent is needed in Sweden. Paludan acquired Swedish citizenship through his father in 2020, thus giving him the right to stand for election in both countries.
Ministry confirms new cyber strategy to strengthen energy supply security
The Ministry of Climate, Energy and Supply has unveiled a new cyber strategy to strengthen the security of the country's energy supply. The strategy includes ten recommendations for how the electricity, gas and district heating sectors can stand firm to cyber threats up until 2026. As well as IT, they also pertain to operational technology (OT) – the technologies that control physical processes. "We must be prepared to handle an increased cyber threat – including from Russia. The energy sector is the lifeblood of our society, so cyber security must be top notch," explained the relevant minister, Dan Jørgensen. "That is why I am happy there is now a new strategy in the area, and I would like to acknowledge the work of the Danish energy agency and the sector."
Ombudsman requests Rejsekort operator to make large scale changes
The Consumer Ombudsman has asked Rejsekort og Rejseplan, the operator of the Rejsekort travel card, to make some changes – and according to initial responses, it looks likely it will comply. Top of the list is making it easier for users to get refunded once their card expires after five years of use. In the absence of expiry dates – the ombudsman also recommends they should be added – users are often caught out when their card stops working. They then have to go through a tedious process to apply for them and wait some time for a payout of whatever balance they had on the card. In the near future, it will be possible to quickly access the funds from all official points of sale, and users will have a full year in which to do so. The ombudsman also recommends ceasing the practice of blocking a card should a user forget to check out three times. And users will be subjected to fewer fees in general.
Pilot scheme could see municipalities become more autonomous
Four municipalities have been selected to take part in a three-year pilot project in which they will be permitted to operate without state interference. The four municipalities – Hillerød, Greve, Silkeborg and Aabenraa – will be autonomous from July 1 next year. The KL municipality organisation was involved in a selection process led by the employment minister, Peter Hummelgaard, and they were selected according to criteria that included their size, geography, social conditions and economy. "The municipalities will be exempt from almost everything. Then they themselves must try to organse the effort according to what they estimate will most easily get people into work or education in their municipality," explained Hummelgaard.
Mould with your mulled wine? Warning against turning down the radiators too much
Public housing organisation interest group Danmarks Almene Boliger (BL) has warned against the public completely turning off the radiators this winter, as cold conditions will only increase the amount of mould. Speaking to Fagbladet 3F magazine, Solveig Råberg Tingey, the deputy head of BL, warned: "We are very aware that it should not provide better growth conditions for mould if people turn down the heat a little because of the energy crisis." BL looks after the interest of around 500 public housing organisations.
Maritime collision 1: in Baltimore Harbour
A Danish ship was yesterday involved in a series of crashes in Baltimore Harbour in the US. 'Danmark', a training vessel taking part in Fleet Week in the Maryland city, was being tugged at the time of the collisions. First it smashed into some wooden pilings, and then, not long afterwards, it received a glancing blow by a US Navy vessel, the USS Minneapolis St Paul. Nobody was injured, and the damage was limited.
Maritime Collision 2: In the North Sea
Two cargo vessels collided in Danish waters on Friday around 36 km off the coast of Ringkøbing in western Jutland, prompting the evacuation of seven people by helicopter. Both vessels were apparently travelling in the same direction at the moment of impact. The seven were all crew members of the 'Helge' from the Netherlands, on route from Antwerp to Porsgrunn in Norway, which subsequently sank. The larger vessel, the Bahamas-flagged 'The Wild Cosmos', which was on its way from Durban to Tallinn, sustained limited damage. Two helicopters were dispatched from Aalborg and Skrydstrup, and the seven sailors were lifted from lifeboats and flown to Esbjerg.
Kolding Light Festival cancels December event in light of current energy crisis
The organisers of the Kolding Light Festival have cancelled the event this year. In light of the increase of measures to conserve energy, they said "we can't justify holding it this year". The event took place in 2021 in early December. The organisers will now consider holding an event that is completely power-free.