Opinion
Taste-Bud: Three-way Mussels
Claire Tsang 
---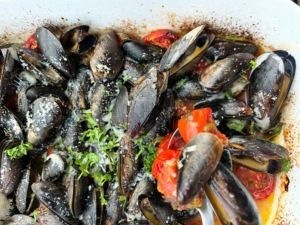 I like my mussels like my men: clean and ready for my use.
First off, remove the beard. Then scrub off the barnacles (unwanted baggage) and all other emotional, I mean oceanic, attachments.
It's true they are usually pretty clean when you buy them (the analogy ended btw), but sometimes they do need a bit of work (or maybe not).
Appetisingly affordable
Buying mussels is worth it. Not only are they pretty affordable (usually 40 kroner a kilo) compared to what you'll spend in a restaurant for Moules-frites (160-180kr), but they'll be far tastier.
Too often (80 percent of the time) they sound appetising in the dating app I mean menu, but are disappointing in person (the analogy again): a portion too small with too much cream and uninspiring herbs.
In short, they didn't hit the spot and leave you wishing you'd opted for another dish altogether.
Advisedly adventurous
That's a shame because mussels are the perfect dish for when you're not really that hungry, but feel like it's the right time to eat. And in the comfort of your home, mussels are FAST FOOD at its best, as they only take a few minutes to cook.
There's no need to play it safe with the standard shallot, white wine, cream and parsley approach. Spice them up a bit with whatever's sitting in your fridge or cupboards.
Those spices sitting idly by, and that garlic dying in the bottom of your fridge … use them! That thing in the vegetable drawer that you bought by mistake, try it! Make them Caribbean style, Vietnamese style, etc!
They make a great dish to share with friends and a bottle or two of perfectly chilled white wine (the wine pairings included below are courtesy of my good friend, the sommelier Kit Tong).
For videos of the recipes go to Instagram or the OMG! It's still Wednesday! Facebook page.
Happy late summer! 
---
Baked Mussels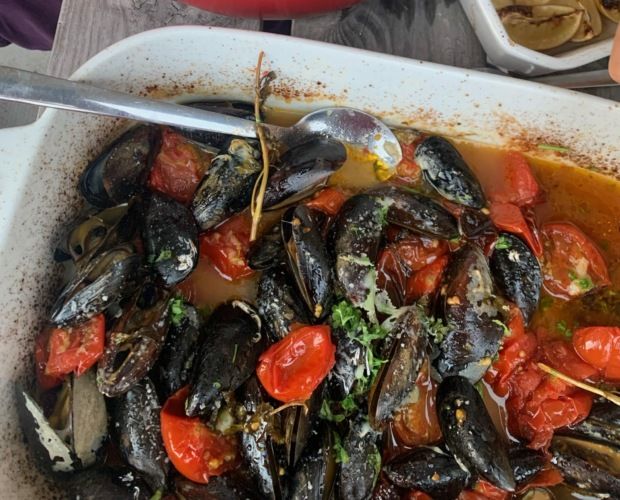 A tray of Cherry tomatoes, Sliced garlic, Pinch of salt, Basil, Olive oil, Capers, Parmesan, Parsley
Heat your oven to 200 degrees (180 with fan) and mix with the tomatoes, oil, salt, garlic and basil.
Bake until they look caramelised and saucy.
Place the mussels prominently (remember to always discard mussels that don't open during initial cooking) and top with the capers, parmesan and Basil and continue cooking for another 3-5 minutes.
Pair it with a Cabernet Franc (15-16 degrees).
---
Classic  Mussels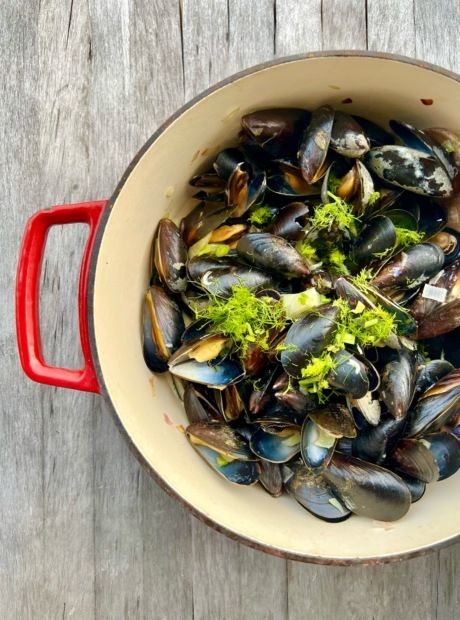 Olive oil, Butter, Shallots (or onions), Garlic, Fennel, Smoked paprika, Cream
Set your stove to a medium/ high heat, add olive oil and butter to a pan (best to not use a non-stick as the mussels might scratch!) and fry the shallots.
Add the garlic and fennel (preferred here to celery for its more earthy taste), along with a pinch of paprika, followed by your prepared mussels, and stir.
Add a glass of the white wine that you are drinking followed by a dash of cream and close the lid. Leave for five minutes while the juices of the mussels do the work for you!
Don't add salt because the juices from the mussels are salty enough.
If overcooked they'll become tiny and stiff … I surely don't wish on anything!
Serve with a baguette or fries to soak up all the delicious sauce. If you're too lazy to make your own, go frozen with 'Princip, Pommes gigant' from Bilka.
Pair it with a Pinot Grigio.
---
Coconut  Mussels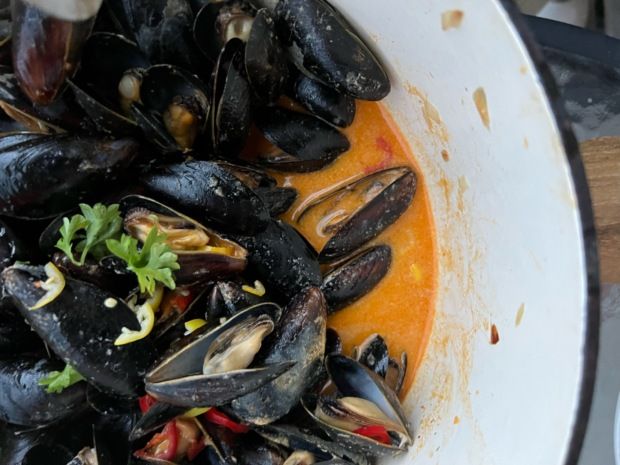 Cooking oil (not olive), 1-2 tsp of Thai red chili paste, 1-2 lemongrass, smashed and cut', about 500ml water, Coconut cream, powder or milk, Dash of fish sauce, Tsp sugar, Lime juice, Thai basil, Chopped chilli
Set your stove to a low/medium heat, add oil and ingredients for the sauce. If using coconut milk, only use half a can, unless you want soup!
Let the sauce simmer and thicken before adding the prepared mussels.
Turn the heat off and close the lid and let the steaming commence.
After 5 minutes, they should be done. Add lime juice, chopped chilli and thai basil.
Serve with rice vermicelli or glass noodles.
Pair it with a Chablis.
About
Claire Tsang 
Claire Tsang (clairesmile.com) was born and raised in Hong Kong, moved to the UK in her late teenage years, and then moved to Copenhagen to finish her education in visual communication, where her spontaneity has earned her the title 'Slasher'. Not only is she a graphic designer (@clairesmile_dk), but she also works as a party planner, Zumba instructor (FB: Zumba Fun Claire) and podcaster (@omg_itsstillwednesday).