Business Opinions
UK – DK Trade: All change
Gareth Garvey
---
The UK has just experienced the extraordinary transition from Queen Elizabeth II to King Charles III.
Brexit not quite done
The last time there was a change of monarch was 70 years ago. Almost simultaneously, the UK got a new prime minister, the third in just over three years and the 15th in Queen Elizabeth's long reign.
The UK was part of the European Union for 47 of the Queen's 70 years on the throne. This changed recently and, following Brexit, trade between the UK and Denmark has had to adjust accordingly and there are still Brexit issues that need to be resolved.
The War in Ukraine has contributed to an energy crisis, as well as an economic crisis, and hinders countries meeting their climate change obligations.
A world much altered
The world is in constant change but a key component to resolving issues arising from this change is the strength of relationships between countries and between businesses. 
Over 4.1 billion people are reported to have watched some of the Queen's funeral – nearly half of the world's 7.9 billion population. It was only 2.6 billion when she ascended the throne.
The funeral was covered in full by Danmarks Radio and TV2, Denmark's two main television channels. Commentators drew many comparisons between Queen Elizabeth's 70-year reign and Queen Margrethe II's 50 years on the Danish throne.
Tough times ahead
There are signs that meetings between Liz Truss, the new British PM, and other heads of government attending the funeral may help resolve the key Brexit issue: the Northern Ireland protocol. 
The UK, Denmark and the world are facing some important challenges. There are strong connections between Britain and Denmark, not just through the royal families but through companies and business relations – especially in the area of green energy.
Let's build on these and similar relationships to contribute to the resolution of the current crises. There are some tough times ahead.
---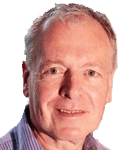 About Gareth Garvey
Gareth (gareth@bccd.dk), who has a passion for creativity and innovation in business, has been the CEO of the British Chamber of Commerce in Denmark since the start of 2017. Gareth has a background in management consultancy working for Price Waterhouse, PwC Consulting and IBM, and he also teaches at Copenhagen Business School.