News
Copenhagen catacombs illuminated in glimmering colour matrix
---
South Korea artist Kimsooja's creation gives light and life to the subterranean tunnels and chambers criss-crossing the city's underbelly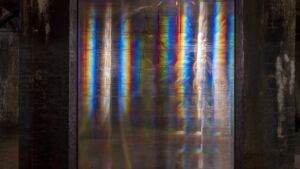 If you've ever entered Copenhagen's Cisternerne catacombs, you've probably encountered dank passages reaching like gnarled fingers into the cool embrace of darkness.
Granted, the underground caverns comprising some 4,400 square metres often have an art exhibition of some order to add flavour, but descending into the murky depths can seem a shade … well … gloomy at times. 
But this year, thanks to the potent skills of South Korean artist Kimsooja, there will be light. Lot's of it.
Her 'Weaving the Light' installation beckons the public into an subterranean space where all the colours of the rainbow glisten and shimmer in the darkness.
READ ALSO: Tivoli to celebrate 180 years by jacking up prices
A pearl of light in Frederiksberg
The illusory exhibition will stretch from March 26 to November 30, giving the public ample time to visit a space that integrates natural lighting scapes with architecture.
"Kimsooja understands the potential of Cisternerne and its inherent beauty, creating a unique exhibition that gives the individual the opportunity to sense the depth of darkness and the transformative powers of light," said Astrid la Cour, the head of Frederiksbergmuseerne.
Some of the locations for Kimsooja's previous exhibitions include Cathédrale Saint-Étienne de Metz (2022), Peabody Essex Museum (2019), Yorkshire Sculpture Park and Chapel (2019) and Guggenheim Museum Bilbao (2015).
The exhibition is open to the public at Cisternerne in Søndermarken across from Frederiksberg Castle from 11:00-18:00 on Tuesdays through to Sundays and from 11:00-20:00 on Thursdays.
Read more about Kimsooja: Weaving the Light here and secure tickets at www.frederiksbergmuseerne.dk. Tickets cost 115 kroner.