Things to do
This Week in Copenhagen: Return of Friday Night Skate further proof that winter is finally over!
---
Other forthcoming events include CPH Salsa Festival, a musical theatre show called Broadway Rearranged, and a K-goods pop up store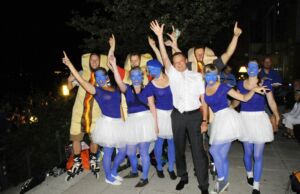 Friday Night Skate
April 21, 19:30; Next House Copenhagen, Bernsorffsgade 21, Cph K; free to join; fns-cph.dk
Don't be surprised if you see hundreds of roller skaters on the streets of Copenhagen this Friday evening! Between 500 and 1,500 skaters are expected to participate in the 20 km long route around the Danish capital. Everybody is welcome!
K-goods pop-up store
April 20, 12:00-20:00 & April 21, 11:00-17:00; The Lab, Vermundsgade 40B, 1st floor, Cph Ø
Korean culture will be in the spotlight! A large range of K-Pop products will be presented over the two days. Enjoy the work of make-up artists, taste Korean snacks and don't miss out on the 20 percent discounts on beauty products. If you're crazy about K-Pop and try the lucky draw – you will maybe win an album for free!
Copenhagen Sakura Festival
April 22-23, 11:00; Langelinie Park, Esplanaden 40, Cph K; free adm; sakurafestival.dk
Dive into Japanese culture while the trees are in full bloom! Some 200 Sakura trees lend a wonderful atmosphere to the park, in which you'll be able to try a cup of tea in a sea of kimonos. It's a beautiful time to spend with your lover, family or friends!
Sculpture Class
April 21, 10:00-14:00; Oscar Pettifords Vej 23, Cph SV; 550kr; art-xp.com
Learn some sculpting techniques in this four-hour lesson! Teacher Katrine Blinkenberg will give you some tips on controlling plaster to make your own piece of art – which will certainly find a place in your living room!
Roger Waters in concert
April 17 & 18, 20:00; Royal Arena, Hannemanns Allé 18-20, Cph S; 500kr; ticketmaster.dk
The co-founder of the legendary progressive rock band Pink Floyd is on tour! Waters' show features some of the greatest tracks from the group, such as 'Comfortably Numb', along some other big hits that you will instantly recognise.
Post Malone in concert
April 26, 20:00; Royal Arena, Hannemanns Allé 18-20, Cph S; 495kr; ticketmaster.dk
Malone is one of the most talented songwriter-rappers of his generation. The five-time diamond-certified artist will blow your mind. Enjoy the show!
Gotta Dance!
April 22, 23, 25, 28 & 29; Opera House, Ekvipagemestervej 10 , Cph K; from 135kr; kglteater.dk
If you're fond of dancing, you'll love this show! The ballet is choreographed by Gregory Dean, who also danced in Cinderella and Blixen. A tribute to life, to joy and, of course, to dance!
CPH Beer Week
May 5-13; various breweries, restaurants and bars in Copenhagen; cphbw.dk
Copenhagen's breweries will shine in May! For the fourth edition CPH Beer Week, get ready for some experiences with beer that you'll remember for a loooong time!
Highline show at Copenhagen Harbour
May 4, 16:00; DAC's terrace, Bryghuspladsen 10, Cph K; dac.dk
May the fourth be with you … and these highline performers! In line with Copenhagen being named 2023 UNESCO Capital of Architecture, everyone is welcome to watch these professional artists walking on a highline at a height of 15 metres. The 160 metre-long highline will cross the harbour from the Danish Architecture Center's terrace to the sugar factory on the other side. A spectacular show for sure!
Morning Yoga Session
ongoing, on selected Sundays, 10:00-11:00, ends Sep 17; Broens Gadekøkken, Strandgade 95, Cph K; free; broensgadekoekken.dk
Breathe and enjoy the view! Under the open sky and the morning sun, get unparalleled advice from instructor Charlotte Fruergaard, who will guide you through the various moves. The sessions are free, so come and get both your body and mind in gear!
Adventure Festival
May 5-7; Refshalevej 325, Cph ; 275kr for the three days; adventuroussouls.net
Explore all the adventures that inspire you! Together, let's discover what adventure means to you and take part in a large choice of activities and exhibitions over the weekend. Get ready to release some adrenaline!
CPH Marathon
May 14; Islands Brygge, Cph S; entry 775kr; copenhagenmarathon.dk
Face thousands of runners from all over the world in a fantastic experience! Some 100,000 spectators will cheer you on during the race, so will you meet the challenge?
48TIMER Festival
May 12-14; Nørrebro, Cph N; 48timerfestival.dk
Enjoy some cultural life with the locals in Nørrebro! At this annual 48-hour festival, the district will make room for concerts, street parties, exhibitions and other events.
Bloom Festival
May 26-28; Søndermarken, Frederiksberg; bloom.ooo
Celebrate science together! Researchers will share their thoughts in live debates, while you get to experience life in the laboratory and enjoy a few concerts. If you thought science was boring, you might change your opinion after this weekend!
CPH Salsa Festival
April 21-23; Kedelhallen, Nyelandsvej 75A, Frederiksberg; 1,400kr for fullpass; ticketmaster.dk
Let's hit the dancefloor! From 09:30, enjoy the rhythm of salsa, mambo and other sensual dances with more than 20 artists from the likes of Cuba, Spain or Italy.
Broadway Rearranged
April 21-23; Metronomen, Godthåbsvej 33, Frederiksberg; 160kr; teaterbilletter.dk
The CPH Musical Theater Co is back with a new cabaret-style musical production that will blow your mind! The show features some of Broadway's biggest hits, and doesn't forget to include stories and drama. With the superb Rachel Kador on stage – you won't be disappointed!
Conversation with Flemming Friborg
April 26, 19:00-21:00; Sofievej 1,Hellerup; 50kr; booksandcompany.dk
Let's discuss the life and art of Paul Gauguin. Flemming Friborg, who wrote a biography called 'Gauguin: The Master, the Monster and the Myth', will thrill you with insights.
V1 Gallery exhibitions
April 21-May 27; Flæsketorvet 69, Cph V; v1gallery.com
Three exhibitions can be seen at the gallery from Friday. Kaspar Oppen Samuelsen's tableaus on canvas, 'I warp and I Wait', depicts a world of hybrid human-animal creatures who co-exist in peace. 'Raisin' by Monica Kim Garza presents quasi-self portraits of robust women in colour, and Masar Sohail's 'Anterospective' paintings are a cross-genre seen as a fanfiction in which he is 'Dindy Blaze'.
Aida
April 21 & 30; Opera House, Ekvipagemestervej 10 , Cph K; 160-980kr; kglteater.dk
Conducted by Paolo Carignani, Verdi's melodies will immerse you in a fantastic universe. Italian opera is a tradition: let your mind go and listen to the hypnotic and beautiful tracks.
Elektra
April 16, 20 & 26; Opera House, Ekvipagemestervej 10 , Cph K; 160-870kr; kglteater.dk
Enjoy nearly two hours of pure tension in the company of American soprano star Lise Lindstrom. The opera's story is about a woman, Elektra, who lives in a deep rage intent on avenging her father's murder. But will she succeed? There's only one way to find out!
Illuminating Cisternerne
ends Nov 30; Roskildevej 25A, Frederiksberg; 115kr; frederiksbergmuseerne.dk
A beautiful exhibition to completely blow your mind! In a giant 4,400sqm place where the daylight never reaches, the South Korean artist Kimsooja has transformed the underground cavern into a fantastic universe with an impressive installation of light and colour. Normally closed every Monday, Cisternerne will be extraordinarily open on Easter Monday (April 10) from 11:00 to 18:00. Don't miss the opportunity!
Bakken Summer Season
April 28-Aug 27, open daily 14:00-22:00, all weekends until Sep 10; Dyrehavsbakken 33, Klampenborg; bakken.dk
For its 441st season, the world's oldest theme park is welcoming parents and children for more entertainment and activities. Get ready to go at full speed!
Tivoli Summer Season
open until Sep 24, open 11:00-22:00; Tivoli, Vesterbrogade 3, Cph V; from 155kr; tivoli.dk
Tivoli is opening its gates for Easter and invites you to adventurous experiences in a garden filled with spring flowers. Enjoy Easter lambs, eggs hunting, beautiful decorations and, of course, the rides. The colourful opening night fireworks, alone, will blow your mind. A special lunch for the event will also be unveiled. There's no better way to spend time with the whole family!
Morning Dance in the Opera
ongoing, ends April 28, 09:30; The Royal Theatre, Ekvipagemestervej 10 , Cph K; 90kr; kglteater.dk
Dancing on one of the most beautiful floors of Denmark – who doesn't dream of that? Taking place on three Fridays every month until April, take the opportunity to express your bodily sensations with a trainer. Bring a water bottle and good clothes to dance, as it's going to be rock'n roll!
Globe Quiz
April 20, 19:15; Globe, Nørregade 43, Cph K; 50kr, five per team
The winners get 1,200 kroner. And who knows, the odd rollover has been known to go too. Back-to-back quizzes following the cancellation of the September 22 edition.
Gravens Rand Quiz
April 25, 20:00; Søndre Fasanvej 24, Frederiksberg; entry 30kr
Maximum of four per team, it's around 1,000 kroner for the winners and a crate of beer for second. Two beer rounds, and shots for last place!